8 Chicken Sandwiches Every Charlotte Family Should Try
Options around the city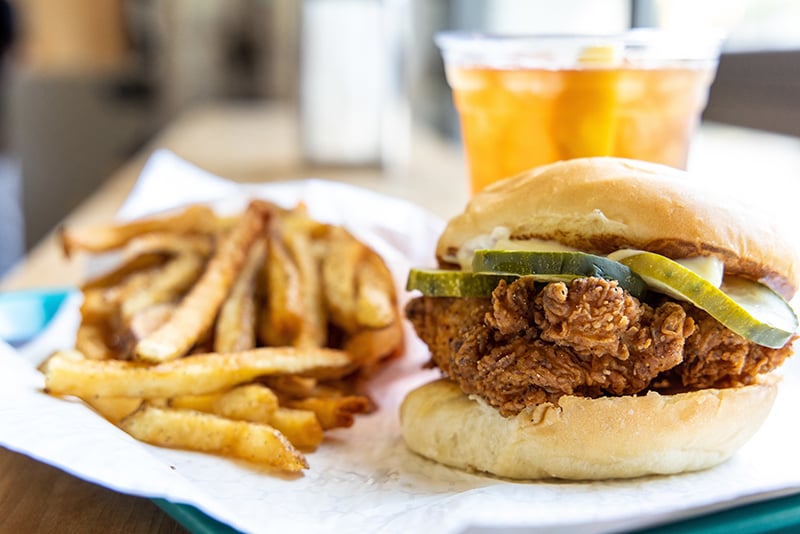 A YEAR AFTER social media was taken by storm with chicken sandwich debates, the family-friendly entree is having a moment in the local restaurant scene. Here are 8 family-friendly options:
Bossy Beulah's / The Beaut ($7) (top)
2200 Freedom Drive
Veteran restaurateur Jim Noble's 1,200-square foot chicken shack has counter seating as in a Waffle House. You can order your sammie bunless or add American cheese, and your customizable options end there. Each sandwich is made with the Noble family's buttermilk fried chicken, which has just enough seasoning to enhance the chicken without stealing the show. It's served on a toasted potato bun with house-made pickles and a swipe of Duke's mayo. You can pair it with a classic North Carolina beverage like sweet tea or Cheerwine, but that's it. This menu's as straightforward as they come.
Crafty Burg'r n' Tap / Boom Boom Chicken Sandwich ($10.79)
17015 Kenton Dr., Cornelius
Because of its beefy moniker, Crafty Burg'r surprises diners with its flaky and tender fried chicken—and this sandwich is an Everest. With the help of a skewer, housemade buns hug two (two!) freshly fried chicken breasts, skinny onion rings, tomato, onion, and, of course, bacon. This beast-of-a-sandwich is worth every bit of mess when the signature Boom Boom sauce hits your lips. A bit sweet and not spicy, the secret sauce does everything you hope it will for the bite.
Haymaker / Billy D's Fried Chicken Sandwich ($15)
225 S. Poplar St.
"Heaping" is the word that comes to mind. Between the potato buns are heapings of celery-seed slaw, pickles, smoked white barbecue sauce, and a massive piece of fried chicken in this Chef William Dissen signature. It fits at the upscale Southern spot in Third Ward because of the fresh-from-the-farm ingredients that separate the sandwich from its fast-food cousins. The chicken comes from Joyce Farms in Winston-Salem. The sandwich comes with seasoned fries (which deserve inclusion on an otherwise fry-exclusive roundup), with pepper mash aioli. And yes, those come in heaps, too.
Fran's Filling Station / New South Chicken Sandwich ($17)
2410 Park Rd.
Get a load of this line-up: a "buttermilk-bathed, floured, and fried chicken with goat cheese and pepper jelly on a pretzel bun." Translation: This is one tasty addition to this list. The nuttiness of the goat cheese and the saltiness of the pretzel bun make this one distinct from its competitors on this list.
Yafo Kitchen / Israeli Hot Chicken Sandwich ($10.99)
Multiple locations
A chicken sandwich might not be top of mind when you visit a Middle Eastern-inspired restaurant that's known for healthy build-your-own bowls. But executive chef Shai Fargian's Israeli Hot Chicken Sandwich is worth changing up your lunch routine for. The chicken schnitzel, slathered in spicy red schug and topped with purple cabbage slaw, is an unexpected blend of spice and heat. We recommend the Greek yogurt mac and cheese as your side to cut some of the heat from the sandwich. And if you don't want to feel like your mouth is on fire (especially for the kiddos!), just tell the team behind the counter, and they'll dial it back.
Easy Like Sunday / Fried Chicken Sandwich ($12.95)
1600 E. Woodlawn Rd., Ste. 100
The French toast and waffles will get you in the door at Easy Like Sunday—and the cornmeal fried chicken pancakes will blow your mind if you're feeling particularly brunch-y—but the fried chicken is the dark horse on the menu. Order it in sandwich form with bacon, egg, white cheddar, and arugula on a brioche bun and you'll know those mind-blowing cornmeal pancakes were no fluke. The dash of maple Dijon aioli adds some tangy sweetness to the salty meat and cheese and sets it apart from any sandwich you'd get at a drive-thru.
Pinky's Westside Grill / Ding Dong Chicken ($7.95)
1600 W. Morehead St.
The toppings throw you off at first, as you peruse the menu: Wait, sriracha? Honey? Cilantro? Crunchy peanut butter? Won't they declare war on each other on top of that nice, neutral chicken breast? No, the good people at Pinky's know what they're doing. The heat of the sriracha balances the sweetness of the honey in the slaw, and the peanut butter adds a textured layer of dense protein atop the satisfying slab of grilled poultry. If you think cilantro tastes like soap, well, sorry, you'll just have to choke it down or miss out.
Mama Ricotta's / Chicken Parmesan Sandwich ($11)
601 S. Kings Dr.
This spot is known for its family-style dinners. But for lunch, you can't beat a good chicken parm. Mama Ricotta's tops breaded chicken with Muenster cheese and San Marzano red sauce. The baguette helps contain the mess, but like the other entries on the list, a few drops on the table are a small price to pay.