24 Charlotte Pizzas You Must Try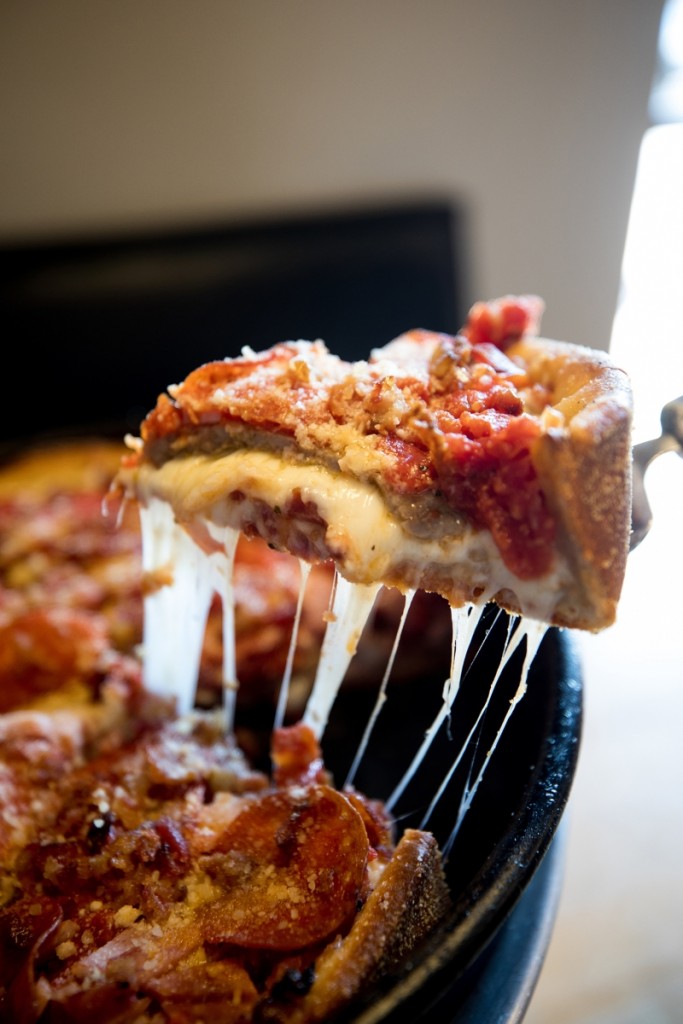 This list was updated in August 2021. Looking for just the newest pies? Head here.
---
The recipe for the Sal's Grandma Vodka Sauce pizza comes from the owner's grandmother, and it's hard to compete with a recipe refined over generations. Photo by Peter Taylor.
1.Grandma Vodka Sauce Pizza
Sal's Pizza Factory
The Monroe Road spot has quickly made believers of those New Yorker friends who can't stop complaining about the city's lack of 'good pizza.' Sal's makes great pizza, and the Grandma Vodka Sauce pizza gets at why: The recipe comes from the owner's grandmother, and it's hard to compete with a recipe refined over generations. A typical vodka sauce consists of tomato sauce, vodka, herbs, and heavy cream. There's something extra in Sal's take; I'm not sure what it is, but I'll keep ordering it until I figure that out. 3723 Monroe Rd., 980-219-7108
---
Benny Pennello's pizzas are so big, the carry out boxes barely fit through a standard door. Photo by Peter Taylor.
2.The Cheese Slice
Benny Pennello's
Everything about Benny Pennello's feels young: the kitschy local art that adorns its walls, the pop-punk blaring from its speakers, and large slices that appear as though they were ripped out of a '90s Nickelodeon cartoon. But the gimmick of size gets you only so far: Benny's longevity is due to its taste, with its cheese slice being the best possible middleman between drinks on a night out and your bed. Or, if you're a parent to young kids, like me, a Sunday afternoon surprise that can't be topped. 2909 N. Davidson St., Ste. 100, 980-949-8398
---
3. Pepperoni + Sausage
Stagioni
It's hard to choose the best part of this pizza, topped with two of America's favorite pizza meats: pepperoni and sausage. The sausage is ground in Stagioni's kitchen, the mozzarella is house-made, the crust is made crunchy by a wood-fired oven, and you get to cut the pie with pizza shears. Take a pair home for $35. 715 Providence Rd., 704-372-8110
---
4. Detroit-Style Pan Pizza
Room & Board
It may not have the cachet of New York or Chicago styles, but Detroit does have its own distinctive approach to pizza: rectangular slices, a thick and crisp crust, and sauce on top of the cheese. Room & Board's owners were smart to fill that quadrilateral hole in Charlotte's pizzascape. More good news: A less common style of 'za means there aren't as many gatekeepers afoot with their NYC comparisons.3228 N. Davidson St., 980-430-3136
---
5.Piroska (Balkan-style stuffed pizza) 
Intermezzo Pizzeria & Café
Brothers Djordje and Branko Avramovic were less than 10 years old when their grandfather taught them how to butcher a pig at his meat shop in Serbia. They were younger than that when they watched their grandmother pickle cabbage to make roll after roll of sarma for the family Christmas gathering, which, because they use the Julian calendar like most Serbian Orthodox Christians, occurs January 7. After they moved to Charlotte in the late 1990s, the brothers believed they could make a restaurant rooted in their family's food traditions. But they knew they needed a gateway, something no American could turn down. So they made pizza.
Their restaurant, Intermezzo Pizzeria & Café, has been around for more than a decade and remains slammed every weekend with a mix of first-timers and long-timers. It is a place where you come for the pizza, and stay for everything else.
I mix it up, sometimes ordering the Intermezzo Supreme with sausage, pepperoni, mushrooms, onions, peppers, tomatoes, and black olives. Other times I get the karadjordjeva (pan-seared schnitzel rolled with ham and cheese, and served with potatoes) or sarma (which comes with bread to dip). One menu item captures both. The piroska—similar to the Ukrainian baked-bun-with-filling dish pirozhki—comes stuffed with ham, mushrooms, mozzarella, ricotta cheese, and sour cream. It's basically a pizza all wrapped up in Serbian personality. 1427 E. 10th St., 704-347-2626
---
6. The Luisa
Luisa's Brick Oven Pizzeria
The pizzas made inside the brick oven at Luisa's are tallied on a public sign, now numbering more than a million. "The difference is in the oven," the restaurant likes to say. We agree, but to maximize that Luisa's finish, we recommend ordering the pizza that's named for founder Luisa Land. It's stacked with sliced tomatoes, garlic, ricotta, and pesto. Order a large and share the joy. 1730 Abbey Pl., 704-522-8782
---
7.Sweet Italian Sausage
Zio
My wife and I were at Zio recently, listening to a couple a table over tell the waiter that they were moving out of Charlotte the next day, retiring to the coast, and I thought, "That could be us one day." If I'm ever faced with my last Charlotte meal, there is no question, none whatsoever, that I'd walk down the stairs and into this classic Myers Park restaurant and order the sweet Italian sausage grilled pizza, its crust crisp and tastefully charred, its tomato sauce homemade and rich, its herbs from the patio garden, its slices square, and that final square always unforgettable. 116 Middleton Dr., 704-344-0100
---
Portofino's' meatball slices are so thin, they almost resemble pepperoni. Photo by Peter Taylor.
8.The Meatball Pizza
Portofino's Italian Restaurant and Pizzeria
It's hard to believe that something called a "meatball pizza" can be known for its subtlety. That's the joy of a place like Portofino's, named for a city on the coast of northern Italy. The care that the restaurant puts into its house-made dough and sauce is also found in its meatballs, thinly sliced and unassuming until that first bite. Multiple locations. 
---
9.Chicken Bacon Ranch 
Hawthorne's New York Pizza and Bar
Hawthorne's made national headlines last year when nearly 70 visitors reported that the restaurant's buffalo chicken pizza—nicknamed "The Inducer"—was sending pregnant Charlotteans straight into labor. The restaurant's best pie, though, isn't famous: the Chicken Bacon Ranch. Its mix of Hawthorne's house-made ranch, bacon, red onions, mozzarella cheese, and chicken is special, even if that baby stays put for a few more days. Multiple locations.
---
10. Margherita
Aliño Pizzeria 
Traditionally thin and simple, the Neapolitan-style of pizza Aliño serves hits every mark—the restaurant even imports Antico Molino Caputo flour from the Italian city. The pies wood-fired at this spacious Mooresville spot are thin-as-can-be, making it acceptable for a single person to indulge in a full 16-inch pizza (the smallest size). It's best, however, to share the margherita pizza, its globs of melted buffalo mozzarella dotted on top, with friends in the casual, industrial restaurant—the long, family-style tables practically beg for it. Multiple locations.
---
11. The Chorizo
Pure Pizza
Shaved radish and a wedge of lime—the finishing touches—make this pizza far more interesting and complex than it would be otherwise. The peppery crunch from the radishes and tang from the lime juice balance the rich heat from crumbles of chorizo. 1911 Central Ave.
---
The Pizza Peel has a secret menu, with pizzas such as The Godfather. Photo by Peter Taylor.
12. The Godfather
The Pizza Peel & Tap Room
With all the classics and enough toppings to make your own pie any way you'd like, Pizza Peel's menu has most tastes covered. Things get a little crazy on its secret menu, which diners can request in addition to the regular one. You'll find inspired pies such as The Godfather, a white pizza with a garlic oil base topped with three meats—salami, prosciutto, and pepperoni—and spinach and roasted red peppers. The kitchen doubles up on the cheese—both sliced and shredded mozzarella—then drizzles balsamic over the whole pie, adding the final layer of flavor that makes this pizza a must-order. Multiple locations.
---
13. The Funghi
The Jimmy
The Funghi, aka "Jimmy's Pie" The Jimmy's 12-inch pizzas are made with 48-hour fermented dough, giving them a crunchy, airy crust with a subtle sourdough flavor. You can get a traditional Margherita, but for something a bit more adventurous, try the Funghi, aka "Jimmy's Pie," topped with roasted mushrooms, taleggio cheese, and balsamic reduction. Though the taleggio may register as "stinky" cheese, it's surprisingly mild and velvety against the tangy pizza crust. 2839 Selwyn Ave., Ste. X.
---
14. Pistachio
Inizio Pizza Napoletana
Its brilliant green center stands out even before you dig in. Pistachio pesto and rosemary make for herbaceous bites, while chopped pistachios add a unique crunch. Topped with ricotta and buffalo mozzarella, this pizza is the savory version of a cannoli. Multiple locations.
---
15. The Bisonte Classic
Bisonte Pizza Co.
Jimmy and Steve DaPolito are not native Charlotteans. The brothers moved to the city in 2012 after Steve's son, Jason, did and complained about not having a go-to place to chow down on pizza and wings. Such a stark commitment to pizza and wings comes from only one place: Buffalo, New York. Although pizza wasn't invented in Buffalo (like wings were), Buffalonians are picky about their pizza—and Charlotte has a lot of these western New York transplants. Jimmy, 50, says that when he and his older brother researched the market before moving down, they saw that Charlotte had the second-highest number of western New York transplants, second only to Tampa, Florida. Once they arrived, the two ate approximately $3,000 worth of pizza and wings across the city within four months to complete their research. Finally easing Jason's wing-and-pizza woes, Bisonte Pizza Co. came to life in Matthews in March 2013, and a second location later sprouted by Johnson & Wales University.
Buffalo-style pizza should never be confused with New York-style pizza. The difference? It's best explained by geography, Jimmy says.
"New York style is thin, and Chicago style is thick," he says, motioning as if there were a map in front of him. "Buffalo is the middle." Thus, Buffalo-style pizza is a medium thickness. The preparation techniques also differ; for example, Buffalo-style dough sits and rises for a bit before getting shuffled into a brick oven on a pan, instead of on its own. The pan keeps the bottom of the crust from burning,  while the mounds of toppings cook. The crisping part comes only after the toppings are cooked, and the toppings are perhaps the most important part of all.
Take one good look at the pepperoni on Bisonte's piled-high classic pie and compare them to those on a pizza that's not Buffalo-style. You'll see that Bisonte's pepperoni is smaller, with drool-drawing charred rims. These iconic slices of meat are what Steve calls "cup 'n' char"—when cooked, they form little cups and char just around the edges, making for delightful pools of grease that enhance the flavors.
With home-made blue cheese and marinara sauce—just about everything they don't ship in from Buffalo is house-made; the Beef on Weck rolls are from western New York's Costanzo's—the brothers of Bisonte are bringing Buffalo's best into their new neighborhoods. Multiple locations.
---
It's hard to find Chicago-style pizza in town, but Matt's in Cornelius does it right. Photo by Peter Taylor. 
16. Deep-Dish
Matt's Chicago Dog 
Pizza style is preference, and if yours is deep-dish, Chicago-style, the Cornelius location of Matt's Chicago Dog is your place. Don't shy away from the "blanket of cheese" on these pies, because that, plus the vine-ripe tomatoes on top, is what makes these slices quintessentially Chicagoan. Multiple locations.
---
17. Latin Lingo
Salud Cerveceria
Salud's 12-inch, wood-fired pies match the quality of its stellar beer. The Latin Lingo is a prime example, with a spicy crema base, roasted corn, chicken, onions, jalapeños, cotija cheese, tajin, and cilantro. 3306-C N. Davidson St.
View this post on Instagram
---
18. Garlic & Clams
True Crafted Pizza
The menu at this south Charlotte pizzeria has a number of standouts, including the grilled prosciutto di Parma pizza and the meatballs, house-made and drenched in a flavorful pomodoro sauce. It says something, then, to insist that diners try the Garlic & Clams pizza. The list of ingredients for this wood-oven pie is short—littlenecks, pancetta, roasted garlic oil, Parmesan, and red pepper flakes—but its savory flavor is long and satisfying. 7828 Rea Rd., Ste. F, 704-543-8783
---
19. Grandma Pie
Geno D's Pizza
Geno D's Pizzeria, which originally operated in New Jersey from 1985 through 2018, has re-emerged as the newest tenant at 7th Street Public Market. The "Jersey Shore-style" pizza joint comes from father-and-daughter team Geno and Gena DiPaolo, and it serves pizza options that include this rectangle, sauce-on-top, Grandma-style one.
---
20.Breakfast Pizza
300 East 
From the crust to the spicy red sauce and cheddar-jack cheese, the flavor of chorizo from Wild Turkey Farms seeps through this already-tasty pie, giving it a depth that most don't have. Queso fresco and scallions on top add an extra punch, and the runny egg yolks make this dinner classic built for breakfast. 300 East Blvd., 704-332-6507.
---
21.Meathead Pizza
Brewers at 4001 Yancey
This spot is known for subverting the usual less-than-positive reputation of brewery food. Brewers at 4001 Yancey made our 25 Best New Restaurants list, and their Meathead pizza, with pepperoni, Italian sausage, and bacon, makes for a tasty outing. 4001-A Yancey Rd., 704-452-4001.
---
22. Irish Reuben Pizza
Great Wagon Road Distillery NoDa
This pie sounded so unusual that we had to try it. The result delivered: a four-cheese pie with pizza sauce, sauerkraut, chopped corned beef, Swiss cheese, and a swirl of Thousand Island dressing. 610 Anderson St.
---
23. La Neve
Capishe: Real Italian Kitchen
Capishe has an entire section of its menu dedicated to wood-fired white pizza. The Pesto and the Angelina, with its truffle oil and caramelized onions, are both solid options. But the star is the La Neve: bufala mozzarella, ricotta, pecorino, olive oil, fresh garlic, and basil. Multiple locations.
---
Photo by Peter Taylor
24. LocalMushrooms
Orto
The rectangular, thin, Roman style pizza (with sauce on top) from NoDa's newest Italian spot has garnered several fans already. One of the prized pies from James Beard finalist Chef Paul Verica's new concept: Local Mushrooms, caramelized onions, pancetta, gorgonzola cream, arugula, and sprouts. 416 E. 36th St., Unit 600.
---
This story features contributions from Taylor Bowler, Michael Graff, Adam Rhew, Andy Smith, Emma Way, and Kristen Wile.