Where to Fish in Charlotte
Get ready to drop a line at some of the best fishing spots for families in and around the Charlotte area.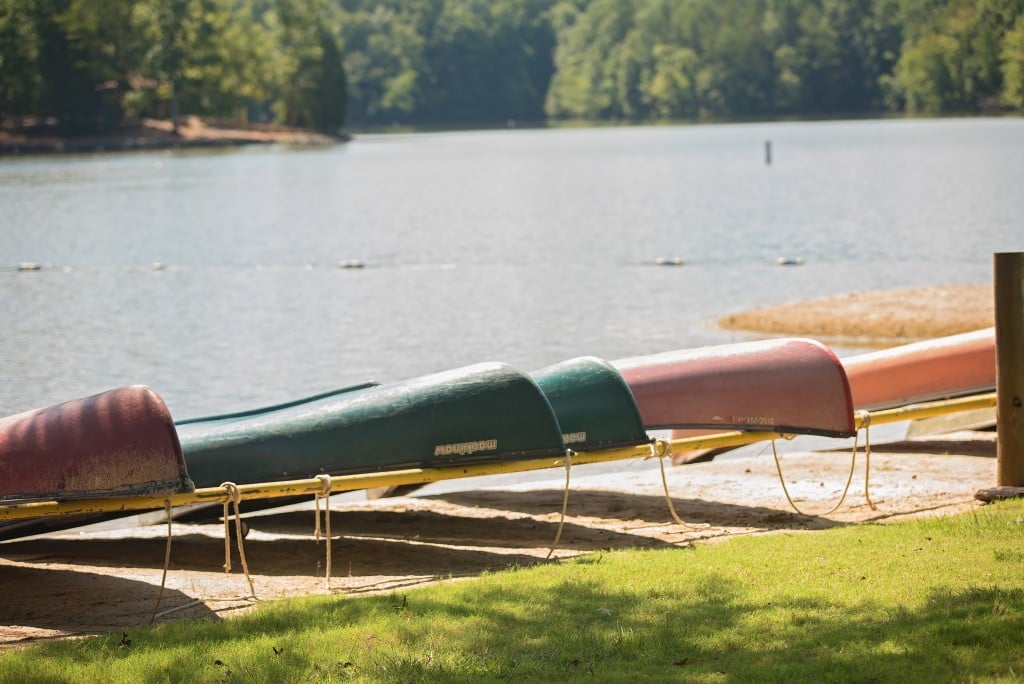 What could be better than spending time on the water on a beautiful spring or summer day? Take in the view and try your luck when you cast a line in a nearby park or preserve and create memories as you wait (and hope and wish and pray) to catch a fish. Whether you are an expert angler or trying to learn how to bait a hook, these are a few spots in and around Charlotte where you and the family can have a great day – no matter if the fish are biting or not.
Please note people 16 and older in North Carolina must have a fishing license. Fishing licenses can be purchased from the North Carolina Wildlife Resources Commission online or from a local tackle shop or outdoor retailer that serves as a wildlife service agent. Call 1-888-248-6834 for more information or check out the Website.
Mecklenburg County — Nature Preserves
Ready to get your fishing on but don't have the right equipment? No problem. You can borrow a rod and reel for up to 24 hours at the below nature preserves.
6211 Sample Road, Huntersville
980-314-1129
Access to Mountain Island Lake offers numerous fishing, kayaking and canoeing opportunities, including a fishing doc.
15222 York Road
980-314-1128
Drop a line in Lake Wylie from the banks and piers on Copperhead Island, a 20-acre island with hiking trails, camping, fishing access and more. Open daily for public use unless reserved for a special event.
2900 Rocky River Road
980-314-1119
Reedy Creek Park features three ponds and a fishing pier, and is open from dawn until dusk. Dragonfly Pond is seven acres in size and has a depth range of 1-9 feet. It contains largemouth bass and bluegill. Kingfisher Pond is three acres in size and has a depth range of 3-7 feet. It contains largemouth bass and bluegill.
---
Mecklenburg County Parks
Looking for the your secret neighborhood fishing spot? Start with Mecklenburg County's Community Fishing Program, which includes a number of ponds at parks stocked for public fishing. Parks are open every day from dawn until dusk. See the list below for where to fish and click here for addresses and types of fish stocked in each pond.
---
Gaston County Parks and Recreation
The below three parks offer fishing free of charge. Of course adults and children 16 and over must have a valid NC fishing license. If you have fish enthusiasts under the age of 16, Gaston County Parks and Recreation offers a free fishing tackle loaner program where kids can checkout a fishing rod and tackle box for a single day of use. Pick up is at the Gaston Country Parks and Recreation office Monday through Friday between the hours of 8 a.m. and 4 p.m. 1303 Dallas-Cherryville Hwy., Dallas. 704-922-2160.
4185 Mountainview St., Gastonia
​​704-922-2160
South Fork River Park has 800 feet of river frontage along the South Fork with access areas for canoeing, kayaking, fishing, and picnicking.
1303 Dallas-Cherryville Highway, Dallas
704-922-2160
1101 Lowell Spencer Mountain Road, Gastonia​
704-922-2160
Belmont
1400 Catawba Street, Belmont
704-825-8191
Spend a day by the beautiful Catawba River at this 10-acre park which includes a canoe and kayak launch, public boat launch, two fishing piers and more.
---
Lake Norman
19000 Jetton Road, Cornelius
980-314-1001
The large, picturesque park is 105 acres and features a sandy beach area (no swimming allowed) and picnic decks.
---
18441 Nantz Road, Cornelius
980-314-1001
The park is 43.7 acres and features a boat launching area, docks and a fishing pier. The park is open from dawn until dusk. Throughout the summer a park entrance fee will be collected.
159 Inland Sea Lane, Troutman
704-528-6350
Did you know Lake Norman is the largest manmade lake in North Carolina? Take it all in at this large park with public swimming on the lake is open 7 a.m.-9 p.m. during the summer. It has its own 33-acre lake and offers fishing, boating, camping and picnicking.
---
Matthews
4330 Weddington Road, Matthews
980-314-1003
Beatty Lake is 20 acres in size and has a depth range of 1-18 feet and offers great spots for kayaking, fishing and canoeing. It contains largemouth bass and bluegill. The park is open every day from dawn until dusk.
---
Rock Hill
If you are age 16 and older, you will need a valid South Carolina fishing license to fish in the SC waters of Lake Wylie. Licenses can be purchased at area convenience stores, sporting goods stores and bait and tackle shops. For more information, contact the South Carolina Department of Natural Resources.
4490 Boatshore Road, Rock Hill, S.C.
803-366-6620
On the banks of Lake Wylie, the park is open every day, daylight-dusk. Visitors over the age of 16 are required to have a South Carolina fishing license. Fishers cannot fish on the piers or in swimming areas. During the month of June, York County residents are charged $5 per vehicle. Non-residents are charged $8 per day.
1782 Quality Circle, Rock Hill, S.C.
803-329-5620
Fishing at the park, along the Catawba River is free of charge. The park, which is 70 acres in size, is open every day, 8 a.m.-8 p.m.
---
Salisbury
6800 Bringle Ferry Road, Salisbury
704-216-7803
Visitors who wish to fish must register at the concession stand. Fishing at the park costs $2.50, and is free for children under 3 and adults over 60. During the month of June, the park is open daily, 8 a.m.-8 p.m.
---
Waxhaw
5213 Harkey Road, Waxhaw
704-283-3885
In addition to fishing in the 350-acre lake, visitors can swim, enjoy pedal boats and play mini-golf during summer months. The lake is home to some of the best largemouth bass fishing in the state as well as bluegill, crappie and catfish. Call for details on entrance and activity fees.
Fishing is also a great birthday party idea! Most of the facilities listed above offer shelter rentals so you can celebrate a great time by the water and everyone can throw in a line. Looking for a few additional birthday party ideas? Check these out.
Courtney McLaughlin is a freelance writer in Charlotte, mom and much better at catching leaves and tree limbs than fish.