Where to Pick Blueberries Near Charlotte
Spend some sweet family time and bring home a colorful bounty.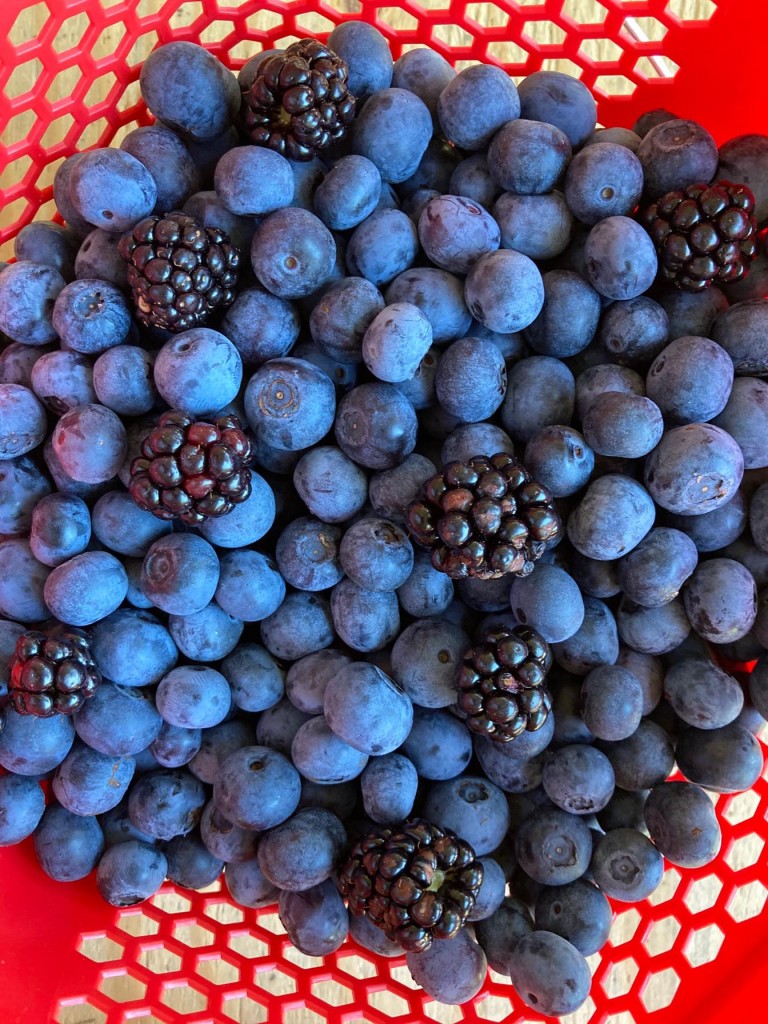 The sweet days of summer mean berry picking season in the Carolinas! Head to these local area u-pick farms and fill your bucket with sweet blueberries and blackberries perfect for a pie, cereal topper or by themselves. Before you head out to your favorite berry picking spot, call and confirm they are open for picking and ask about any special safety requirements. Be sure to save room for ice cream and other treats served at many area farms. Happy picking!
TLC Blueberry Farm is only open Saturdays from 8 a.m.-1 p.m. and does not take reservations so plan to arrive early. The farm doesn't use chemicals on their berries so they are safe to eat right off the bush. Buckets are provided and pick-your-own is only $3 a pound. Cash is preferred but cards are accepted. The team at TLC Blueberry Farm will keep the crew happy and hydrated with homemade blueberry ice cream, snow cones and bottled water. 3318 Greene Road, Monroe, NC, 28110.
If you like a side of history with your fruit, The Ivy Place in Lancaster, SC is for you! The historic property was built in 1850 by Adam Ivy using money made from a single piece of gold dust from a local gold mine. Talk about luck! Today the property is loving run by Terry and Genie Graham.
This season, The Ivy Place is offering families a fun and safe way to pick blueberries, blackberries, squash blossoms and sunflowers. Start by booking an appointment for your group of 2 to 10 people at www.ivyplaceevents.com. Single pickers are welcome to come with no appointment from 8-9 a.m. or 5-6 p.m. Once your party arrives, check in with staff, wash your hands and the great people at Ivy Place will tell you how to proceed. The farm supplies containers and cash, debit cards, credit cards and contactless payments are accepted. Some prepicked produce is available depending on availability and due to food safety regulations, no pets are allowed on the property. 8603 Van Wyck Rd, Lancaster, SC 29720. 803-804-6017.
The berries at Bush-N-Vine come with 150 years of farming experience courtesy of the Hall family – that's why they taste so good. The pick-your-own blueberry and blackberry patch is currently open Monday-Friday 8 a.m.-3 p.m. and Saturdays 8 a.m.-2 p.m. Reservations are not needed, but you are encouraged to call before you visit as sometimes the fields are closed due to bad weather. 1650 Filbert Hwy York, SC. (803) 684-2732.
Located in Rock Hill, SC near Cherry Park, Rivers Blueberry Farms is a quick trip from Charlotte. Check the Facebook page for u-pick times. 1595 Colon Road, Rock Hill, SC 29730.
Lineberger's farm reports this year's crop as being delicious and the berries even larger than normal. The big, beautiful berries won't be around for long, so make plans to head to Dallas, NC and bring home a bucket of goodness. Prices are $8 for a half-gallon (approximately 3 pounds). Call for u-pick times. 906 Dallas Stanley Hwy 28034. 704-922-8688.
A Little Further Down the Road
It's worth taking the just under two-hour road trip to Ramseur, NC to Millstone Creek Orchard to spend a memorable afternoon. The farm is located on a beautiful property offering many fruits, vegetables, meats and even the opportunity to do some fishing (reservations required). U-pick hours for blackberries and blueberries are Monday through Saturday 9 a.m.-5 p.m. and Sunday 1-5 p.m.
During weekday u-pick hours, guests must walk to the fields as hayrides will not be offered. There is no u-pick fee during the week. Once you arrive, check-in is located inside the Apple Barn. On weekends, guests who can walk to the fields must walk and those who cannot can take a hayride using social distancing measures. There is a $2 per person u-pick fee on the weekends.
Millstone Creek Orchard asks all guests to sanitize before they head out to the fields and once they return. All buckets will be sanitized between guests and the staff is implementing a minimal touch packing process for berries. 506 Parks Crossroads Church Rd, Ramseur, NC 27316. 336-824-5263.
If you have a hankering for berries, you can pick seven days a week at Campbells Berry Farm in Bethlehem. They are open Monday through Saturday, 7 a.m.-7 p.m. and Sunday 1-6 p.m. Don't leave without tasting the ice cream, trying your skills in a scavenger hunt or asking how you can become a member of the 10-gallon club. 27 Tracy Bolick Ln, Hickory, NC 28601. 828-598-0707.
Take advantage of this fun and safe way to spend some family time outdoors and come home a winner with a bucket of berries.
Courtney McLaughlin is a freelance writer, mom and a blueberry pie enthusiast.