Where to Hike With Kids Within an Hour of Charlotte
Try one of these family hikes that make a great day trip from Charlotte.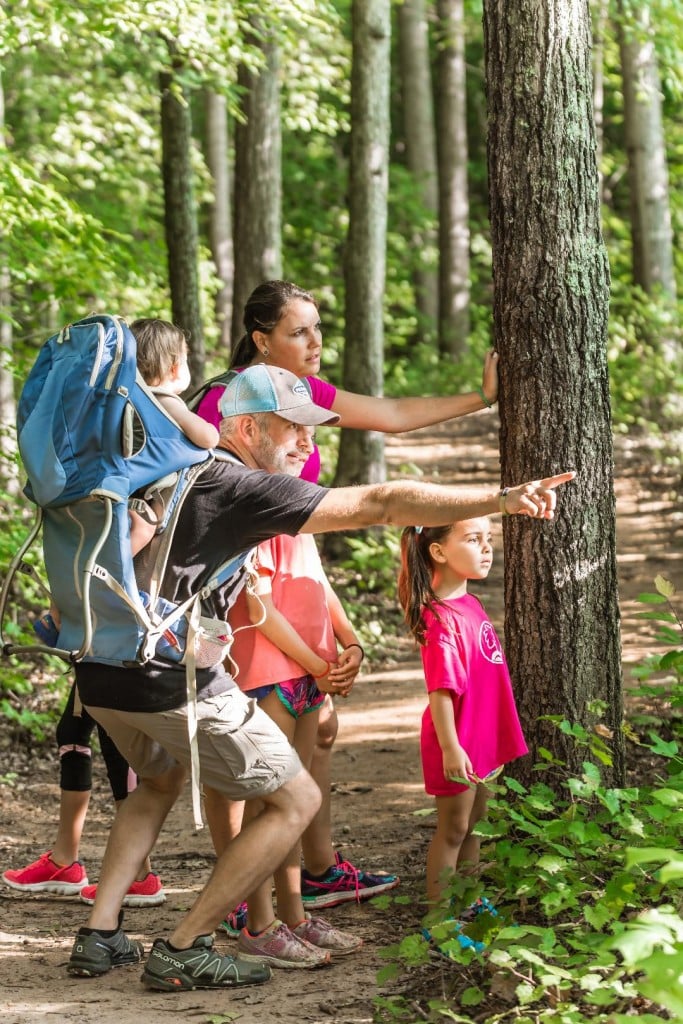 Updated (June 2022)
If you've got a half or full day for a family hiking adventure, we've got a mountain of possibilities! From easy, flat trails through woods, prairie, farmland, and Savannah habitats to scaling rocks and steep climbs, you'll find something for all ages and abilities. Plus, with less than an hour drive time from uptown Charlotte (one way), you'll be home in time for dinner. Of course, many parks and preserves offer overnight camping so you can make a weekend out of it and keep the fun going 'til the sun goes down. There's also a Junior Rangers program through many state parks for added fun and education. Be sure to call or check the park website before you go to make sure the trail you are ready to tackle is open.
---
Drive time: 45 minutes north from uptown Charlotte
Stroller friendly? The Dragonfly Trail is paved
This state park is a great place to hike with kids, and with 30.5 miles of single track trails, you can plan your own adventure. Feel free to bring fishing gear and relax by the lake as well. The Alder Trail (.8-mile roundtrip) and the Dragonfly Trail (only .15-mile roundtrip) are easy and great for little ones. The Lake Shore Trail is best for older kids. Though this trail is listed as moderate and 6.2 miles round-trip, there is a shortcut that shortens the trail to 3 miles. 759 State Park Road, Troutman, NC 28166. 704-528-6350
Check the park's events page to see when rangers lead special informational hikes in the park.
---
Drive time: 37 minutes south of uptown Charlotte.
Stroller friendly? No
When you hike more than 8 miles of trails at McDowell Nature Preserve, stay on the lookout for 119 species of birds, 21 species of mammals and reptiles, and 14 species of amphibians. Set out on the Piedmont Prairie Trail, which is 1.1 miles round-trip, and cuts through prairie habitat. When the family is ready for a bigger challenge, try the Chestnut Trail. At 1.11 miles, it isn't very long but it does include a few steep inclines and large rocks to navigate. Visit in early spring and get stunning pictures of wildflowers. If after a day of hiking you aren't ready to head home, there are 56 available campsites. 15222 South York Road, Charlotte, NC 28278. 980-314-1128
Drive time: 35 minutes from uptown Charlotte
Stroller Friendly? No
Crowders Mountain is known around town for its hike to the summit. This hike, the Backside Trail, is only .9 miles one-way, but it's listed as strenuous since it is a steady climb with 336 wooden steps until the summit. If you take your time, this hike is good for older kids.
This state park also offers many trails that are good for your young ones as well. The Lake Trail is a flat .8-mile round-trip hike that follows a gravel path around the lake. If you want to extend this hike, combine this trail with the Fern Trail (.8-mile round-trip) and the Turnpike Trail (1.2-miles round-trip, listed as moderate) for a 2.1-mile round-trip hike. 522 Park Office Lane, Kings Mountain, NC 28086. 704-853-5375
---
Drive time: 45 minutes from uptown Charlotte
South Carolina's Kings Mountain State Park offers two family-friendly hikes. The first, the Kings Mountain Nature Trail, is great for young kids. This 1.2-mile loop trail has signs along the way to teach your family about the local history, wildlife, and vegetation. The Living History Farm Trail is an easy 3-mile round-trip hike that older kids will enjoy. It shows what everyday life would have been like on a Carolina farmstead during the revolutionary era. Highlights include a carpenter/blacksmith shop, a two-story farmhouse, and a cotton gin. Admission is $3 for adults, $1.50 for seniors, $1 for children age 6 – 15, and kids 5 and younger free. And if you can't live without it, the park has Wi-Fi. Click here for driving directions to the park to avoid fighting with your GPS. 803-222-3209
This park also hosts many events throughout the year!
---
Drive time: 25 minutes north of Charlotte
Stroller Friendly? There is a short span of paved sidewalk around the Dairy Barn.
Did you know there are 2,100 acres of natural beauty and 40 miles of trail in Fort Mill, SC? The Anne Springs Close Greenway is a gem of a recreation spot. It's easy for little ones to stay on the right path – just follow the yellow trail markers placed every 1/4 of a mile. The Lake Haigler Nature walk is a 1.75 mile loop with 12 guided "stops" along the way where you can explore bridges, views of the lake, interesting vegetation, nesting boxes, and lots of animals. Hiking is free for members and $12 for nonmembers, $6 for children ages 5 – 12. Greenway maps are available at all welcome kiosks. You can also find horseback and biking trails here. 2573 Lake Haigler Drive, Fort Mill, SC 29715. 803-547-4575
---
Drive Time: 53 minutes north of uptown Charlotte
Take the kids to Buffalo Creek Preserve Trail and surround yourself with a working farm, water features, and unique terrain along Adams Creek. The 393-acre preserve has streams; ponds; wetlands; and a working farm that grows hay, corn, soybeans, and wheat used to feed cattle. This easy 2.1 mile (one way) trail is also part of the Butterfly Highway. Near 7911 Malibu Road, Mt Pleasant, NC 28124
Willing to travel a little further?
Drive Time: 1 hour, 15 minutes from uptown Charlotte
You don't have to travel far to experience a hike with a 3,000 foot elevation, 80-foot waterfall, and lots of mountain streams. Start with the River Trail, an easy .5 miles (one way) along the Jacob Fork River. When you're ready, hit the moderate Lake View Trail, a 1.3 mile loop where you can cross over streams and view a small waterfall. 3001 South Mountain Park Ave., Connelly Springs, NC 28612. 828-433-4772
Drive time: 1.5 hours from uptown Charlotte
This park offers many beautiful moderate and strenuous hikes. The Stone Mountain Loop Trail is the signature hike of the park, climbing to the top of Stone Mountain and bringing you down to view a 200-foot waterfall. It is 4.5 miles round-trip and listed as strenuous, so it is best suited for families with teens.
If you're searching for more kid-friendly hikes, there are a few moderate-level trails that your family can explore. The Middle Falls/Low Falls Trail is a one-mile round-trip trail that leads hikers along Big Sandy Creek to views of waterfalls. If you'd like a glimpse of Stone Mountain's steep slope, take the two-mile round-trip Cedar Rock Trail up to the top of Cedar Rock. 3042 Frank Parkway, Roaring Gap, NC 28668. 336-957-8185
Drive time: 1.5 hours from uptown Charlotte
Stroller Friendly? There are shorter, paved sidewalks by the park office and at the summit
This state park has many jaunts suitable for young ones. The Kids Track Trail is a .6-mile round-trip hike that offers views of the Pilot Mountain pinnacle and surrounding mountains. You'll even find activities for children along the way. The Little Pinnacle Overlook Trail is even shorter, only .2 miles round-trip, and on a clear day, you can see over 3,000 square miles from the bluff. Longer, steeper trails are also available for older children and teens. 1792 Pilot Knob Park Road, Pinnacle, NC 27043. 336-325-2355
Drive time: 1 hour, 15 minutes east of uptown Charlotte
You can find some more strenuous hikes at this state park, but if you're searching for a kid-friendly trail, check out the Quarry Trail and the Rocks Trail. The Quarry Trail is only .6 miles round-trip and passes by the quarry where the Civilian Conservation Corps' (CCC) got many of the rocks that built the park's buildings, curbs, and walls during the Great Depression. Brochures are available at the beginning of this hike that offer activities for children along the trail. The Rocks Trail is longer, 1.3 miles one-way, and less suited for young children. It ends at a 35-foot high rock outcrop overlooking the Pee Dee River so keep your little ones close.
There's also a swimming pool at the park that is open during summer months with a baby pool. Summer pool hours at 10 a.m.-5:30 p.m. Entry fee is $5 for adults, $4 for children ages 3-12, and free for under age 3. 49104 Morrow Mountain Road, Albemarle, NC 28001. 704-982-4402
Drive time: 1 hour, 10 mins from uptown Charlotte
Rocky Face Mountain Recreational Area is approximately 318 acres, with six miles of hiking trails that lead to the summit. All trails except the paved, ADA-accessible walkway off the parking lot involve a climb, either by stairs, switchbacks, or a rocky uphill trail. While it's best known for the 1.9-mile Vertical Mile Challenge, kids can hike short Buzzards Loop to a quarry overlook or check out the new adventure playground. 3451 Rocky Face Church Road, Hiddenite, NC 28636. 828-632-1093
Drive time: Just over an hour from uptown Charlotte
The 1500 acre Greenway has 15 miles of natural surface trails and is a great place to ride, hike, or picnic. Joining more than 20 miles of multi-use trails along both sides of the river, hikers can also enjoy the fishing pier and wooden playground. A handicapped accessible interpretive area with educational displays is also available. Cleveland County residents can enjoy the Greenway for free, non-residents pay $5 per car per day. 126 Broad River Road, Shelby, NC 28152. 704-434-0040
Happy trails!