The Pint-Sized Foodie: Silverlake Ramen
The latest from our kid food critic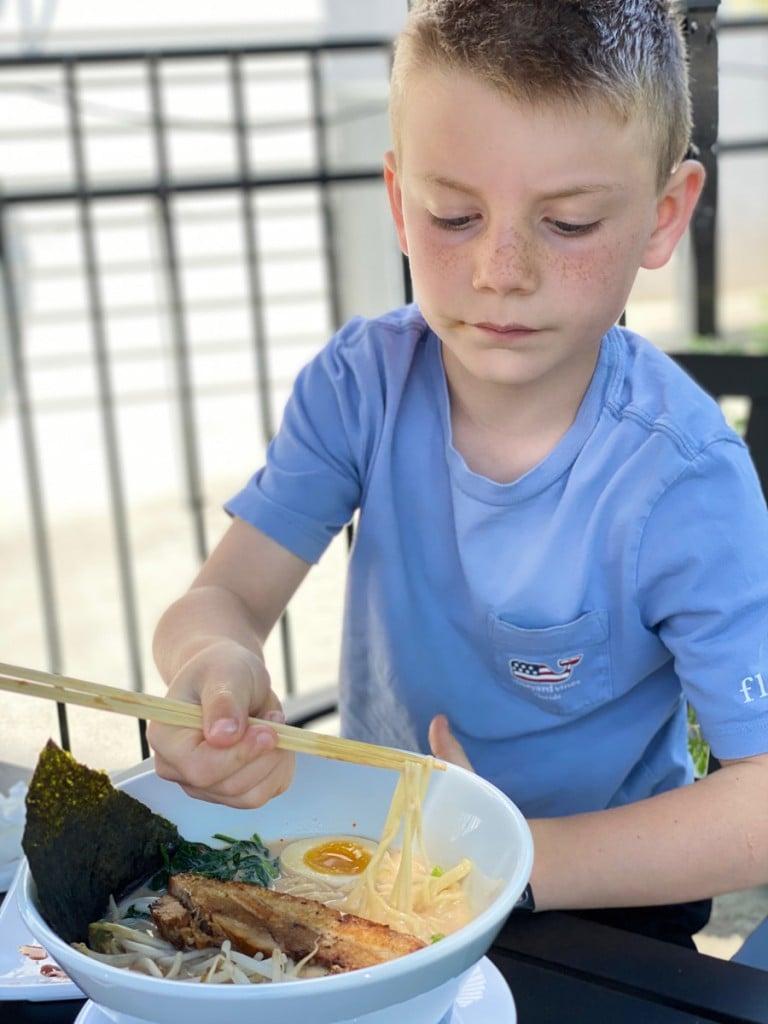 Each month, our 7-year-old resident foodie visits a different Charlotte-area restaurant that's kid-friendly—but not a kid-topia. He orders something he's never tried before and reports back with his recommendations for kids and their parents. Here is his review of Silverlake Ramen in South End:
What we ordered:
We got the Edamame ($3.50) and the Crispy Rice with Spicy Tuna ($5.75) to share. I got the Blaze Ramen ($13.95) with pork and Mommy got the Classic Ramen ($12.95) with chicken.
How it works:
You can sit inside or outside, so we sat outside because it was warm out. We went on Sunday at lunchtime and there was a huuuuge line in front, but that was actually for Snooze—those people were still waiting to have breakfast! I thought that line was for ramen but it wasn't so luckily we didn't have to wait at all! Our waiter took our order and brought stuff out pretty fast.
Why I liked it:
It's good when you can eat ramen outside because some of the noodles fall off my chopsticks and fall on the ground. I'm pretty good with chopsticks but those noodles are slippery! Our waiter brought the spicy red sauce on the side so I could add more if I wanted. He didn't think I could handle it but I used it all!
What I didn't like:
It was a little noisy from the cars on the street and all those people waiting for Snooze.
What I tried for the first time:
The Crispy Rice with Spicy Tuna was kind of like a sushi roll but kind of different. It had spicy tuna and avocado and the eel sauce I like from sushi, but all the stuff was on top and not inside the roll. It was kind of hard to eat with chopsticks because it was bigger than a sushi roll so I had to take a few smaller bites and not one big one.
Why other kids should try it:
I think most kids would like ramen because it's just noodles and you can get them un-spicy and they let you pick if you want pork or chicken in it. The ramen comes in a really big bowl and I think there's some vegetables in there but you can't really tell because it's all mixed together.
What I liked best:
Hmmmm…I don't know. The ramen was good but I really dig the Crispy Rice with Spicy Tuna, too.
Why parents will like it:
If they like ramen they'll like this. Also, the bowls are really big so you can bring the rest home for dinner.
Why I would come back:
I really like ramen and it's fun to come to South End on the weekend.—T.B.