Pumpkin Patches and Corn Mazes Near Charlotte
Enjoy hayrides, wind through a corn maze, and see friendly barn animals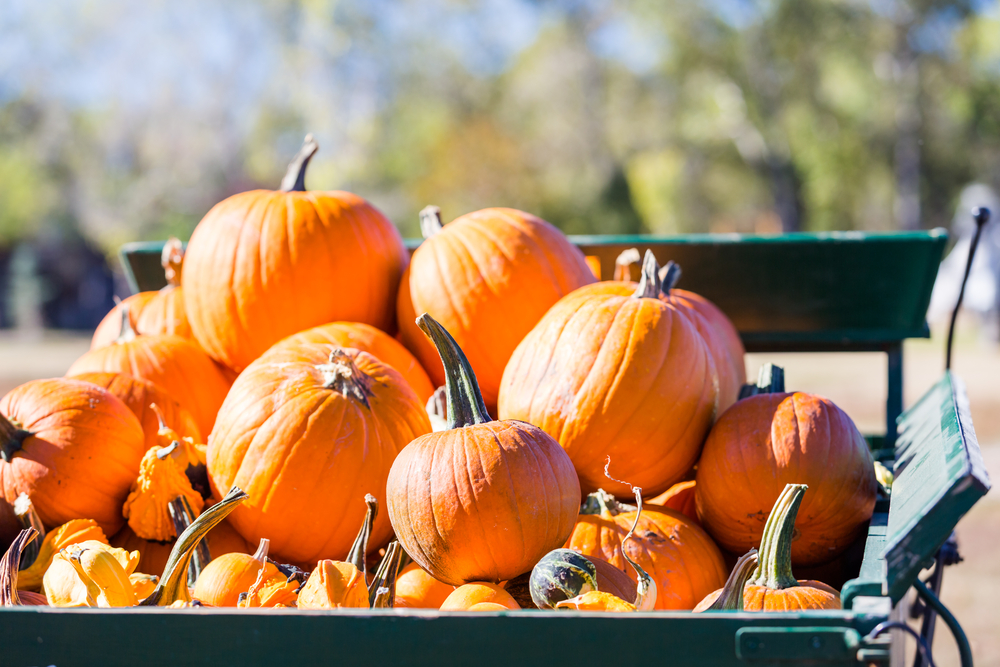 Make a trip to the farm to pick out the perfect pumpkin, join in a hayride, navigate a corn maze, and visit friendly farm animals.
Some locations let you pick pumpkins straight from the vine or may have a selection already picked for faster picking. Check websites for more information on fees and activities. Tip: Bring cash, as not all farms accept credit cards.
---
Charlotte
Sept. 24-Oct. 31
Enjoy hayrides, jump on a hay mountain, picks pumpkins, visit barnyard animals, and take advantage of gorgeous photo ops.
Location: 3900 Rocky River Road E. | 980-867-1014
Cost: Free admission. Hayrides are available on Saturday and Sunday for $5 per person.
Hours: Sept. 28-Oct. 31. Mon.-Sun., 9am-6pm.
---
Concord
Open in October
This farm celebrates its 30th year as a pumpkin patch in 2022. Visit the fields on the afternoons and weekends to choose from a variety of pumpkins and gourds. Pumpkins are 50 cents per pound. Check out a "magic" pumpkin, a farm-themed playground, and barnyard animals.
Location: 12150 McManus Road, Midland | 704-622-7192
Cost: $6 for ages 2 and older.
Hours: Oct. 1-31. Monday-Friday, 3:30-6 p.m.; Saturday, 10 a.m.-6 p.m.; Sunday, 1-6 p.m.
---
Indian Trail
Sept. 17-Nov. 6
Location: 4701 Hartis Road, Indian Trail | 704-628-6232
Cost: Sign up for reservations on the website. Prices vary by activity, such as wagon rides through the woods, barrel train, corn pit, and more. Inquire about Wise Pie Pizzas, which must be pre-ordered.
Days Open: Thursday-Sunday (see site for hours)
---
Sept. 30-Nov. 6
Country Days celebrates its 20th season this year! Join them for a corn maze, barnyard animals, games, farm activities, and more.
Location: 416 Joe Lee Helms Road, Indian Trail | 704-753-1299 (weekdays); 704-572-1993 (weekends)
Cost: $5-$10 for maze; $1 for other farm activities or $18 for unlimited wristband.
Days Open: Friday, 5-10 p.m.; Saturday, 10 a.m.-10 p.m.; Sunday, 2-8 p.m.
---
Monroe
Carolina Corn Fest, Sept. 17; fall weekends Sept. 23-Nov. 6
Corn maze premieres at the Carolina Corn Fest on September 17.  Activities include wagon rides, hay bales, fishing, and an animal barn.
Location: Aw Shucks, 3718 Plyler Mill Road, Monroe | 704-709-7000
Cost: $10-$12, plus extra fees for certain activities, children 3 and younger admitted free.
Hours: Friday, 6-11 p.m.; Saturday, 11 a.m.-11 p.m; Sunday, 1-6 p.m.
---
Mooresville
Carrigan Farms Pumpkin Patch Tour
Oct. 1-31
Pumpkin picking is back at Carrigan Farms. Guests ages 12 and older may also be interested in the Scarrigan Farms haunted trail.
Location: 1261 Oak Ridge Farm Highway, Mooresville | 704-664-1450
Cost: $14 admission includes a hayride to the petting zoo and pumpkin patch. Closed-toed footwear is recommended.
---
Rock Hill
Sept. 26-Nov. 4
Fall Fun admission includes PawPaw Carl's playground, barnyard, cow barrel train ride, corn maze, wagon ride, and 40+ attractions.
Location: 10390 Caldwell Road, Mount Ulla | 704-636-4005
Cost: $12 per person on weekdays; $16 per person on weekends. Purchase tickets online. Children under 2 are free.
Days Open: Monday-Friday, noon- 5 p.m.; Saturday-Sunday, 9 a.m.-5 p.m. Last tickets sold at 3:30 p.m.
---
Rock Hill
Weekends in October
The farm has a corn maze, hayrides, a petting zoo, and free popcorn. Carving-size pumpkins are available for $8 each.
Location: 1922 Oakdale Road, Rock Hill | 803-207-5624
Cost: $9 per person
Days Open: Saturdays (10 a.m.-6 p.m.) and Sundays (1-6 p.m.) in October.
---
Weddington
Sept. 16-Nov. 6
Take a wagon ride to the petting barn to pet, feed, and snuggle with farm animals. A small pumpkin is included in the ticket price.
Location: 13624 Providence Road, Matthews | 704-846-7975
Cost: $10 per person
Days Open: Tuesday-Thursday, 2-7 p.m.; Friday-Sunday, 9 a.m.-7 p.m.
---
​York
Open the last Saturday in September and every Saturday in October
Come for pumpkin picking, boiled peanuts, ice cream, doughnuts, and live music on the farm.
Location: 1650 Filbert Hwy., York | 803-684-2732
Cost: Pumpkins are priced by poundage (Less than 5 pounds, $1.15 per pound; More than 5 pounds, 69 cents per pound.)
Days Open: Monday-Friday, 8 a.m.-6 p.m.; Saturday, 8 a.m.-5 p.m.