8 Scenic Drives in North Carolina for Families
North Carolina is home to many scenic routes for families who enjoy road-tripping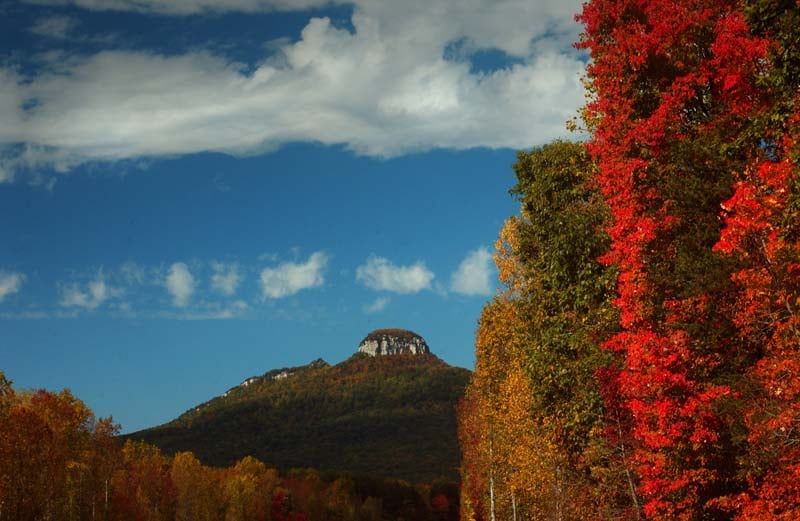 From stunning mountain peaks along the Blue Ridge Parkway to gorgeous coastal landscapes — plus rolling hills in between — North Carolina is home to many scenic routes for families who enjoy road-tripping. It's the perfect way to explore state parks, discover waterfalls, climb up lighthouses, and take in the Tar Heel state's natural beauty and breathtaking views. Here are eight scenic road trips for when the urge to take a driving adventure strikes your family.
---
Length: 252 miles in North Carolina
Region: Mountains
Enjoy stunning views and ample opportunities for hiking and camping along the Blue Ridge Parkway, which spans 252 miles in North Carolina from the Virginia state line near Cumberland Knob to 2 miles south of Cherokee at the Great Smoky Mountains National Park. Don't miss Doughton Park at milepost 238.5, which covers 7,000 acres and is considered the parkway's largest recreation area. You'll find picturesque Linn Cove Viaduct beginning at milepost 304.6. This 1,243-foot concrete bridge and architectural marvel twists and turns around Grandfather Mountain. The Parkway also leads to Linville Falls at milepost 316.3, while N.C. 128 at milepost 355.4 takes you to Mount Mitchell State Park, the highest peak in the eastern U.S. Additional points of interest include Moses Cone Memorial Park at milepost 294, Craggy Gardens at milepost 364, Chimney Rock State Park at milepost 385 and Biltmore Estate near milepost 388.8.
---
Length: 43 miles
Region: Mountains
Cherohala Skyway, which opened in 1996, is a 43-mile section of the National Scenic Byways program stretching from Robbinsville, North Carolina, to Tellico Plains, Tennessee, with 18 miles of it winding through North Carolina along N.C. 143. Cherohala Skyway is a favorite among motorcycle and other road enthusiasts thanks to access to picnic areas, trails, mountain overlooks, spectacular vistas, winding curves and stunning views — especially when fall foliage is at its peak. You won't find roadside attractions, restaurants or other businesses along the skyway, so make sure you have plenty of gas, snacks and water before you make the trip. Nearby points of interest include the towns of Lake Santeetlah and Cherokee, Joyce Kilmer Memorial Forest and the Appalachian Trail.
---
Length: 38 miles
Region: Piedmont
Explore the ancient Sauratown Mountains during a drive along the Hanging Rock Scenic Byway, which runs through Surry and Stokes counties. You'll enjoy beautiful views of Hanging Rock along this 38-mile trip. Spend an afternoon hiking and enjoying Hanging Rock State Park's 20 miles of trails, waterfalls and amazing views. Visit Tory's Den, a cave believed to have been used by the Tories during the American Revolution. As the byway winds toward Surry County, you'll end up near Pilot Mountain State Park and Mount Airy, Andy Griffith's beloved hometown fictionalized in "The Andy Griffith Show" as Mayberry. If you're a fan of the show, be sure to visit Floyd's City Barber Shop and the Old Mayberry Jail, and grab a bite to eat at The Snappy Lunch.
---
Length: 52 miles
Region: Mountains
Thia 52-mile drive through Madison and Yancey counties begins at the summit of Mount Mitchell with an altitude of 6,684 feet. Explore Mount Mitchell State Park, a portion of the Blue Ridge Parkway and N.C. 80, where you'll descend several thousand feet into the South Toe River Valley. You'll also drive through the Appalachian District of the Pisgah National Forest. Opportunities for hiking, fishing and camping are plentiful in this region, which also includes scenic waterfalls at Roaring Fork and Setrock Creek. The trail continues on U.S. 19, which takes you through the historic town of Burnsville, and the drive ends about 15 miles from Asheville.
Length: 9 miles
Region: Mountains
Named for Whitewater Falls, the highest waterfall east of the Rockies, Whitewater Way is a short 9-mile drive that passes Gorges State Park in Transylvania County, about 45 miles from Asheville. You'll find Whitewater Way on N.C. 281 between Sapphire and South Carolina in the Nantahala National Forest. The waterfall is located about 8.5 miles from Sapphire. Look for signs to the Whitewater Falls Scenic Area, then parking in the parking lot, which leads to the trailhead and an easy, 5-minute walk to the 411-foot waterfall.
---
Length: 98 miles
Region: Mountains
Waterfall Byway is a 98-mile trail that follows U.S. 64 through Cashiers and Highlands. The byway, which begins in Transylvania County and ends in Cherokee County, is named for 200 waterfalls in the region, which is aptly known as "land of the waterfalls." Viewing many of these stunning waterfalls requires long hikes, but a few of them are easily accessible.
Bridal Veil Falls near downtown Highlands is visible from your car, but you'll want to stop and take a picture of this stunning 120-foot waterfall. Less than a mile away is Dry Falls, which requires a .25-mile, kid-friendly trek. Step onto the viewing platform that is also stroller and wheelchair accessible, and take the paved path to the waterfall, which drops 80 feet. Cullasaja Falls, about 9 miles from Highlands, is also visible from the car.
---
Length: 8 miles
Region: Coastal
Wilmington, incorporated in 1739, is known for its 19th century urban architecture and is the largest North Carolina coastal city. Discover the Port City with a drive through the historic downtown and enjoy its scenic views of the Cape Fear River. Notable sights include Battleship North Carolina across the river, Greenfield Lake Park and Gardens, the federal courthouse, and the Wilmington Riverwalk, a pedestrian walkway on Water Street that is dotted with a variety of unique shops and restaurants. The byway begins at the intersection of U.S. 74/N.C. 133 and makes several turns on North Front, Red Cross, North Water, South Water and Market streets. For more sightseeing, book a cruise of the Cape Fear River through Cape Fear Riverboats.
---
Length: 142.5 miles in North Carolina
Region: Coastal
Spanning more than 140 miles, the Outer Banks National Scenic Byway runs from N.C. 12 in Dare County to U.S. 70 in Carteret County. Island hop through North Carolina's barrier islands and explore coastal villages and towns along the way. Some of the most scenic views lie along the Cape Hatteras National Seashore with both the ocean and sound visible from your car. Explore lighthouses, ferry rides and pristine beaches. In Frisco, located between Buxton and Hatteras, look for a UFO-style house. The kids will love seeing this silver spaceship, a popular roadside attraction and great spot for unique photos.
---
Myra Wright is the digital editor of Carolina Parent and Charlotte Parent. She loves taking North Carolina road trips with her husband and three kids.