The Pint-Sized Foodie: A Visit to Ilios Crafted Greek
Our 7-year-old food critic is back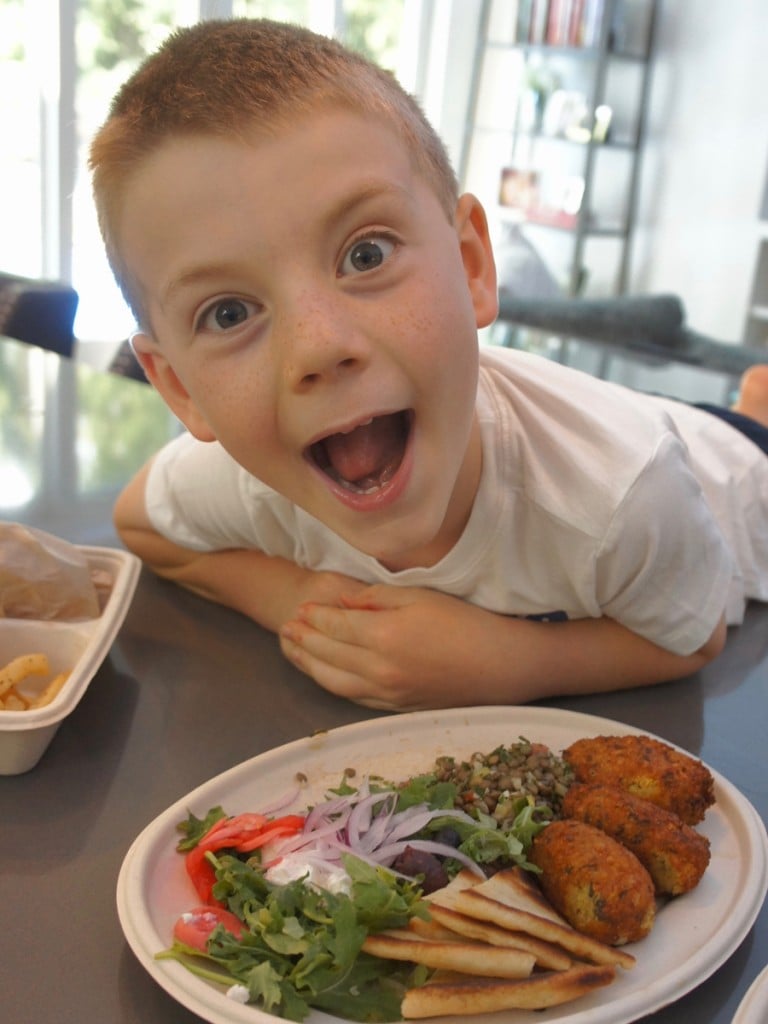 Each month, our 7-year-old resident foodie visits a different Charlotte-area restaurant that's kid-friendly—but not a kid-topia. He orders something he's never tried before and reports back with his recommendations for kids and their parents. Here is his review of Ilios Crafted Greek:
What I ordered:
We got a bunch of stuff I couldn't pronounce! (laughs) Here's what Mommy says we ordered: The Falafel Plate ($11.45), the Lamb Gyro Plate ($8.95), the Pork Souvlaki Sandwich ($8.45), and two Baklavas ($7.50) for dessert.
Why I liked it:
I liked the pork (soulvaki) on a stick that I ate at the Greek Festival last summer, and they had that! It didn't come on a stick, but it was still tasted good. I liked the lamb gyro because it was like a Greek taco I could eat with my hands. The sauces were good too, except the one that tasted like spicy yogurt (read: tzatziki spread). My favorite was the red one (read: feta spread). It was good on my French fries.
What I tried for the first time:
Falafel! It was kind of like a meatball and a French fry mixed. I didn't like the lentil salad, though. Mommy got it with her Falafel plate but I liked the fries better. (Ed. Note: the Falafel Plate comes with two sides of your choice.) My sister ate some of the lamb but only after Daddy told her it tasted like breakfast sausage.
Why other kids should come here:
You can order at the counter and tell them all the things you want, like at Chipotle. Kids can watch the meat cook on the really big grill behind the counter—it's a lot bigger than Daddy's grill at home. Plus they give you a ton of French fries. After lunch we got to hunt for murals around the neighborhood and that's fun for kids, too.
What I liked best:
Me and my sister got a nutty, honey thing (read: baklava) for dessert ($3.75). It tasted kind of like a doughnut but it was a lot stickier. Mommy said I had to eat it with a fork and not my hands.
Why mom and dad liked it:
Mommy and Daddy love the gyros at the Greek festival, so they liked the ones here but it's different because you eat them on a plate. We all got French fries too, and French fries are always good. But wait, are French fries French or Greek, Mommy?
Why I would come back:
More French fries! —T.B.