5 Things to Know About Applying to Private School
Considering private school for your child? Here are the important things to know when applying to a private school in the Charlotte area.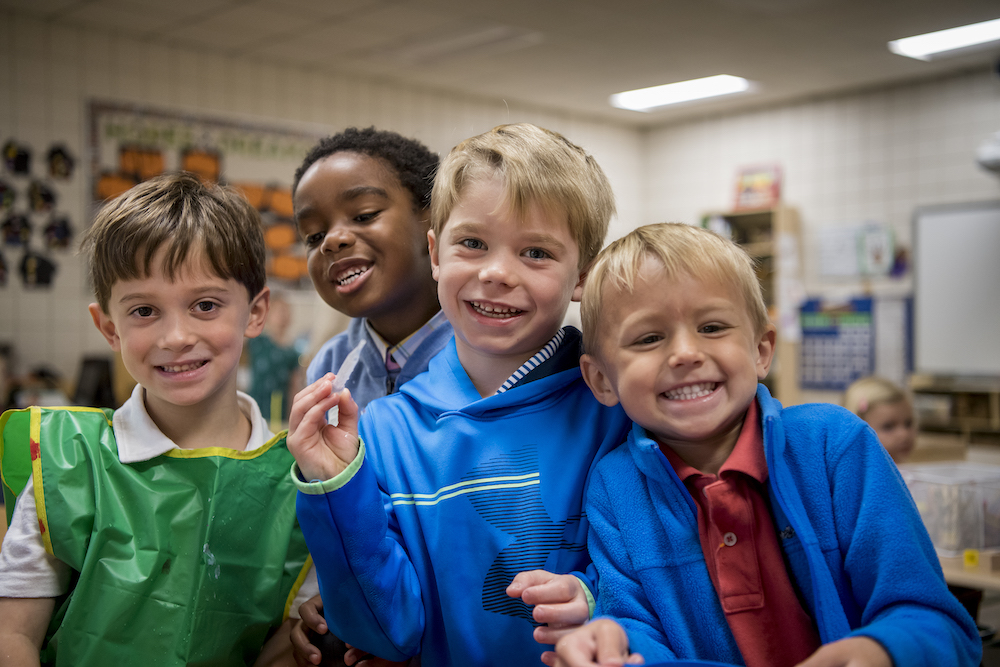 When it comes to planning for your child's education, finding the best fit for them can be key to their academic success. You want to ensure that the school you choose will meet your child's needs in all aspects, whether that means being challenged more academically or smaller class sizes so they can receive more one-on-one attention.
For many, private school is the most attractive option in guaranteeing the above. If you are considering the independent education route, understanding the application process can be a bit overwhelming. This is especially true for parents who may not have experience with these types of schools at all.
As you prepare to enroll your little one, here are five things to keep in mind about the process.
1. The process begins now
While we have almost a year until the next academic calendar begins, the process begins now. The application period begins with open houses. This is where you and your family can get a brief introduction to the school that you are considering. Each school's open house times vary, so it is best to check their websites for the most up-to-date information. For Charlotte Country Day School, open house and school visits happen in October and November.
"We suggest attending the open house to see what our school is about, to meet other families, and community members who are involved as well," Nancy Ehrighaus, Director of Admissions and Financial Aid of Charlotte Country Day School said. "At the Lower School Open House, you will have the opportunity to meet some of the teachers who will love, challenge, and inspire your children."
2. Deadline for applications is January 15
While that may seem far away, it will be here before you know it. As you determine whether or not to submit your child's application, be sure to take a deeper dive into learning more about the schools you are most interested in. For example, we learned that Country Day begins foreign language in Junior Kindergarten, have travel experiences abroad starting in Middle School, and offer the International Baccalaureate (IB) Diploma Program!
You should seek to visit the school during the day to get a true sense of what a typical day looks like. When you visit, you will see special area classes that are offered such as PE every day, music, guidance, and more. You will also sit with an admissions counselor to discuss your family's interests and what each school may provide.
3. There's a diverse applicant pool each year
Many would assume that, based on where a private school is located, they would normally only get students from that area. That's simply not true. While Charlotte Country Day is located near the SouthPark area, they draw applicants from 28 zip codes across several cities and counties, including those in South Carolina.
"We are a very inclusive community with a diverse student population. Our Affirmation of Community guides us in everything we do as we recognize and affirm the richness brought by difference and discovered through commonality," Ehrighaus said. "Our community of learners includes 203 students from 55 different countries, we enroll 19% students of color, and 19% of our students are on some type of financial aid. We work hard to reflect the broader community in the students we enroll."
4. Students will need to complete some testing first
Prior to applying and being accepted, your child will need to participate in a cognitive ability test with an outside licensed psychologist. To learn more about this testing, you can check out the Charlotte Area Independent Schools brochure.
Ehrighaus and the Charlotte Country Day team is looking for your child's readiness skills. This does not mean that your child needs to come in with all skills mastered, they just need to show the readiness to learn the skills once in school. After testing is done, you will meet to discuss the results. In this meeting, it will be determined if your child is in fact ready or if there are some things that need to be improved first.
"We may recommend Junior Kindergarten before entering Kindergarten to allow a child to strengthen academic skills and/or give a child time to develop emotionally and socially. It is a very individualized process for each family," Ehrighaus explained.
5. Financial aid is an option
The cost of independent education can deter some families from considering it as an option, but financial aid is available to those who qualify. Charlotte Country Day has a very robust financial aid program. Families must first apply through an outside servicer and they will turn over the results along with suggestions on what the family can afford. The school will make a final determination on aid by February 21.
Ready to get your Charlotte private school open house adventures underway? Click here to RSVP to a Country Day School open house, and don't forget to schedule a private tour!
Lower School Open House: October 17, 2019
Upper School Open House: November 14, 2019