Beyond Books: Innovative Makerspace at Country Day Gives Students Hands-on Learning Experience
From 3D sculptures using only 2D shapes to boomerangs using a laser cutter, the students of Country Day are learning to take their creativity to new heights while using their hands.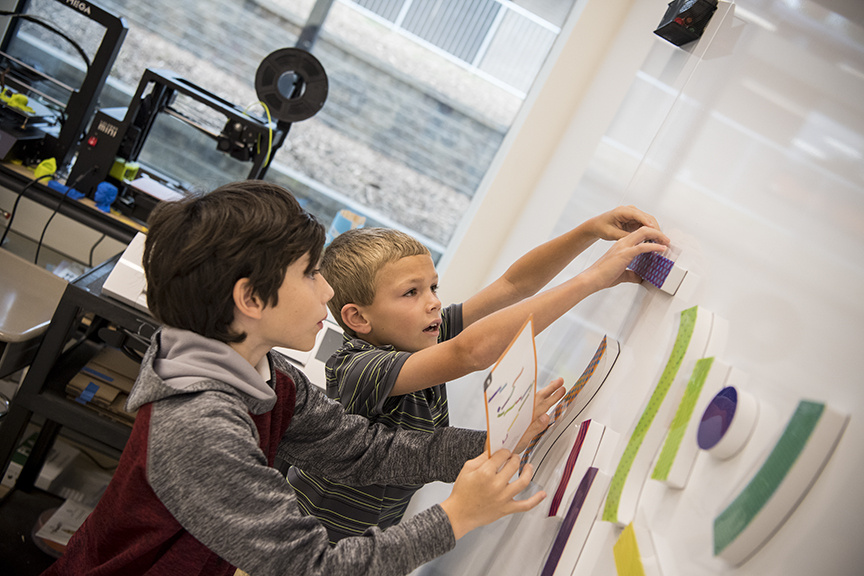 So much of a young student's life is scripted. They are told what to do, how to do it, and when it needs to be done. Often times, if the child isn't able to produce what is asked of them, they start to feel unsuccessful.
The faculty and staff of Charlotte Country Day School, with the help of capital raised from their ongoing Forefront Campaign, saw the need to bring an environment to the school that would allow students' creativity to flow freely.
Makerspace, a hands-on learning space in the Hance Lower School Learning Center, has far exceeded the expectations that anyone could have imagined. Students in Junior Kindergarten through 4th grade have been able to utilize this innovative room since it was introduced a year ago.
"We don't like to think of this as another classroom," Tim Moxley, Makerspace Educational Technologist says. "We like for students to think of this as their space."
When students come into the Makerspace, they are given a short and informal lesson on the new skill or tool that they will be focused on. Once the lesson portion is complete, they are free to create based on what was taught.
"The more we let them create, the better it turns out. When we give them an end goal, they become too focused on the end result versus the process," Moxley says.
Students are able to use types of tools they would normally be kept away from. Tools like laser cutters and 3D printers are used to create board games from scratch, wagons that cross the Oregon trail, and desk caddies for use at school.
Benefits of implementing this type of space into the students' curriculum include: increased confidence to take risks when it comes to creativity, a sense of pride from completing tasks on their own, and the ability to be expressive without consequence.
"This space is really great for students who may have difficulties sitting still or being quiet in a typical classroom setting," Moxley explains. "They thrive in Makerspace because it allows them to be themselves."
To learn more about the innovative learning taking place at Country Day, click here.