Rolled Paper Beads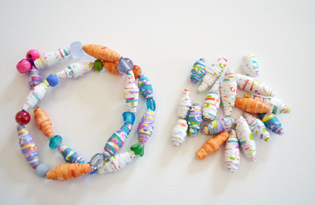 Create beautiful bracelets, necklaces and ankle bracelets from unwanted junk mail and catalogs!  Making rolled beads out of paper is an ancient craft that was especially popular in the Victorian era.  Today, artisans in Africa are highly regarded for the precision with which they create amazingly intricate and delicate rolled paper beads.   This craft is a great slumber party activity or perfect for a rainy day!  It requires very few supplies, most of which can be found around the house (or in the mailbox), and produces stunning results!  Use your imagination!  For example, you can use handwritten notes from your friends to make unique jewelry gifts that will hold special meaning just for the two of you!
You Need:
•? Scrap or decorative paper.  Select your colors and patterns based on your personal preference.  Suggestions include glossy magazine paper, catalog paper, origami paper, decorative scrapbook paper, wrapping paper, newsprint, and paper that has been written or scribbled on (this will make an interesting pattern when rolled up).  The more lightweight the paper, the easier it will be to roll.
•? ?A toothpick or medium size sewing needle to act as a "rolling pin"
•? ?Scissors
•? ?Small soft paintbrush
•? ?White school glue or Mod Podge
•? ?Protective varnish is suggested but not required
•? ?Wax paper or other non-stick surface to dry the beads
•? ?String to hang the beads
How to Do It:
1. To make tapered beads, cut the paper into strips of long narrow triangles, approximately ½ inch at the bottom and tapering into a tiny point at the top.  The widest point of the paper will be how wide the bead is.   The longer the strip of paper, the thicker the bead will be.  To make rolled "barrel" shaped beads, cut narrow long even rectangles. Get creative and experiment with different patterns you find in your family's pile of junk mail
2. Using the toothpick or sewing needle as a rolling pin, starting with the wide end of the paper, wind the paper tightly around the toothpick with the pattern that you want to appear on the outside of the bead facing outside of the toothpick.  You can place a small dab of glue on the end of the paper as you begin to roll it but it is not necessary and we've found that it is easier to roll the beads when your fingers aren't sticky.
3. Wind the bead all the way to the tapered end, and squirt a small dab of glue or Mod Podge on the bead and continue rolling with your fingers to spread the glue.
4. Gently slide the bead off of the toothpick and place on a non-stick surface to dry.
5. With a small soft paintbrush, you can paint a thin coat of varnish or and extra coat of Mod Podge on the beads to help preserve them and make them more durable.
6. You can mix the beads with other decorative beads to string a necklace or bracelet.
7. These make excellent gifts!  Make lots of beads in all of your friends' favorite colors!
small hands big art is an art studio in South Charlotte that offers classes, camps, & parties for children & young adults.
8025 Ardrey Kell Rd.
Charlotte, NC  28277
704.246.8271
www.smallhandsbigart.com
?