Parent to Know: Jenna Enoch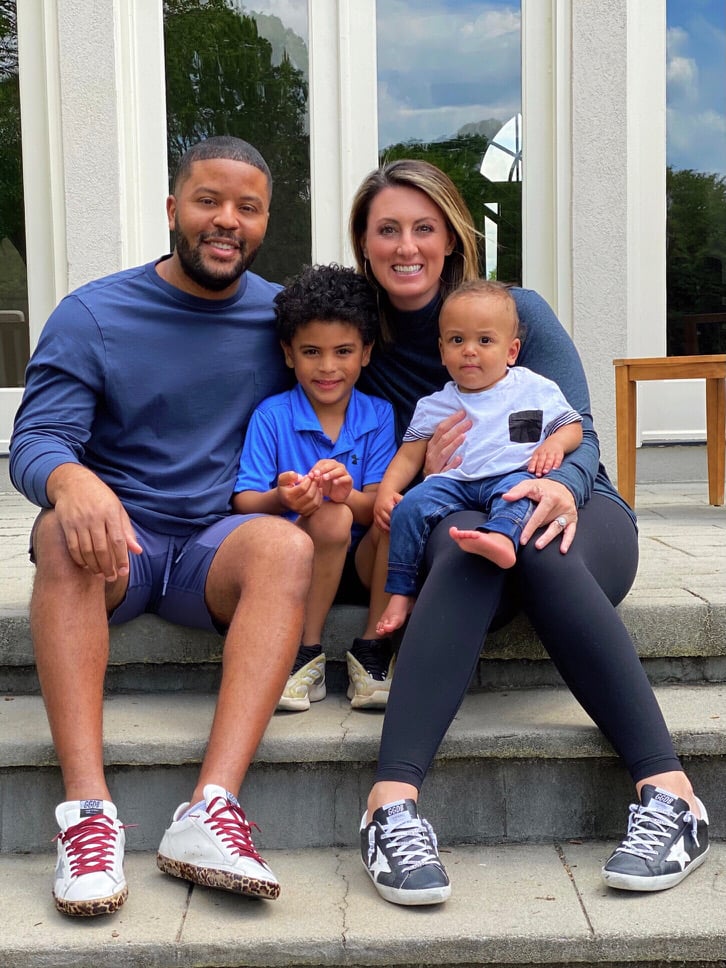 Jenna Enoch's mornings typically begin at 2 a.m., when she heads to her post at Spectrum News to report the day's headlines from 5 to 9 a.m. After her workday wraps at noon, she goes home for her "second shift" and relieves her husband Blake, who cares for the couple's two boys, Prescott, 4, and Townsend, 1, all morning. We caught up with 37-year-old Enoch to talk about pandemic parenting, date nights, and raising biracial sons in 2021.—Taylor Bowler
What's a typical day like for you? My alarm goes off at 2 a.m., but I hit snooze a couple of times. I don't get ready at home because I can't have a blowdryer on and wake the baby. So I tiptoe to the kitchen, make coffee, and I'm out the door by 2:30. I get to the studio and get dressed and read over everything for the day. Then we go live from 5 a.m. to 9 a.m. At 9:00 I have another cup of coffee, check emails, and catch up on work at my desk. I get home around noon and take over for (husband) Blake, who's working from home now. We have dinner as a family around 5 p.m. (because I have to go to bed at 7), then we take baths, put the kids to bed, and do it all over again (laughs).
What will you remember most about working and parenting during the pandemic? Townsend was born last March, at the start of the pandemic, so that was actually kind of great because you don't really leave the house with a newborn that much anyway. But it was really strange to leave work to have a baby, and came back four months later to a completely different, Covid-19 world.
What is it like to raise biracial boys in 2021? Growing up, my best friend was biracial, so I never thought twice about it. I want to instill in both my kids that it doesn't matter if you're purple, green, orange, white, Black, or Asian—you're important and special. You're not just one thing, you're a combination of many things. Other kids don't realize that Prescott is different, and that's a beautiful thing. At this age kids don't see differences or disparities.
What do your boys think of your job? Do they realize Mommy is on TV? My husband is the best video-taker and instagrammer, so he catches them watching me on TV. Prescott thinks it's pretty cool. The neighbors approach me now, wave and say "Hey, Jenna!" and I love that.
What's your favorite way to spend an unscheduled day with your boys in Charlotte? Pre-Covid, we'd wake up early, get breakfast somewhere, go to a park and let Prescott run free. We'd walk around South End and get ice cream at Jeni's. But we're homebodies, too—we're lucky to live in a place with a great backyard—and we watch movies on Friday nights; those moments are really special.
What's your favorite way to spend a kid-free night in Charlotte? We love to eat some food (laughs). My husband and I went Steak 48 recently. We will eat all the courses when the kids aren't with us. I'll take my time and cut my food in the smallest bites possible and savor it (laughs).
What's your favorite adult beverage? I'm into margaritas right now, but we're not really big drinkers.
What's your favorite restaurant in Charlotte? Ruth's Chris, Peppervine, Beef 'N Bottle.
What's your biggest parenting fail to date? As a mom, I wonder if I'm present enough. I get emails all day. Even when my day is "over" it's not really over. So I'm working on putting my phone away and focusing them.
What's the best parenting advice you ever got? The days are long but the years are short.
What's one thing you hope your kids learn from watching you in your career as a reporter? I want them to do what they love. People might think this job is really glamorous, but who else would get up in the middle of the night to go to work? It's not an easy career, but it's what I love. I care about making a difference and telling people's stories. And if you love what you do, it's not really a job. My husband started his own business doing what he loves, too. He always wanted to be a sports agent, and he took a big leap of faith three years ago. So they're learning the same from him, too, to do what you love.
THE TOUGH STUFF:
Chocolate or cheese? Cheese.
Coffee or tea? Coffee.
Beer or wine? Beer.
Hot dog or taco? Taco. Cabo Fish Taco, specifically.
Katie Couric or Diane Sawyer? Diane Sawyer.
Baby Shark or Baby Einstein? Baby Einstein.
Reality or fiction? Reality.
Comedy or drama? Drama.
More sleep or more free time? More sleep!
Daniel Tiger or Daniel Stowe Botanical Garden? Daniel Tiger.
Facebook or Instagram? Instagram.