31 Ways to Explore the Carolina Coasts
Discover fun and adventure from Corolla to Hilton Head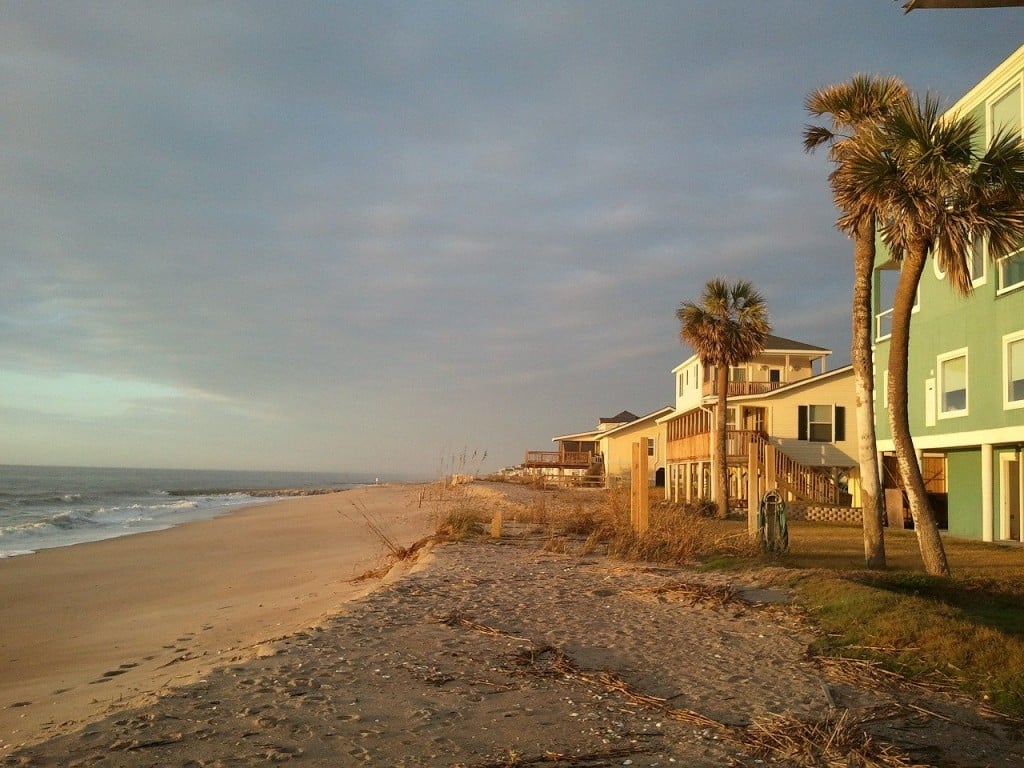 This story was updated in February 2021.
---
Carolinians looking for a beach vacation don't have to travel far. Between the beaches of North Carolina and South Carolina, there are about 500 miles of coastline to explore and enjoy. Here are 31 spots to check out — from the north end of the Outer Banks in North Carolina, through the Grand Strand and on to Hilton Head Island, South Carolina.
---
1. Tour Whalehead, a "mansion by the sea," on the Currituck Sound in Corolla, North Carolina. Whalehead is a 1920s-era, art-nouveau-style mansion open year-round for tours. Learn the history of this glamorous hunting retreat that was restored to its original glory in 1992. The site just opened for the season in February. visitcurrituck.com/whalehead
---
2. Make a splash at H2OBX Water Park in Powells Point, North Carolina. From thrilling water rides like Midnight Marauder and Riptide to low-key slides and lagoons, this water park offers something for everyone. The park opens again on May 29, 2021. h2obxwaterpark.com
---
3. Stand where the Wright brothers stood when testing out their flying machines in Kill Devil Hills, North Carolina. Aviation enthusiasts can tour a temporary smaller facility while the Wright Brothers Visitor Center undergoes renovations. Hike to the top of Big Kill Devil Hill to see the Wright Brothers National Memorial. Be sure to save time for the kids to get their national park Junior Ranger badge. Inquire at the visitor information desk. nps.gov/wrbr
---
4. See America's greatest unsolved mystery by watching the "The Lost Colony" outdoor drama in Manteo, North Carolina. The performance about what may have happened to the first English settlers on Roanoke Island includes fire and fireworks that will have kids on the edges of their seats. The 84th season of  "The Lost Colony" opens on May 28, 2021. thelostcolony.org
---
5. Explore the Outer Banks' lighthouses. Families can climb 257 steps to the top of the Cape Hatteras Lighthouse in Buxton, the world's tallest brick lighthouse. The Bodie Island Lighthouse in Nags Head and Currituck Beach Lighthouse in Corolla are also open for adventurous climbers. For nonclimbers, the Ocracoke Island Lighthouse is the perfect place to snap some pictures of North Carolina's oldest operating lighthouse. Many are opening in March and April this year, with the full list here: visitnc.com/story/coastal-lighthouses 
Photo courtesy of Ocracoke Island Visitors Center
6. Paddle through the Pamlico Tar River Estuary on the banks of Washington, North Carolina. More than 300 miles of trails have been mapped in this area, allowing families to explore its beauty and wildlife by kayak or canoe. littlewashingtonnc.com
---
7. Visit the seaside ghost town of Portsmouth Village, North Carolina. Families looking for adventure off the beaten path can take a boat from Ocracoke Island to explore this village of yesteryear that was completely deserted nearly 50 years ago. In addition to the village's cottages and community buildings, the island is known for its bountiful seashell supply and exceptional surf fishing opportunities. nps.gov/calo/planyourvisit/visit-portsmouth.htm
---
8. Go on a bear hunt in New Bern, North Carolina. Steeped in history, this North Carolina town is home to Tryon Palace, the state's first permanent capitol. You'll also find more than 20 unique fiberglass bear sculptures. Grab a map at the New Bern Convention and Visitors Bureau and meander through the quaint downtown area to see them all. visitnewbern.com
Photo courtesy of Brandy Metzger
---
9. Examine marine life at one of North Carolina's aquariums. Located in Pine Knoll Shores, on Jeanette's Pier in Nags Head, on Roanoke Island in Manteo, and Fort Fisher in Kure Beach, North Carolina's aquariums offer a variety of experiences for families. From a simulation on how to care for a sick sea turtle to touching a bamboo shark, the aquatic exhibits entertain and educate. ncaquariums.com
---
10. Gaze upon the wild horses of Shackleford Banks, North Carolina. A short ferry ride from Beaufort puts nature lovers smack in the middle of a natural habitat where wild banker ponies, believed to be the ancestors of shipwrecked Spanish mustangs, roam free. You may also see crabs, otters and gray foxes during your visit. outerbanks.com/shackleford-banks.html
11. Visit the Karen Beasley Sea Turtle Rescue and Rehabilitation Center in Surf City, North Carolina. Get a rare glimpse of sea turtles and their hatchlings while you learn about treatment and recovery efforts for the species, as well as the history of the Topsail Turtle Project. (Note: The center is currenty closed to the public, but we'll update this page when it reopens.) seaturtlehospital.org 
Photo courtesy of the Karen Beasley Sea Turtle Rescue and Rehabilitation Center
---
12. Walk the decks and interior of the Battleship North Carolina in Wilmington. Visitors are allowed to explore all nine levels to get an idea of what life was like on this World War II battleship, rumored to be haunted. battleshipnc.com 
Photo courtesy of the Battleship North Carolina
---
13. Surf the waves of Wrightsville Beach, North Carolina. Named one of the "World's 20 Best Surf Towns" by National Geographic Magazine in 2014, laid back Wrightsville Beach is perfect for beginners to take lessons and superstars to "hang 10." Young surfers can sign up for summer camp with WB Surf Camp (wbsurfcamp.com). townofwrightsvillebeach.com 
---
14. Explore Fort Fisher in Kure Beach, North Carolina. Families can view this Civil War historic site and view its military-themed exhibits about fort construction, blockade runners and weapons before heading outside to see remnants of the fort and replicas of cannons used during the war. nchistoricsites.org/fisher
---
15. Discover seaside family fun on the Carolina Beach Boardwalk in North Carolina. Noted by Food & Wine magazine as one of America's top 10 boardwalks, visitors of all ages will find no shortage of shops, amusements, restaurants and nightlife. During summer, enjoy a spin on the Ferris wheel and watch fireworks. Groove to live summer concerts while munching on hamburgers, hot dogs or Britt's Donuts. The boardwalk is open year-round. carolinabeach.com/carolina-beach-boardwalk.html
16. Take the pedestrian ferry to Bald Head Island, North Carolina, for a car-free day of fun in the sun. Explore the island by golf cart or bike before choosing a spot to settle among 14 miles of white, sandy beach. Enjoy the calm waters of South Beach or the more adventurous shores of East Beach, which are perfect for boogie boarding and surfing. baldheadisland.com
---
17. Watch the sun rise over Oak Island, North Carolina. One of the state's Brunswick Islands, Oak Island is one of only a few places on the East Coast where you can watch the sun set over the ocean. You'll also find a lighthouse, fishing pier and more than 60 public beach access points. oakislandnc.com 
Photo courtesy of Brunswick County Tourism Development Authority
---
18. Explore a marsh without getting your wet feet in Southport, North Carolina. On the Marsh Walk boardwalk, nature lovers can get up close and personal with birds, crabs and minnows. Hop on a tram for a guided tour of the waterfront area with Southport Fun Tours (southportfuntours.com) to learn about the area's history. southport-nc.com
---
19. Star gaze by day at the Museum of Coastal Carolina Ingram Planetarium in Sunset Beach. Watch a variety of space-themed movies throughout the day in the planetarium's Star Theater followed by a live star show. Be sure to check the museum's calendar to see if a laser light and music show is scheduled during your stay in the area. Open Thursday-Saturday between March and May 15. museumplanetarium.org
---
20. Come face-to-face with 200-plus species at Alligator Adventure in North Myrtle Beach, South Carolina. In addition to a variety of alligator species and other reptiles, see birds, monkeys, lemurs and amphibians at the "reptile capital of the world" adjacent to Barefoot Landing. Daily live shows offer visitors opportunities to ask questions about the animals and, in many cases, touch them. alligatoradventure.com
21. Enjoy a meal and a show at Medieval Times or Pirate's Voyage in Myrtle Beach, South Carolina. Medieval Times offers a two-hour jousting tournament to complement a four-course meal. Pirate's Voyage invites guests to join Blackbeard and his crew for spectacular acrobatic performances and aerial stunts during a four-course meal. medievaltimes.com, piratesvoyage.com 
Photo courtesy of Medieval Times
---
22. Birdwatch at Huntington Beach State Park in Murrells Inlet, South Carolina. View birds in protected habitats, including the maritime forest, salt marsh, freshwater wetlands and oak-pine forest. Camp and hike several nature trails at the state park during your visit, too. southcarolinaparks.com/Huntington-beach 
Photo courtesy of South Carolina State Parks
---
23. View the gardens and sculptures at Brookgreen Gardens in Murrells Inlet, South Carolina. From enormous live oaks to delicate small roses, enjoy nature in bloom throughout the year at Brookgreen Gardens. Don't forget to stop by Lowcountry Zoo, where children ages 12 and older can spend a day with the zoo staff and learn how to become a zookeeper. brookgreen.org
---
24. Throw a line offshore with Georgetown Charters in Georgetown, South Carolina. Enjoy a full day of fishing while the experts take you to the right spots, provide the bait and even clean your catch. georgetowncharters.com
---
25. Explore the majestic beauty of Bull's Island, South Carolina. If you prefer nature to the vacation hustle, ferry over to Bull's Island and be Robinson Crusoe for a day. Part of the Cape Romain National Wildlife Refuge, this island boasts a scenic hike to Boneyard Beach, where you can view a forest of oaks, cedars and pines stranded in the surf. bullsislandferry.com.
---
26. Wander around Fort Moultrie on Sullivan's Island, South Carolina. This restored fort, originally constructed of palmetto logs and sand, was an important fortification in the American Revolution. Literature lovers may find it interesting that Edgar Allen Poe, who was stationed at Fort Moultrie for a year, made Sullivan's Island the backdrop for his short story "The Gold Bug." charlestoncvb.com/beaches/sullivans-island
---
27. Dine under the stars at Pier 101 Restaurant in Folly Beach, South Carolina. Pier 101 Restaurant, located on the Folly Beach Pier, offers customers oceanfront dining and live music on weekends. After dinner, take a stroll down the pier, which extends more than 1,045 feet out over the ocean. pier101folly.com
---
28. Swim through the soft currents of Pelican Beach on Seabrook Island, South Carolina. For families with young children, Pelican Beach is perfect for relaxing and swimming safely in a mild current. At nearby Camp Seabrook, children can make crafts, explore wildlife and play sports. Daily or weekly sessions are available. discoverseabrook.com
---
29. Search for dolphins and seashells at Edisto Beach, South Carolina. Book a dolphin boat ecotour and learn about bottlenose dolphins and other species that live in and around Edisto Beach's salt marsh. Shell Island, a nickname for a sandbar island across from Jeremy's Inlet, is known for plentiful year-round sea shelling opportunities where intact sand dollars, star fish, sea glass and sharks' teeth are often found. edistobeach.com
---
30. Take a turtle walk on Fripp Island, South Carolina. The Fripp Island Resort offers summer programs to educate visitors about natural inhabitants, including loggerhead sea turtles, alligators, dolphins and crabs. During summer, sign up for a turtle walk to learn about sea turtles and related conservation efforts. You might even see a loggerhead nest. frippislandresort.com/nature-programs
---
31. Play in The Sandbox in Hilton Head, South Carolina. Take a break from the sun to explore this fun, interactive children's museum where kids can "fly a plane" on the Flight Deck, shop at an international bazaar, create art or climb through a discovery ship. thesandbox.org
---
Brandy Metzger is a freelance writer and educator. She currently resides in Leland, North Carolina, and works as an instructional coach in Wilmington, North Carolina. She has a passion for travel and writing, and enjoys spending time with her husband and 9-year-old daughter.