The Pint-Sized Foodie: Hawkers
An introduction to Hawkers Weekend Brunch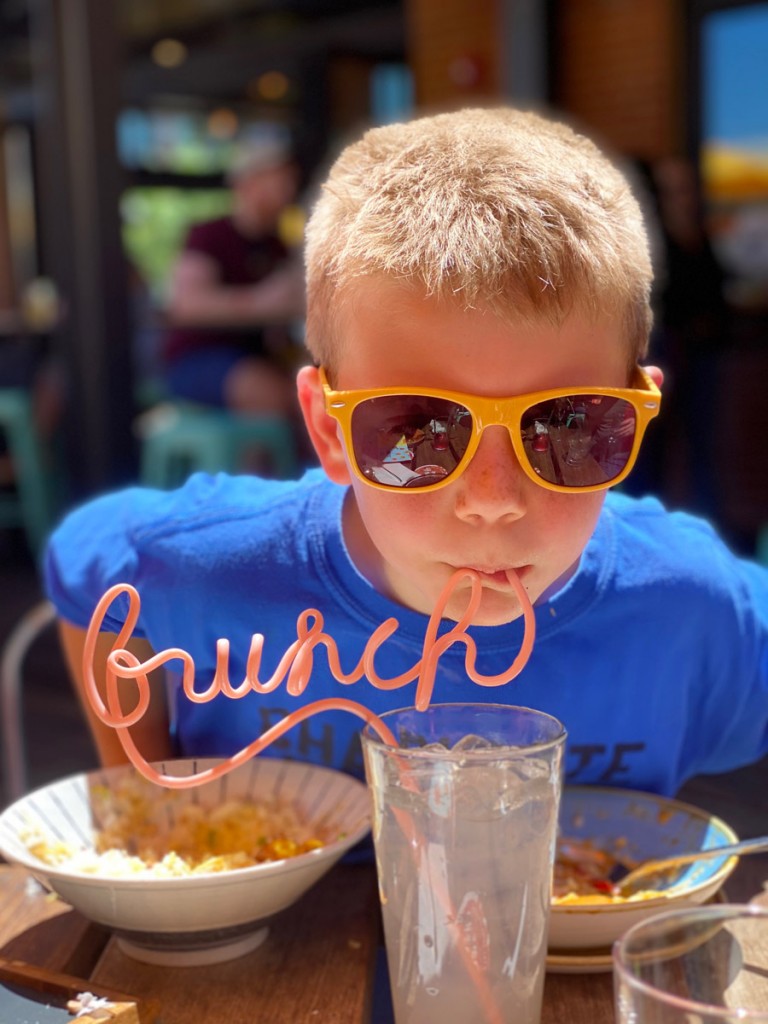 Each month, our 7-year-old resident foodie visits a different Charlotte-area restaurant that's kid-friendly—but not a kid-topia. He orders something he's never tried before and reports back with his recommendations for kids and their parents. Here is his review of the new brunch menu at Hawkers:
What we ordered:
A bunch of stuff! We got Soup Dumplings ($12) and Bao Buns ($8) for everybody to share. Daddy got Korean Fried Chicken Biscuits ($12) and Mommy got Shrimp & Grits ($10). I got that tater tot breakfast bowl (read: Pork Belly Hash – $10) Then me and my sister got the green pancakes (read: Pandan Kaya Pancakes – $9) and the big cone waffle (read: Hong Kong Bubble Waffle – $11).
How it works:
We always go to Hawkers for lunch or dinner, but this stuff was special 'cuz you can only order it on the weekends. (Edit note: Brunch is available every Saturday and Sunday from 11 a.m. to 3 p.m.) You can still get dumplings and the bao buns like at regular lunchtime, but the rest is more breakfast-y type stuff.
Why I liked it:
It's not like normal brunch food—it's kind of, like, Chinese food brunch food. The chicken biscuit wasn't like at Chick fil A—it had egg and gravy and some spicy red sauce (read: sweet and spicy gochujang) on top. And the pancakes were green! They had lots of whipped cream and berries on top, but they still taste like regular pancakes. Oh, and the bubble waffle was like a dessert.
What I didn't like:
I thought there was too much stuff on Daddy's chicken biscuits. I like to eat mine with my hands, but this one you have to cut up with a fork and knife.
What I tried for the first time:
I never tried tater tots with egg on top but it was really good.
Why other kids should try it:
We got a table outside so me and my sister could get up and play in that center part by Jeni's and watch the light rail. Also, I think other kids would dig the green pancakes.
What I liked best:
Probably the green pancakes. No, wait. The bubble waffle.
Why parents will like it:
There's lots of fruity grown-up drinks. Mommy had one with strawberries or blueberries or something (read: Hibiscus Fizz) that I really wanted to try, but she wouldn't even let me taste it!
Why I would come back:
The green pancakes! And the Heart Wall!—T.B.