The Pint-Sized Foodie: A Visit to Taqueria Mal Pan
The latest from our kid food critic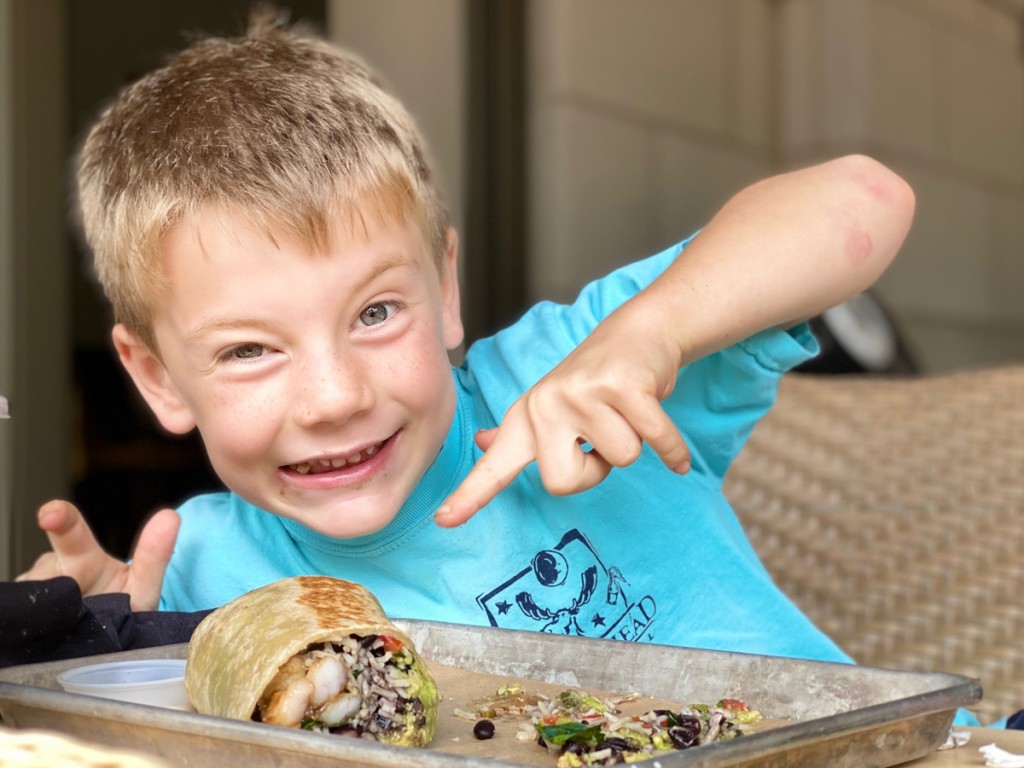 Each month, our 7-year-old resident foodie visits a different Charlotte-area restaurant that's kid-friendly—but not a kid-topia. He orders something he's never tried before and reports back with his recommendations for kids and their parents. Here is his review of Taqueria Mal Pan:
What I ordered:
First we got chips and guacamole ($8) and I asked for extra salsa because it was the yummiest salsa I ever had. I ordered the shrimp burrito ($14), and the waitress didn't believe I could eat it because she said it was so big! But I was really hungry so I got it anyway. My friend Grant got a roasted chicken taco ($5) and Mommy got the California burrito ($13).
Why I liked it:
The chips came out super fast—I hate it when chips take forever—and it was a really big basket. We got to sit outside so it didn't matter if we got chip crumbs on the ground. And I love Mexican food. Taco Tuesday's my favorite at home.
What I tried for the first time:
I've had burritos before but not with shrimp in them. This one had a bunch of stuff inside…rice, avocados, salsa. I found some black beans in there, too. I usually don't like black beans but I didn't even notice them at first. Grant's taco came in a purple tortilla—we'd never seen that before, but it didn't taste different than a white one. Mommy and I ordered different kinds of burritos so we could taste each other's. Hers was soooo good! It had French fries inside! I didn't know French fries could go in a burrito!
Why other kids should come here:
You get tons of chips and salsa, and a lot of kids I know like tacos. Plus it's not super-fancy, so I didn't have to change out of my soccer shorts. Editor's note: There's also a kids menu with a cheese quesadilla ($5) and a bean burrito ($5).
What I liked best:
My burrito was soooo good! Lots of tacos and burritos are really messy when you pick them up, but this one was easy to eat and didn't fall apart. The waitress was right—it was really big and we ate a lot of chips before, so I took the other half home. The plates were really cool, too. They weren't really plates, actually, they were like metal lunch trays.
Why parents will like it:
Mommy said her burrito was so good it made her eyes roll back into her head. I don't think that's what really happened though. There's a bunch of fancy grown-up drinks like the ones you get on vacation (read: margaritas, sangria, and other specialty cocktails) and there's cool round lights that hang from the ceiling. Mommy was happy we could bring the rest of our burritos home with us because now she didn't have to make dinner.
Why I would come back:
The best burritos ever! Mommy said we might come back for the burrito with the French fries every week now.—T.B.