The Pint-Sized Foodie: A Visit to Stroke
The latest from our 7-year-old food critic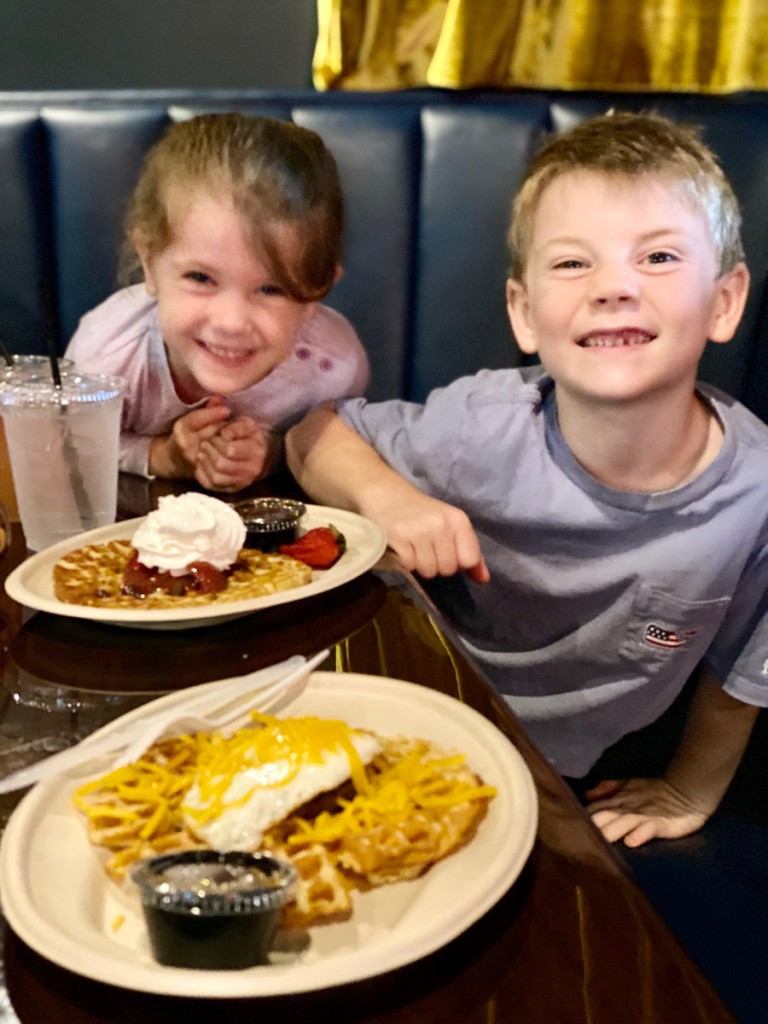 Each month, our 7-year-old resident foodie visits a different Charlotte-area restaurant that's kid-friendly—but not a kid-topia. He orders something he's never tried before and reports back with his recommendations for kids and their parents. Here is his review of Stroke, a 9-hole indoor putting green and lounge in Plaza Midwood:
What I ordered to drink:
The first thing we ordered was actually our golf balls (laughs). Me, Mommy, Daddy, and my sister each got to pick a different color. (Editor's note: A single round of indoor mini golf is $10 per person. Kids putt free every Saturday from 11 a.m. to 4 p.m.) Me and my sister ordered lemonade and they said we could take it with us while we golfed.
What Mom and Dad ordered to drink:
Mommy and Daddy ordered grown up drinks I never heard of. (Editor's note: Adults can sip beer, wine, or specialty cocktails while you putt.) Mommy got a red thing called a Bloody Mary ($10) and Daddy got one with a funny name, Bingo, Bango, Bongo ($14).
What I ordered to eat:
When we were done putting we got a table and ordered our food. Me and my sister got the waffles; we tried both kinds. (Editor's note: Weekend Waffles are available on Saturdays and Sundays.) She got the sweet waffle ($9) with strawberries, chocolate chips, and whipped cream. I got the salty (read: savory) waffle ($10) with sausage, egg and cheese. Mommy said we could go halfsies if we ate our salty waffles first. Daddy got the Par Dog ($5) and Mommy got the Chicken Run salad ($10).
Why I liked it:
The mini golf! I like it when a restaurant has other stuff to do besides eat. And the waffles were super yummy. Especially the sweet one because it tasted like dessert.
What I tried for the first time:
Daddy's hot dog came with funny looking tube chips I'd never heard of (read: Bugles). He said he used to eat them in his school lunches when he was little. They were pretty good, just not as good as Cheetos.
Why other kids should come here:
You get to golf for free on Saturdays and eat waffles after, duh! (Editor's note: Stroke is 21 and up after 7:30 p.m.)
What I liked best:
The waffles were soooo good! And I like when they let you walk around with your drink. They put a lid on top so we wouldn't spill, and there's drink holders at each hole where you can put them down while you putt.
Why parents will like it:
Parents will like the special drinks I wasn't allowed to taste. And the dads can watch golf on the big TVs while they eat and drink beer.
Why I would come back:
I would come back again when the weather's too rainy to play outside. Or when I want another dessert waffle!—T.B.