The Pint-Sized Foodie: A Visit to SARU by Bow Ramen
Our kid critic is on the case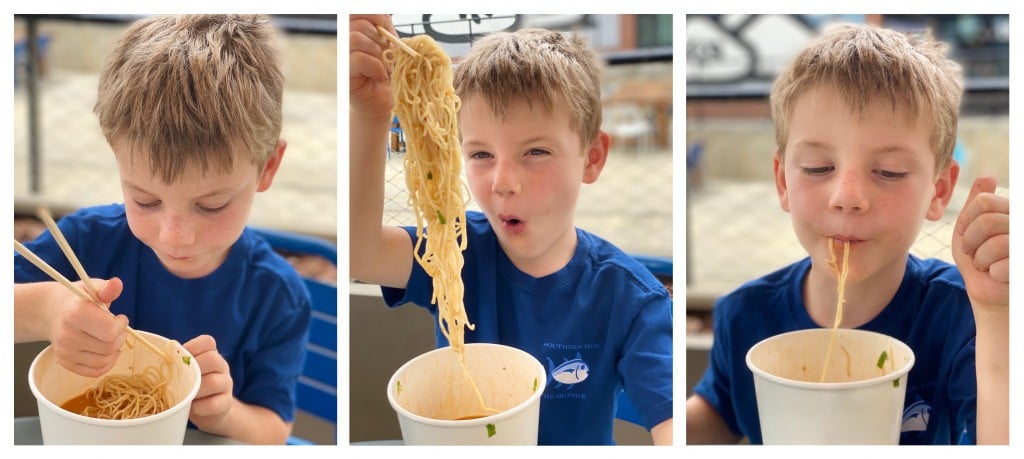 Each month, our 7-year-old resident foodie visits a different Charlotte-area restaurant that's kid-friendly—but not a kid-topia. He orders something he's never tried before and reports back with his recommendations for kids and their parents. Here is his review of SARU by Bao Ramen:
What I ordered:
I got the spicy edamame ($6) and the spicy ramen noodles (a.k.a. akazaru) ($16). The man at the counter asked my mom if I really wanted it that spicy and I told him yes! I love it spicy!
Why I liked it:
At home we call edamame "pop 'em beans" but Mommy doesn't make them spicy like these ones so I liked them better than hers. My ramen noodles came out super fast in a big white bowl with a plastic lid. At first I didn't know the soup part was underneath! You're supposed to lift out the plastic part with the noodles and pork and dump it in the broth and mix it up. It was fun to stir it with my chopsticks.
What I tried for the first time:
Spicy ramen! I tried ramen before but not this spicy kind with pork and a hardboiled egg on top. I really liked the noodles but they were kind of hard to twirl with my chopsticks. I couldn't say the word they call it on the menu (tonkotsu), but they told me "ton" means "pork" and "kotsu" means "bones." Oh, and SARU means "monkey" in Japanese!
Why other kids should come here:
The food comes out really fast so there's no waiting and you can sit outside so you don't have to wear a mask after you order at the counter. I think kids would eat the noodles but maybe not so spicy. If you don't like ramen, there's a taco place right next to SARU (called La Caseta), so everybody can choose what they want to eat. When you finish eating you can get up and go see the big yellow tank truck (read: gama goat) or walk around and look at the murals.
What I liked best:
I give my ramen noodles an A+. The bowl was so big I couldn't finish it so I brought the rest home with me. Plus I wanted to save room for Pop Bar. (Editor's note: The popsicle shop has a walk-up window at the Bunkhouse in Camp North End's Mount district.)
Why parents will like it:
You can sit outside and stay six feet apart from other people and mommy didn't have to bug me to wear my mask the whole time. It's OK if you spill a little bit because you're outside and you just throw away your plates and forks when you're done.
Why I would come back:
I want to come back after coronavirus so I can touch the foosball table and swing in the tire swings. And next time I want to bring my bike so me and my sister can ride around Camp North End.—T.B.