The Pint-Sized Foodie: A Visit to Moosehead Grill
The latest from our kid food critic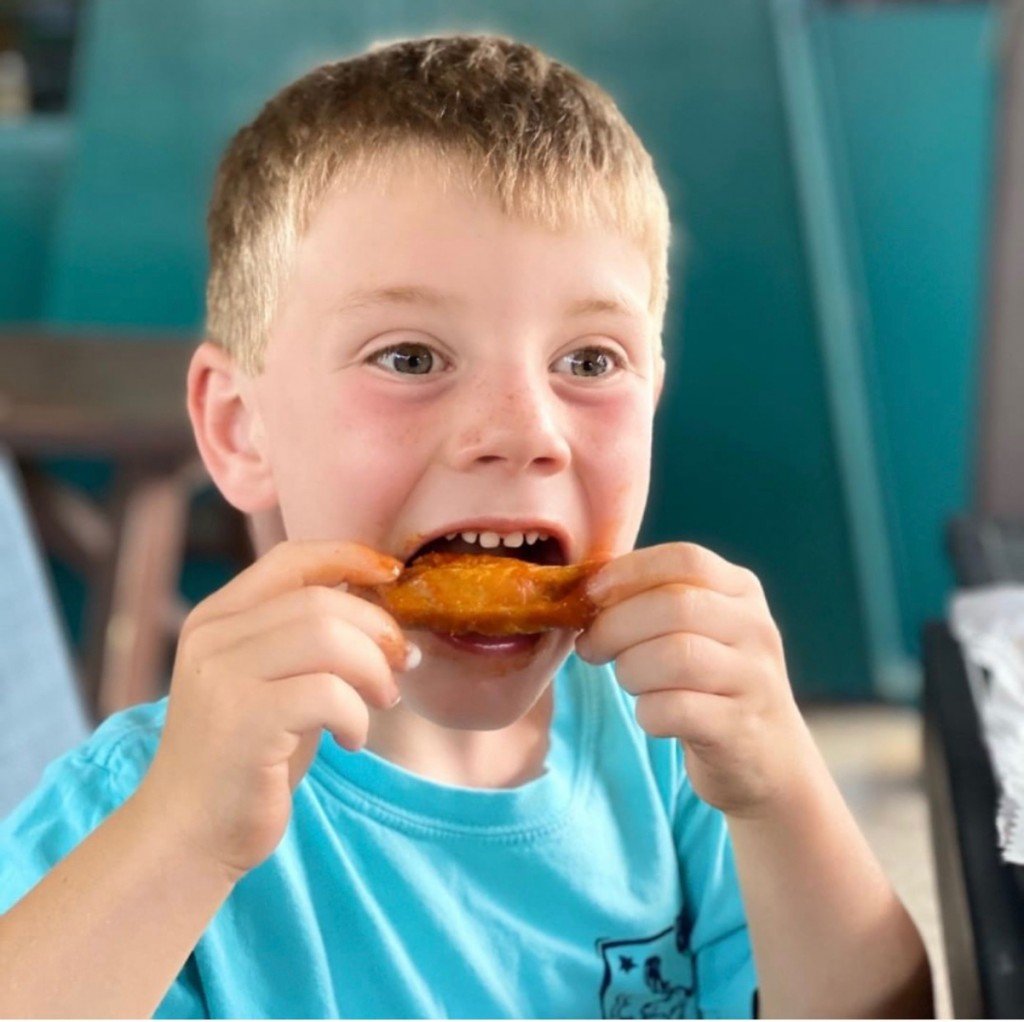 Each month, our 7-year-old resident foodie visits a different Charlotte-area restaurant that's kid-friendly—but not a kid-topia. He orders something he's never tried before and reports back with his recommendations for kids and their parents. Here is his review of Moosehead Grill:
What we ordered:
Wings! I got Uncle Donnie's and Killer Bees ($6.95 for 5, $12.95 for 10). There's a bunch of other kinds but those two are my favorite. Daddy got the Baja Fish Taco ($9.95) with sweet potato tots. Mommy and my sister both got bowls of Texas Style Steak Chili ($5.95).
Why I liked it:
I can eat with my hands and it's OK if I make a mess with all the wing sauce because they always bring tons of napkins out. I let Daddy share my wings because he lets me have some of his tater tots. Also Mr. Chris (owner Chris Neilson) always comes out to sit at our table to talk with Mommy and Daddy for awhile and he's really funny.
What I didn't like:
I don't like ranch or bleu cheese, and the wings come with that but I just eat them plain. Oh, and Mommy always wipes me with baby wipes while I'm eating because she says I'm a hot mess, but don't you know you're supposed to get messy when you eat wings?!
What I tried for the first time:
I tried Daddy's fish taco—it was more like a burrito though. It was OK, but wings are the best thing to order here.
Why other kids should come here:
There's not a kid's menu but the whole menu is like kid food, so maybe if they don't like spicy wings like me they can still get chicken fingers and nachos or something. My sister likes the chili and she usually only gets mac and cheese at restaurants. Oh, and the lemonade is good.
What I liked best:
Uncle Donnie's wings, duh!
Why parents will like it:
You can eat outside if your mom is scared of catching coronavirus inside. And there's space heaters so you don't get too cold. But if you do go inside there's lots of funny moose stuff on the walls. Also, they can watch sports on the TVs and drink beer at lunch.
Why I would come back:
Because it's one of the only places Mommy and Daddy let us go during coronavirus. And their wings are my favorite ones.—T.B.