The Pint-Sized Foodie: Taco Mama
The latest from our kid food critic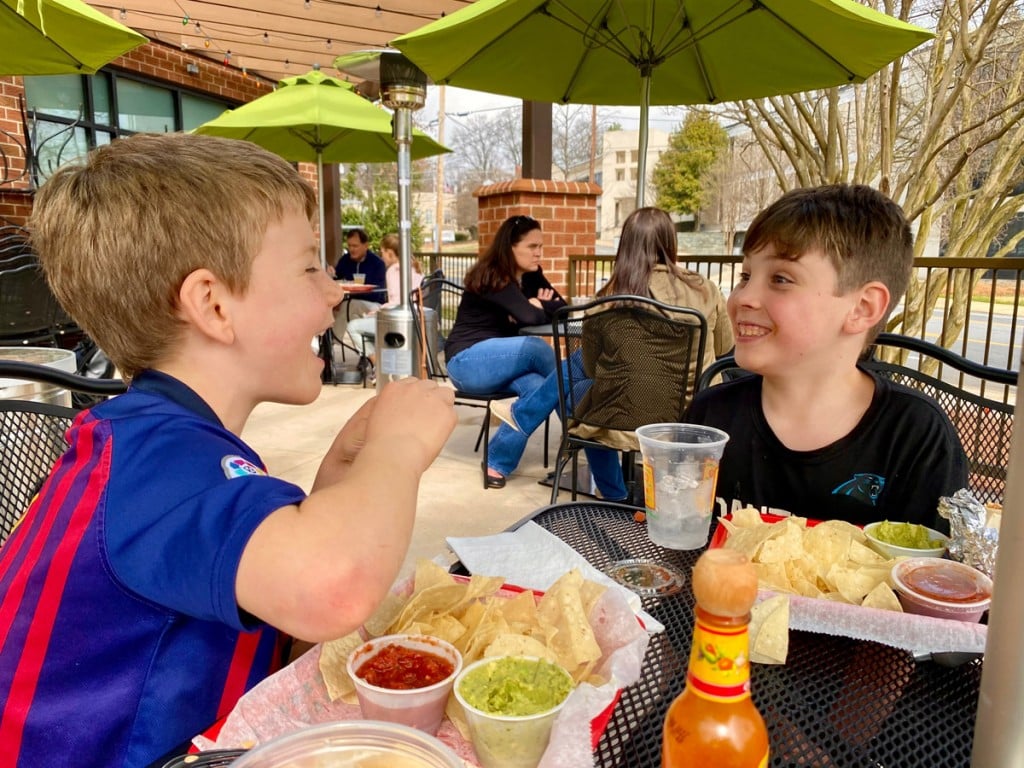 Each month, our 7-year-old resident foodie visits a different Charlotte-area restaurant that's kid-friendly—but not a kid-topia. He orders something he's never tried before and reports back with his recommendations for kids and their parents. Here is his review of Taco Mama in Dilworth:
What we ordered:
I got a Taco Basket ($9) with one cheesy beef and one flounder taco. It came with chips and salsa and I got to pick a side so I picked guacamole. My friend Grant got the Big Client Burrito Basket ($9) and Mommy got a Grilled Shrimp Burrito Bowl ($10).
How it works:
You order at the counter and they give you a block with your order number and call you when it's ready. You can eat it there or take it home. We ate on the patio because it was nice out.
Why I liked it:
I looooove Taco Tuesday! It was cool that I got to pick two different tacos and a side. I liked the one with the beef with the name I can't remember (read: barbacoa). The guacamole was really good and they didn't give you just a little bit like a lot of restaurants. You get lots of chips with it, too. Grant liked his burrito, too, but he had to take half of it home because it was, like, grown-up sized.
What I didn't like:
Um…nothing? C'mon, Mommy. It's Taco Tuesday!
What I tried for the first time:
Mommy's burrito bowl had some spicy mashed-up bean stuff (read: chorizo refried beans) that I never tried which were pretty good. And I liked the super-spicy (read: tomatillo) salsa.
Why other kids should come here:
There's lots of stuff on the kid's menu, like tacos and quesadillas and stuff, and if you still don't like that you can just eat lots of chips and queso like my sister always does. The inside is cool with Christmas lights and there's a bike on the wall, but I don't know how they got it to stay up there. If you sit outside on the back deck there's heat lamps so my mom didn't get too cold.
What I liked best:
The beef taco! Oh, and the guacamole.
Why parents will like it:
There's lots of beer and the grown-up drinks with the limes that Mommy likes (read: margaritas). She tried a different one with orange this time—it was called blood orange ($9), but I didn't see any blood. She said it was good, though.
Why I would come back:
I want to ride my bike here sometime. Or come for dinner after soccer practice since I saw other kids there in their soccer clothes. Can you make my soccer practice happen on Taco Tuesday, Mommy?