Teens & Community Service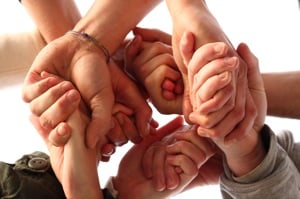 Let's face it … teens are egocentric. It's all about them, their friends and their weekend plans. Getting teens to think beyond their own immediate needs can be more difficult than cracking a nut with a plastic fork.
But don't fret — it isn't impossible. There are many ways to encourage your teen to care about those outside her immediate circle of friends. And as she begins to feel empathy for others, she will realize she feels even better about herself.
From Animals to Music
"Teens are thinking about careers and college, and what their future might look like," says Michelle Maidenberg, a psychotherapist in White Plains, NY. "This is very challenging and just one of the reasons why they are so focused on their own world."
Yet, once teens are involved in community service, they begin to look beyond their personal needs. They also learn first hand about the challenges others face, and they experience a sense of empowerment as they realize they can make a real difference in the lives of others.
Not sure how to tempt her off the cell phone and into a community project? Consider your teen's interests.
"Finding something in an area of interest for them keeps them motivated and inspired," says Maidenberg. For instance, if she has plans to become a veterinarian, she might try volunteering at an animal hospital. If she is interested in going to culinary school, she might volunteer in a soup kitchen or bake for a project that supports families in need.
My son began helping with the sound system at our church to fulfill community service hours for his confirmation. And because he is a tuba player and very interested in sound, he discovered he loved helping out and has continued volunteering even though his required hours are complete.
"Teens do their best service when they are doing something they already enjoy," says Stephanie Pikora of Cary. "Sharing their hobbies and talents give them a sense of pride and accomplishment."
If your teen does find a volunteer project in her area of interest, she not only is helping others, but also building her knowledge base.
Building Empathy, Family Bonds
You, as a parent, can do your part by practicing what you preach. If you are involved in community service yourself, then you serve as good role models for your child. Your teens should be learning directly from you that personal gratification is not all that matters.
You might want to find a project the family can do together. It's refreshing to spend quality time as a family, while helping others. Maidenberg suggests watching a movie about the particular cause. "It is very important to induce empathy in them," she explains.
Most communities offer volunteer opportunities for teens at animal shelters, senior residences, preschools or summer vacation Bible schools, soup kitchens and homeless shelters, and hospitals. Habitat for Humanity welcomes teens age 16 and older on their sites.
Let your teen know the benefits she'll reap. "Give teens every reason in the world to volunteer," says Maidenberg, adding that working on community service projects builds confidence. "By working with others, teens improve managerial, interpersonal and communication skills. Community service helps to instill a maturity when they take a step back to see the needs of other people."
Need another carrot to dangle in front of your child? Service hours look great on college applications and resumes.
It's thrilling to watch your teen develop into a caring and productive member of society, so don't waste any time encouraging her to get started.
Teens in Action
The following organizations are good places to start:
• Coats for Kids Foundation — collecting coats for needs children; www.coats-for-kids.org
• Habitat for Humanity — building affordable housing; www.habitat.org
• Locks of Love – making hair donations for hairpieces for children with cancer; www.locksoflove.org
• Operation Gratitude – sending care packages to military men and women; www.opgratitude.com