ROOM WE LOVE: Drop Zone
Designer Charlotte Lucas creates a fun, colorful place to tame her kids' clutter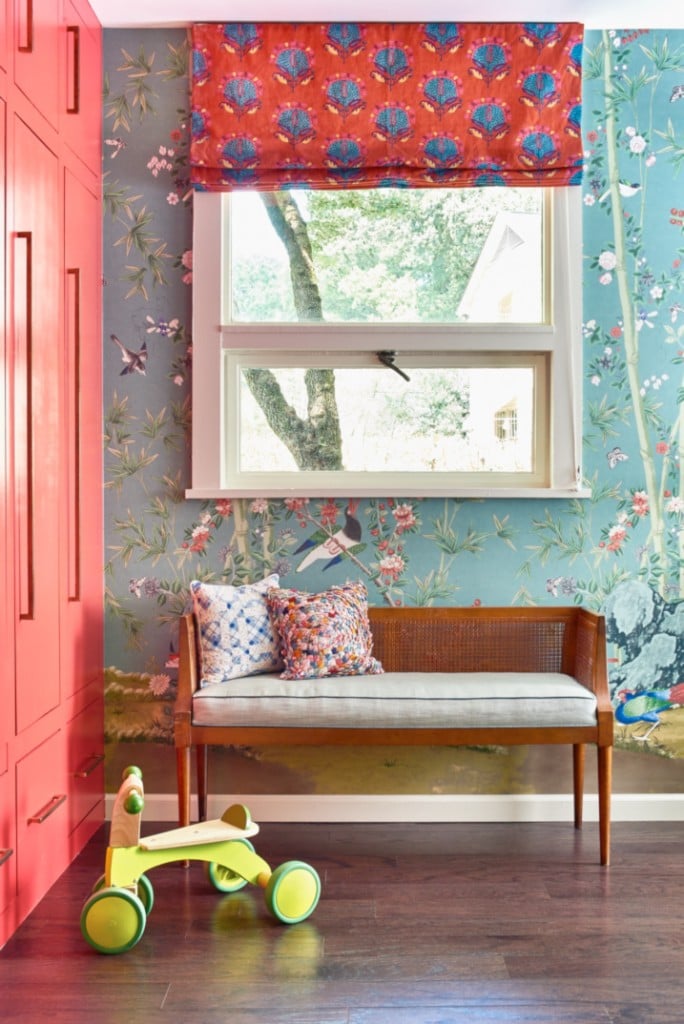 Charlotte Lucas isn't afraid to use bold colors and whimsical patterns, and that's exactly why clients across the city hire the designer to add some pizzazz to their homes. When it came to her own midcentury modern house in Eastover, Lucas mixed and matched unexpected patterns, colors, and furniture styles to create a drop-zone for her kids, complete with built-in cubbies, drawers, and hooks for backpacks.
RIGHT ON TIME
The home, which Lucas calls "the oddball of the neighborhood," was built in the 1950s by noted local architect A.G. Odell. It had a simple breezeway with not nearly enough color for Lucas's liking, so she turned the space into a playful "catch-all" area for her two young children. "A 'throw everything on it bench' was a must," she says, "along with built-in cubbies for storing backpacks, jackets, and dirty shoes, and wall hooks for bags." 
MIXED AND MATCHED
Mixing patterns can be tricky to pull off, but Lucas layers botanical prints and geometric patterns in different scales to add visual interest without overwhelming the space. For the walls, she chose a Schumacher x Miles Redd Brighton Pavilion wallpaper; for the roman shade, she used Tulu's "Stella" fabric, a favorite at her design studio. The punchy, geometric pillows complement the blue piping on the bench cushion.
MAKE ROOM
With two young kids and a mini labradoodle, this side entry sees lots of foot traffic, so Lucas had to maximize the tight space. She installed an antique bench beneath the window where the kids can sit to put on their shoes, but everything else is out of sight in the floor-to-ceiling cabinets. "The combination of the wallpaper, roman shade, and poppy coral color of the cubbies are the standouts in this space," she says. "Their unexpected cohesion is what we love most about it."