ROOM WE LOVE: Above and Beyond
A carpenter builds a sprawling indoor playhouse for his grandchildren in their new Waxhaw home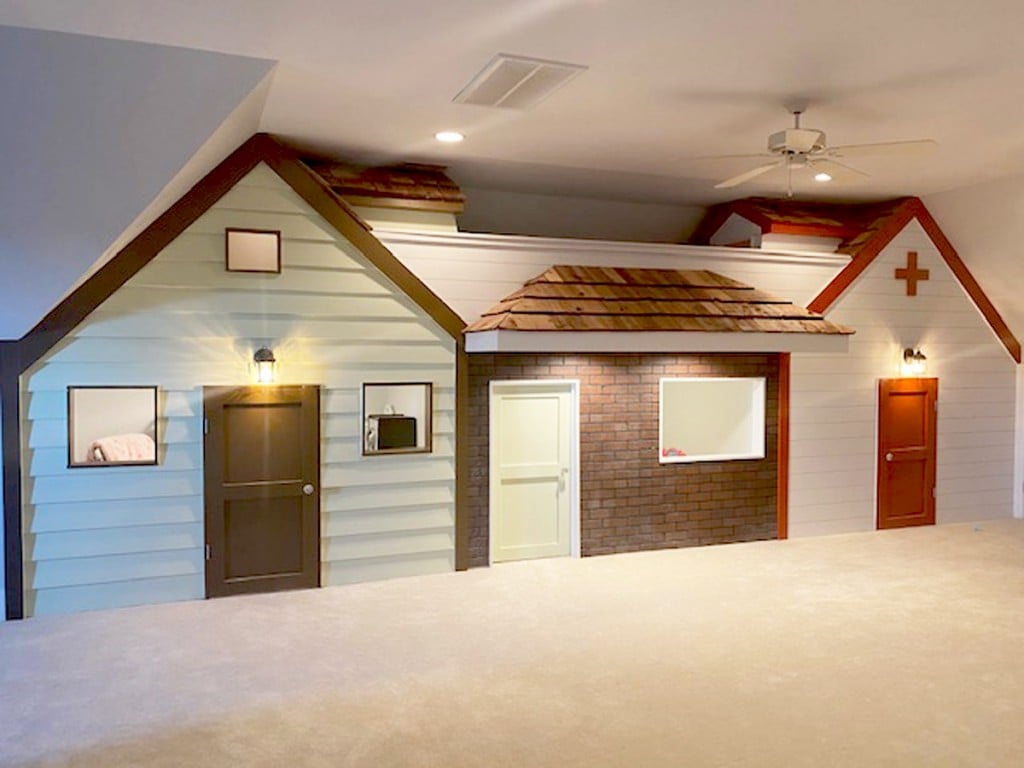 John Soprano, owner of Sopranos Building and Restoration, has done custom carpentry in and around the Fort Mill area for more than 20 years. From master closets to staircases to pool house gazebos, there's almost nothing he can't do. When his wife Tammy, a realtor, sold the oldest of the couple's three grown daughters a home in Waxhaw, Tammy suggested a built-in, indoor playhouse on the third floor for their three grandchildren. John did even better and created not just a playhouse, but a café, hospital, and two kid-sized hideaways on the roof.
A WHOLE PLAY TOWN
The third floor was a wide open, 1000-square foot room, so they used half the space to add a movie theatre and the rest for the playhouse. Tammy's first thought was to hire a faux painter to paint a playhouse on the wall, but John had bigger ideas. In addition to a house, he built a café with a serving window and a wood shingled awning. To the right is a shiplap hospital because his son-in-law is a physician and his daughter is a nurse practitioner. Upstairs are two hideaways that the kids can access by a ladder.
TRUE TO LIFE
To make it feel as life-like as possible, John installed crystal knobs on the doors, working light fixtures, and a metal "ZZ's Café" sign. "I added the wood-shingled awning over the café, and the little dormer roofs on the attics all have wood shingles so it truly looks like a house," John says. His daughter furnished the interior with kid-sized finds from Melissa & Doug and HomeGoods. The house has a kitchen sink and a washer and dryer, the hospital has an exam table, and the café has a table and chairs, plus wooden food and cooking utensils.
SURPRISE PARTY
With the whole house undergoing a remodel, the homeowners weren't living in it yet, so John and Tammy were able to keep the playroom a surprise for their grandchildren. Once the four-week project was complete, though, the kids were elated with their one-of-a-kind playroom. "They're planning to put a pool in next summer, so it'll definitely be the kid hangout house," John says with a laugh. "But that was our house when our kids were growing up, we passed that along to them."