ROOM WE LOVE: A Little Girl's Dream House
Designer Melissa Lee fashions a cozy hideaway in Ballantyne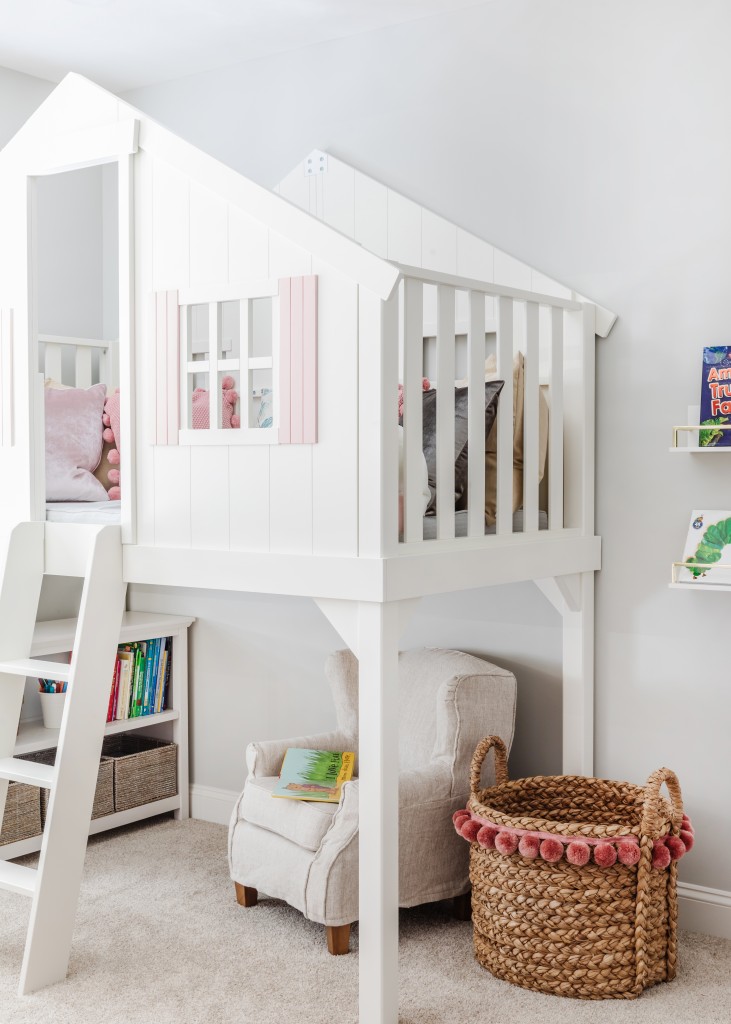 It was a dream job for designer Melissa Lee and her team at New South Home: A single dad had two empty rooms in his Ballantyne Tudor that he wanted to transform into something special for his 7-year-old daughter. "He told us, 'Whatever you think she'd love, go for it,'" Lee says. They turned one space into an expanded closet and dressing room; across the hall, they gave her a playroom with a swing and a playhouse that doubles as a reading loft.
LOFTY GOALS
Lee found the playhouse loft bed from Pottery Barn Kids and had her contractor add the pink shutters. Inside, she upholstered a full-sized foam mattress in performance fabric. "It's like an oversized bench cushion," she says. "The cover can come off to wash, and it's more durable than sheets." The pillows are a mix of custom and sourced; one is a Kate Spade pattern and another is from Surya. The chair and floating bookshelves came from Restoration Hardware, and they jazzed up the Pottery Barn basket with a pom-pom tassel trim from Pudgy Pom.
FULL SWING
"With a loft treehouse bed, we had to put a swing in the room," says design assistant Taylor Schaap. "We wanted something fun and different that made her feel like she's outside." Installing the swing, which they ordered from Etsy, turned out to be more time-consuming than building the loft. The contractor had to go up into attic, assess the ceiling joist, and bolt it into ceiling.
UP THE WALL
They created a statement wall with a blush-colored, foliage-patterned wallpaper to continue the treehouse theme. "(The wallpaper) also comes in gray, and we used it years ago in another client's adult sitting room," Lee says. "I always thought I had to find a girl's room for this!" The aluminum "G" (which stands for the girl's name, Grace) with marquee lights adds a custom touch, and the Pottery Barn Kids table and chairs gives her a place to play games and color.