ROOM WE LOVE: A Laundry Factory
An old farmhouse gets a modern mudroom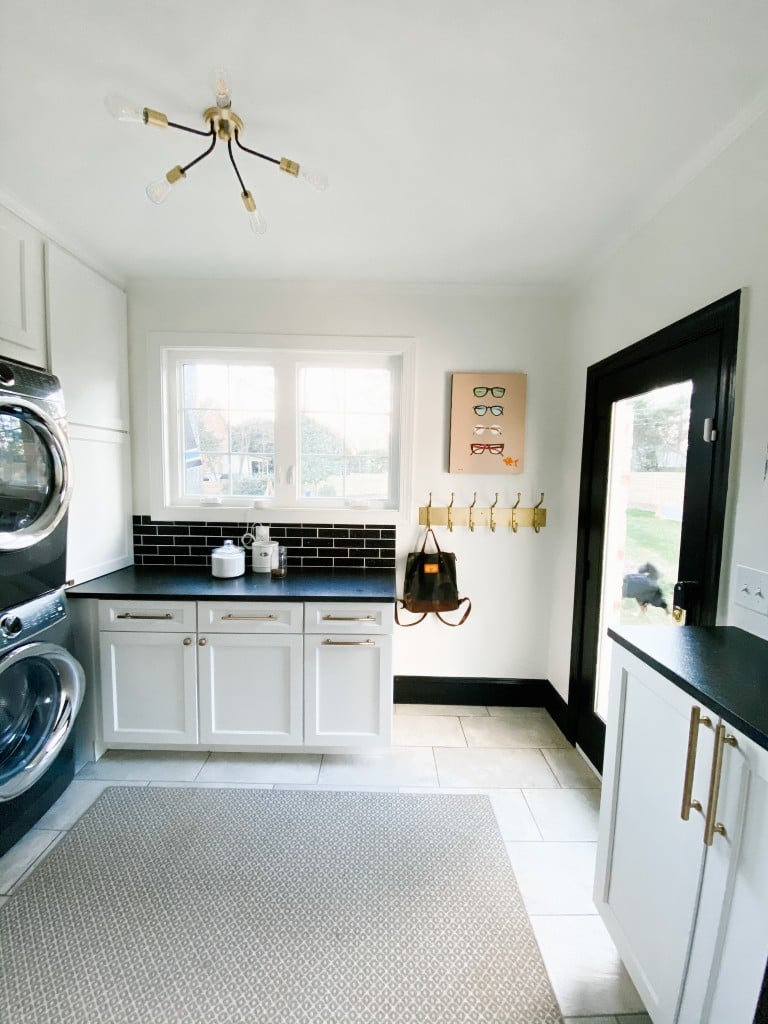 As founder and principal of Greentree Homes, Emily Bramwell oversees the design and construction of custom homes across Charlotte. As a mom of three young children, she does laundry around the clock. When she and her husband bought a 1929 farmhouse on the edge of Cotswold and Foxcroft to renovate for their own family, a spacious laundry station was at the top of their wish list. "We came from a house with two separate laundry rooms and ended up loving it, so we had to have the double washer and dryer," Bramwell says. "We also wanted a place for the dogs to be when we're not home." So they converted an old porch into a mudroom that houses two sets of washers and dryers and functions as a drop zone for their three kids, two dogs, and the never-ending piles of laundry.
LIGHTEN IT UP
Before the transformation, the space was dimly lit with dark paint, low ceilings, and no storage. "This room was actually a porch that was original to the house, so it had no heating or air," Bramwell says. They kept the exposed brick wall and painted it with Sherwin Williams' Alabaster along with the rest of the space, and used the original front door from the house to create the Dutch door.
STARK CONTRAST
Bramwell chose a timeless black and white palette with durable finishes that would stand up to the high traffic area. The black Electrolux washers and dryers anchor the space, and the white cabinets from Kitchen Masters of Charlotte provide ample storage for the kids' backpacks, shoes, and sports equipment. The honed black granite countertops and the brick tile backsplash from clé provide contrast, and the semi-flush mount ceiling light from Shades of Light complements the brass Emtek hardware.
DOG DAYS
The family has a Cavalier King Charles Spaniel and a Bernese Mountain dog "that sheds all over the house, so we have to contain him," Bramwell says. So they put in a Dutch door to keep them enclosed but give them a view of the rest of the house. An under-the-counter pull-out trash can holds the dog food, and a water dispenser lets the kids fill their water bottles on the go.