PARENT TO KNOW: Sarah Hayes Harkins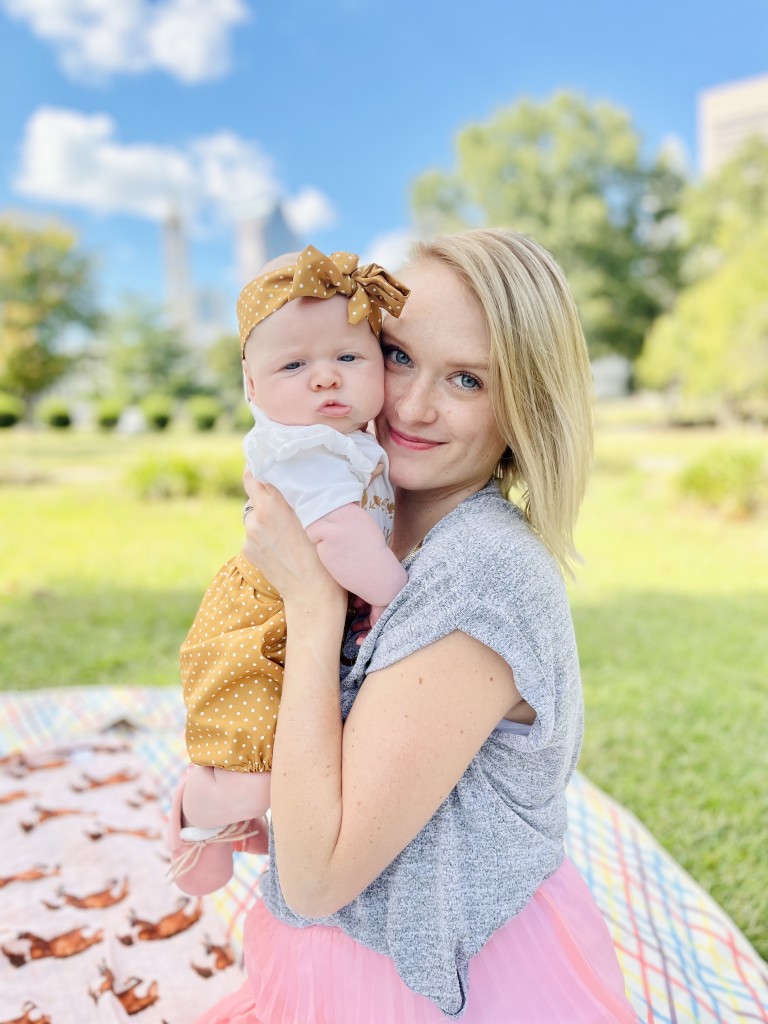 Professional dancer Sarah Hayes Harkins is currently performing her 14th season in Charlotte Ballet's Nutcracker. But this year's preparation has been a bit tougher than others. She and her husband Payton welcomed daughter Frankie in July. We caught up with the new mom to talk about her return to the stage after having a baby, her favorite parts of motherhood, and how she's learning to slow down and "be in the joy" of all of these sweet moments.
When did you know you wanted to dance professionally? When I was 12, I told some lady I wasn't going to college because I wanted to be a professional dancer (laughs). I definitely knew that's what I wanted to do very young.
Did you always know you wanted to be a mom? We've been waiting to do this for awhile—we've been married for seven years—so we're both ecstatic.
Did you continue to dance during your pregnancy? I danced into my 36th week (of pregnancy) and performed in my 28th week. I loved dancing pregnant. I felt really good; my joints and muscles felt looser somehow.
What's been the hardest part about going back to work after having a baby? I still don't feel completely back yet. After a C-section, I don't have the connection with my core that I used to. In ballet, your core is everything. There've been both physical and emotional struggles, for sure. I love my baby, but I'm not so much worried about being away from her as I am about executing the roles I usually do without looking injured. I remind myself constantly that I can't do what I normally can do and give myself grace.
What's your favorite part about the baby stage? Frankie loves to bounce up and down and move because she got so used to it inside of me. She has a million fat rolls and it's so cute. We call her Frankie Five Rolls. Right now the most fun is watching her facial expressions start to come out.
Does Frankie like music yet? She definitely loves music and likes a steady beat. We've been playing her jazz. I obviously have a lot of classical surrounding me because of what I do, but (Payton) is a classical guitarist, so he wants that to be in her life as well.
Do you think she'll take ballet class when she's old enough? I would be happy if she wants to, but I don't see it as something she has to do. With me doing it while she's young, the influence will be there.
What's your favorite way to spend an unscheduled day with your daughter in Charlotte? We've had so few of those. Right now I'd love to stay home and feed her all day and do tummy time. There are still a lot of things we haven't done with her out in the world. I look forward to going to outdoor restaurants and having fun park days.
What's your favorite way to spend a kid-free night in Charlotte? I'm really excited to go to my fellow dancer's wedding—that'll be our first night out since the baby. Payton and I are pretty low key. We love to have dinner at a little Italian spot, Open Kitchen, and catch a movie.
What's your favorite restaurant in Charlotte? I love Open Kitchen for date night, but my favorite is Lang Van.
What's your favorite adult beverage? Red wine.
What's your biggest parenting fail to date? I was devastated over this (laughs). The first time I tried to cut her nails, I was so micro-focused on the one finger that I didn't realize her next finger was touching the other side of the clippers. It just knicked her, but she definitely felt it and started crying.
What's the best parenting advice you ever got? I get a lot of good advice from my sister – she has two girls, ages 8 and 5. Early on when I started to breastfeed, I really wanted to be able to do it. She was like, 'You need to stop worrying and be in the joy. Be with your baby and be in the joy, and what's supposed to happen will happen.' I just needed to let go of the worry, be in the moment, and enjoy all of this because she's already changing so fast.
What's one thing you hope your daughter learns from watching you perform? I hope she learns that looking happy on stage and performing for the audience is more than having perfect technique. That's something I've had to remind myself over the years.
THE TOUGH STUFF:
Chocolate or cheese? Cheese
Coffee or tea? Coffee
Beer or wine? Wine
Heels or flats? Right now, tennis shoes
Black tie or Athleisure? Athleisure
Reality or fiction? Fiction
Comedy or drama? Comedy
Daniel Tiger or Daniel Stowe Botanical Garden? Garden
Baby Shark or Baby Einstein? Baby Shark
More sleep or more free time? More free time
Facebook or Instagram? Instagram