PARENT TO KNOW: Michelle Castelloe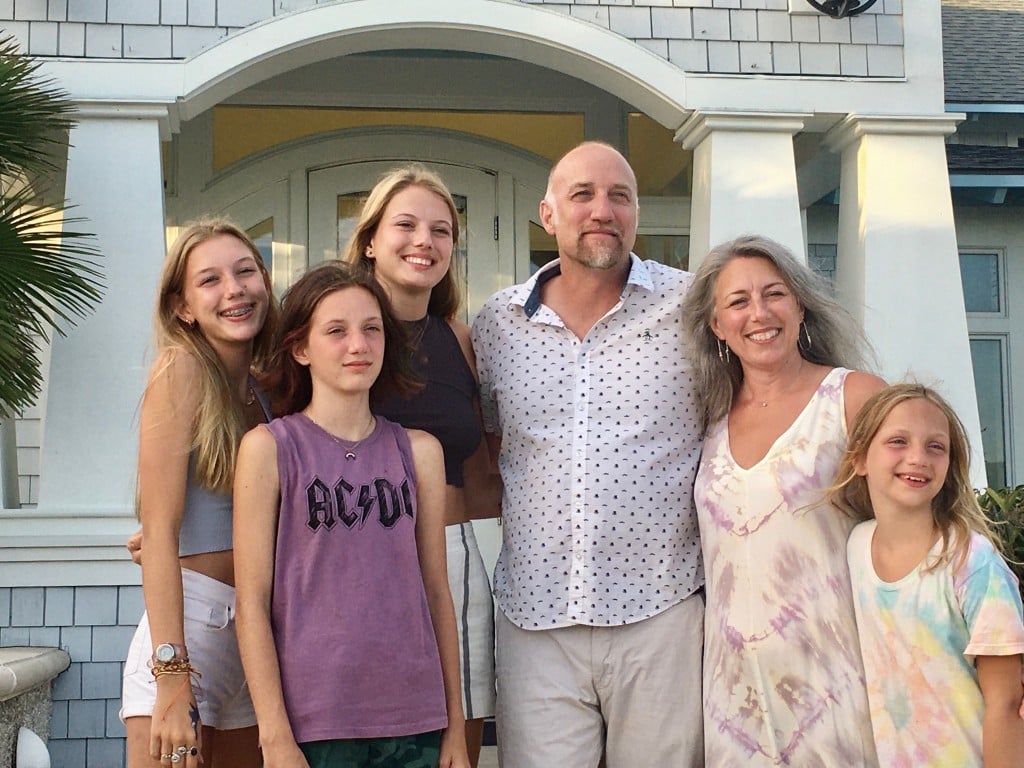 Michelle Castelloe spent more than 20 years working corporate jobs before she opened Moxie Mercantile, the lifestyle boutique with locations in Plaza Midwood, Davidson, and Matthews. She fills her stores with apparel, jewelry, and home décor by local artisans, and she works to help nurture artists and business owners through her consulting firm, Moxie Huddle. This year she expanded her retail brand with a new store called Betty, which sells kids apparel and accessories. She and her husband of 17 years are also parents to four girls: Isabella, 16, Lucy, 15, Vivian, 12, and Violet, 8. We caught up with the busy mom and business owner to find out how she juggles it all.
What's the hardest part about balancing work and parenthood? Keeping a house. My house is never clean—ever.
What will you remember most about working and parenting during the pandemic? They were all doing remote (learning) for awhile. The hardest thing was letting go and just being OK if my kids needed mental space or were failing a class. I wasn't going to be the parent doing the work for them. If they don't do the work, they don't get the grade.
What's your favorite part about parenting 'tweens and teens? I don't have sisters—I just have one brother—so watching them develop relationships with each other has been really incredible. Watching them deny my advice but then also heed my warnings and make really good decisions. Parenting independent children is rewarding and frightening at the same time. But I love that I have very independent daughters.
What do your girls think of Moxie? Do they participate or help you at the store? My 15-year-old makes jewelry; we call them 'Lucy Rings' and can't keep them in stock. I taught her how to price them and make a margin, which has been really fun.
What's your favorite way to spend an unscheduled day with your kids in Charlotte? If we're all home at the same time, we're hanging out by our pool being silly. We have some inside family games. I've never been a mom who plans out a whole weekend. We're homebodies and just really like our time together.
What's your favorite way to spend a kid-free night in Charlotte? Our favorite restaurant is Crepe Cellar—it's always on point. We've been going all the years they've been open.
What's your favorite adult beverage? Bourbon.
What's your biggest parenting fail to date? Teaching my kids how to clean and pick up after themselves. Lucy and I are the worst…the only shoes on the floor are ours.
What's the best parenting advice you ever got? A really good friend came over once, and I was apologizing for my messy house. I handed her a vintage measuring cup with a plant in it and told her Violet and I made it for fun. She said, 'I'd much rather you be doing this than cleaning your house.' If your house looks perfect, you're probably not spending enough time with your kids.
What's one thing you hope your girls learn from watching you as a business owner? When I was in corporate, they saw me not loving my job. I was providing for the family, but I was miserable. I hope they can see you can be happy with less. The big fat salary doesn't always equate to happiness.
THE TOUGH STUFF:
Chocolate or cheese? Cheese
Coffee or tea? Coffee
Beer or wine? Wine
Heels or flats? These days it's flats. My husband's nice and tall, so I love rocking a heel, too
Tie-dye or camo? I own equal parts of both
Scarves or bandanas? Bandanas
Earth tones or neon? Earth tones
Athleisure: hard no or hell yes? Hell yes
Reality or fiction? Fiction
Comedy or drama? Comedy
More sleep or more free time? I'd sleep in my free time
Facebook or Instagram? Instagram