LILY BAKES: Pomegranate Pound Cakes
The latest from our resident kid baker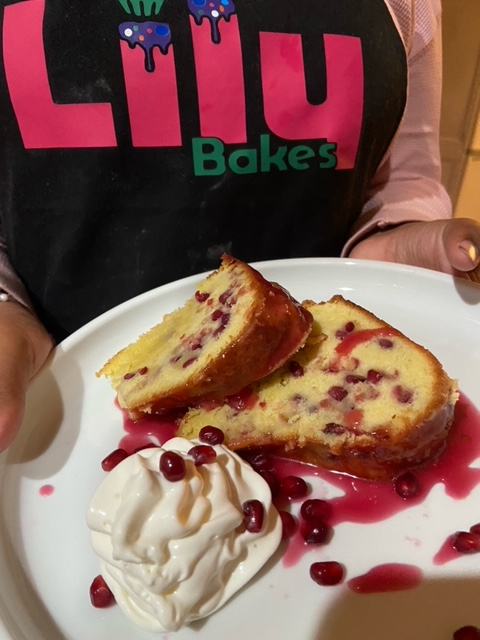 Lily Barnes is our 11-year-old resident kid baker. Each month she shares an original recipe that kids can make at home with their parents, plus a few behind-the-scenes tips and tricks to make your treat extra special. Here is Lily's recipe for Lily's Pomegranate Pound Cakes:
POMEGRANATE POUND CAKES
"I LOVE pomegranates. It's one of my favorite fruits so I decided to bake it in a cake. I made a glaze to drizzle over the top, which was delicious! It was fun adding the fruit in the batter. It has a nice flavor inside the cake. It's fun to bake with family because it doesn't take long to make and the glaze is the best part since we get to sautée the juice in a pan to thicken it." —Lily
INGREDIENTS
Pound Cake:
2½ cups butter softened

3 cups sugar

6 large eggs

6 large egg yolks only

2 cups pomegranate seeds in

1½ tablespoons vanilla extract

1 teaspoon salt

3½ cups all-purpose flour
Pomegranate Glaze:
1 cup pomegranate juice

2 cups powdered sugar

3

tablespoons

butter
DIRECTIONS
Preheat your oven to 350°F and grease and flour a 12 cup land use an electric mixer to beat the butter until it is creamy and smooth.


Scrape down the sides of the bowl and add the sugar. Beat until the ingredients are light and fluffy.

In a separate bowl, combine eggs, additional egg yolks, vanilla extract, and salt. Add in batches to whipped butter and sugar.


Add flour to the wet mixture in batches.

Scrape down the sides and mix until fluffy.

Fold in pomegranate seeds
.

Spread batter into your pan.

Bake at 350°F for 1 hour and 15 minutes or until a toothpick comes out clean.

After the cake has cooled, cover the top with the glaze and serve with ice cream or whipped cream.
For the Glaze:
Get an adult to help.

Place juice and powdered sugar in a sautée pan at medium heat and bring to a boil while whisking. Turn off heat and melt in butter and cool.