How to Choose a College: An Academic Counselor at Charlotte Christian School Demystifies the Process
Jodi Foxx, Director of College Counseling at Charlotte Christian School, writes that selecting colleges is all about creating options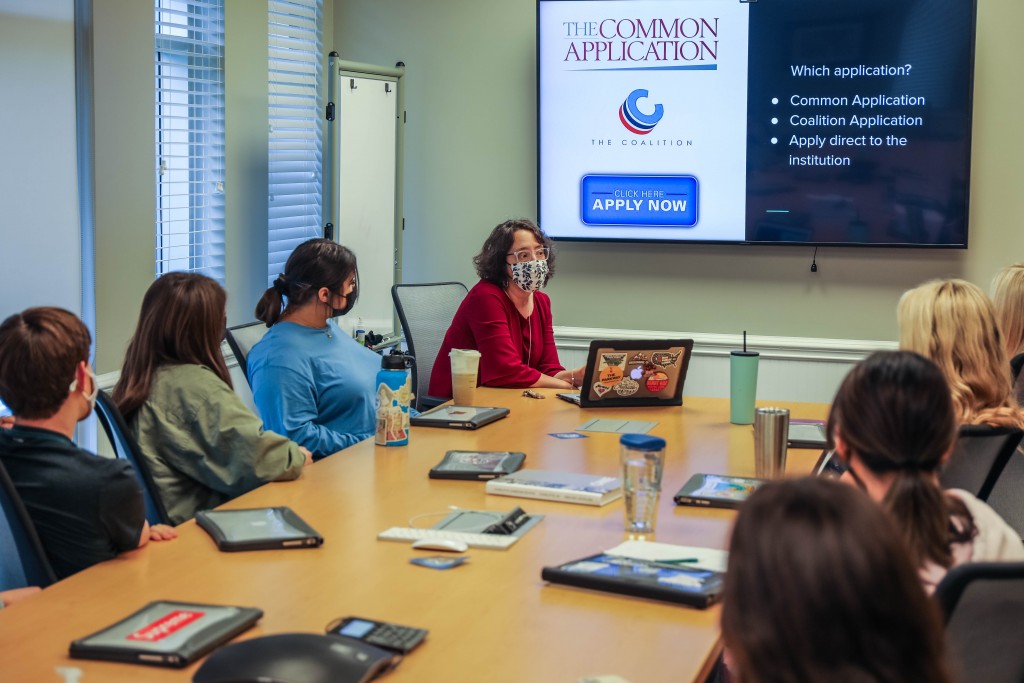 One of the most common questions we address in our college counseling office is, "Which colleges?" Seniors are considering which colleges to apply to, while juniors are anticipating campus visits. Every student is looking for a college that will be just the right fit from an academic, social, spiritual, and financial standpoint. The process takes time, research, and soul-searching for students and parents alike.
We echo the same advice time and time again as students navigate this process: create options. In the spring of senior year, we want our students to be positioned with multiple good options for their college plans. As they visit colleges in their junior year and finalize their application list, we remind them that every possible type of college they might want to attend should be represented on their list. Making a final decision on which college to attend is the last step. Until then, creating options is the name of the game.
So, which options should students consider? Explore these college categories:
Public and Private Colleges
The main difference between public and private colleges is cost. While need-based and merit-based financial aid can defray the expense, in-state public colleges will be the most affordable option for most students. We recommend that students add one in-state public college to their list. We also recommend that families use the Net Price Calculator to get an estimate of what it will actually cost to attend a specific college, rather than relying on the initial sticker price. You might be surprised at how affordable a private college can be.
Distance from Home
Some students are eager for a grand adventure in a new region of the country or even the world. Others would rather be within easy driving distance of home, able to stay connected to younger siblings or get a home-cooked meal from Mom. There's a lot of variety in students' preferences. Our advice? If you want to go far from home for college, apply primarily to colleges in the region you prefer but add one or two close-to-home options in case you change your mind. And if you're focusing your college search on options within a few hours of home, consider adding one that's farther away. You might find yourself more ready for adventure that than you expect.
Urban, Suburban, and Rural Settings
Busy city center or small college town? Or perhaps you'd prefer something in between, with a college located in a residential suburb of a larger city? Options abound! Once again, we recommend students give each setting a fair shake as they research options.
Campus Size
There are advantages and disadvantages to the various campus sizes. Larger colleges offer more of everything—more majors, more variety, more people. Smaller colleges offer the personal, individual touch, where students can get to know their professors and classmates. Medium-sized colleges straddle both, offering some of the benefits of both a large and small campus. Students often have a strong preference on campus size, but whichever one you prefer, we believe it's best to entertain options of other sizes too. Give serious thought to the benefits of each, and visit a variety to consider where you will thrive.
Christian and Secular Colleges
Some students are looking for a religiously diverse experience in college and want to be exposed to a number of viewpoints. Students who opt to attend a Christian college have the opportunity to study theology and religion, to learn from a Christian point of view, to be mentored by Christian professors and to connect with a like-minded student body. For students who want to continue their religious education, it makes sense to have at least one Christian college on their list.
To learn more about the options available at Christian colleges, Charlotte Christian School is hosting a Christian College Fair on Monday, Sept. 27 from 6-8 p.m. More than 30 colleges from around the country will be on hand to describe their programs. This is a great opportunity to identify a Christian college to add to your list.
It's all about creating options. Consider each type of college and think carefully about which ones might appeal to you. Make sure that each college type is reflected on your list, starting with the list of colleges you visit and continuing with the list of colleges you apply to. Need help identifying colleges that might be a good fit for you? Contact your college counselor for help. We would love to suggest some ideas.