Getting the Driver's Permit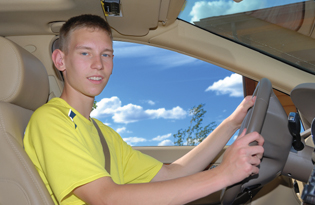 The big day had arrived — my son was ready to get his learner's permit. Years earlier, I had joked with other parents: "Can you imagine so-and-so driving?" Then we'd all laugh. Now D-Day was here, and it didn't seem quite as funny. The slip of paper with his name on it induced a flashback — my mom telling everyone who would listen I used to go on red and stop on green.
I still took the leap. I drove him to a quiet neighborhood on the way home from the motor vehicle office so he could get behind the wheel. Except for the accelerate-and-stop-induced whiplash, we both survived. The hardest part came when we ventured onto the main roads. There were things in the way — other cars, confused squirrels, road crews, etc. It was enough to cause the calmest of parents to have a conniption!
The Dangers
The statistics are alarming. According to the Centers for Disease Control and Prevention, "Motor vehicle crashes are the leading cause of death for U.S. teens," reports state. And per mile driven, teen drivers ages 16-19 are four times more likely than older drivers to crash. The reports by the CDC also conclude teens are more likely than older drivers to underestimate dangerous or potentially hazardous situations.
The National Highway Traffic Safety Association provides yet another shocking analysis, saying, "Among 15- to 20-year-old drivers involved in fatal crashes in 2008, 31 percent of the drivers who were killed in motor vehicle crashes had been drinking."
Then there is the cell phone. According to a study by the Virginia Tech Driving Institute, people who text while driving are 23 times more likely to be in an accident. The National Safety Council estimates that at least 28 percent of all traffic accidents, or at least 1.6 million crashes each year, are caused by drivers using cell phones and texting. It's against the law in North Carolina (South Carolina has not yet joined the 30 states that have passed such a law). N.C. Senate Bill 1289 prohibits drivers under the age of 18 from using a mobile phone or any technology associated with a mobile telephone while the vehicle is in motion. If a teen is caught using a cell phone while driving, he or she will receive a $25 fine. Graduated driver licensing (GDL) laws require teens to follow a more strict protocol before a senior license is issued, with a supervised learning period and an intermediate license period before teens can get their full-privilege license.
First Time Out
Many parents require additional behind-the-wheel instruction from a driving expert — beyond what teens get in driver's education class — before they allow their teens to drive the family car.
However, if you feel up to the challenge, give your teen as many opportunities to drive with you as possible right off the bat. Start off on less-busy roads and then graduate to streets where he or she will encounter traffic lights, pedestrian walkways and higher speed limits.
David Melton, director of Transportation Consulting Services at the Liberty Mutual Research Institute for Safety in Hopkinton, Mass., says, parents' expectations of how their teens drive must be made very clear. He encourages putting expectations in writing and reminding teens of them regularly. Some parents even have their teens sign a driving contract.
Melton also encourages parents to be good role models. "Your teens will expect you to exhibit the same safe driving behaviors as you require of them." This means putting the cell phone away, keeping the volume on the radio at a reasonable limit, making a complete stop at every stop sign (no rolling stops!), using turn signals and staying within posted speed limits.
Lifelong Safety
"Just because your teen has obtained his license, doesn't mean he has the experience he needs to cope with the driving situations he'll face," adds Melton. "Talk to your teen about driving safety, and do it often. We know from years of research that teens who say they have regular conversations with their parents about driving safety are less likely to exhibit destructive behaviors, like speeding and driving under the influence."
Consider taking a defensive driving course with your teen, or at least sign your new driver up for a defensive driving course, which may lower your insurance rates.
Some general guidelines:
Take advantage of the driver's education course offered through your teen's school, or enroll him or her in a class with a private driving school.
Don't force your teen to drive before he or she is ready; just because he or she is old enough doesn't mean your teen is mature enough for the responsibility.
Remember: Practice makes perfect. Drive as much as possible with your teen in all situations — rush-hour traffic, night, rain, fog, ice and snow.
Talk to your teen about safety and your expectations — alcohol- and drug-free driving, as well as following the no-texting law.
Myrna Haskell is a freelance writer and the mother of two teenagers.