Family Communication in a Digital Age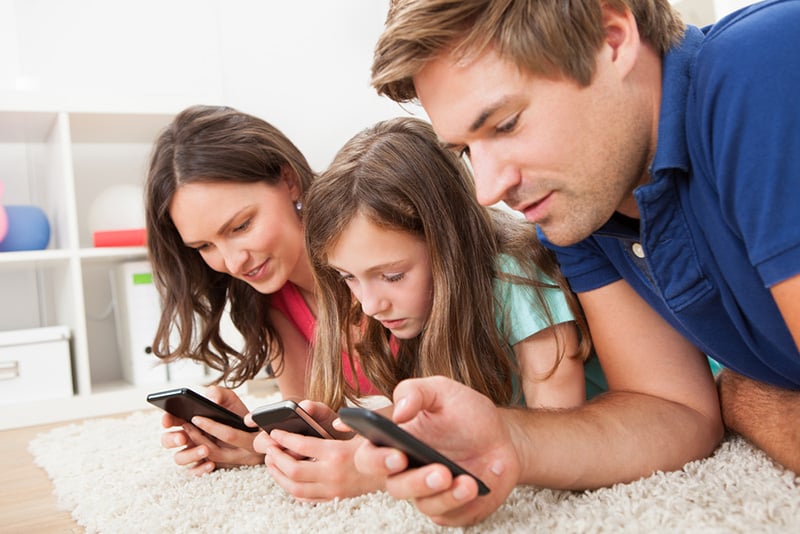 Texting drives me nuts. I press the wrong letter all the time. I get frustrated because I want to send a long-winded message, but the darn thing keeps auto-correcting me. I'd much prefer to send a note via my computer or just pick up the landline. (Shh … I still have one of those.)
I know I sound ancient, but what has the world come to? No one uses words anymore. We've graduated to emojis, emoticons, acronyms and abbreviations. For a person who makes a living with words, this is downright depressing.
If I want to hear from my son, who now lives on his own in the big city, I have to send him a text to tell him to check his email. My younger daughter even thinks email is antiquated. It's as if telephones and normal correspondence never existed.
It seems the digital world has morphed our communication skills into bits and bytes for the long haul. We know that texting is not going away. The ease, convenience and instantaneous response aspects of texting are too enticing. According to the findings of a September 2014 Gallup poll, "Texting is the most frequently used form of communication among Americans younger than 50."
What does this say about family communication? Whether you prefer texting or verbal communication, it's time to determine if this form of communication is for better or worse.
What's Missing in a Text?
Texting is communication a la shorthand, so the following can be lost in translation:
Face-to-face communication. Heather Leneau Bragg, a learning specialist and author of "Learning Decoded: Understanding and Using Your Child's Unique Learning Style to Improve Academic Performance," says texting doesn't allow for some important aspects of good communication.
"Face-to-face conversations allow us to notice cues about the other person's emotions, such as eye contact, facial expression, tone of voice, body posture, and the timing and intensity of response," she says. "Texting cannot offer these important pieces of information, which can be key to understanding, communication and connecting with others."
Respect. Texting makes it easier to engage in negative and disrespectful communications with someone. "Texting certainly makes it easier to avoid real communication and having to say something directly to someone's face," says Rebecca Levey, a family technology expert, host of "Parenting Bytes" (a CBS podcast exploring parenting in the digital age) and co-founder of KidzVuz (a media company that reviews products by and for kids). She says that's one reason it's much easier to bully via text.
Clarity. How many times have you misinterpreted a text (or email)? If you text "You need to get home" to your teenage daughter, who is late for dinner because she is hanging out at a friend's house, she might interpret this as "I should start thinking about getting home," instead of "I had better leave right now."
Social conversation and small talk. Has the tech generation lost the ability to hold effortless, in-person, social conversations? "When children (or adults) become more dependent on texting as communication, they often become averse to spontaneous conversation," Bragg says. "Live conversations involve more vulnerability, with little opportunity to hide emotions and reactions. Being able to have live conversation is a foundational ability for meaningful connection."
Independent thinking. Levey points out that there could be a decrease in independence with some children because of how readily available texting communication is. In other words, kids might be less likely to fend for themselves if they can instantaneously request help from Mom instead.
Maintaining Family Connections
"If communication is suffering, then parents need to be the first ones to put away their phones," Levey advises. "Kids take cues from their parents," she says. "If a parent doesn't prioritize that time, then they can't expect the kids to."
Levey suggests finding time for board games, going for walks and cooking as options for hanging out and spending quality time together.
Bragg echoes this advice, adding that families "can and should be the safest place to work on communication, connection, vulnerability and conflict resolution. Important conversations should happen face-to-face, not via text," she says. "Children are less likely to learn compassion and empathy, as well as how to interpret nonverbal cues such as body language, gesture and tone of voice."
Establishing family rituals — such as meals, bath time and bedtime — builds and maintains familiarity and connection.
"It is prime time for understanding each other and what makes each family member tick," Bragg says, warning that dinner conversations shouldn't focus on stressful issues. "This is a time to share about each other's lives and not the best time to grill your child on his latest test grade or rule infraction."
Levey claims that family dinnertime has been in jeopardy for quite some time due to parents working longer hours and kids participating in more after-school activities. "Taking back family dinner is really important, not just for family communication, but studies show that lack of family dinnertime impacts, grades, behavior and health," she says.
Even when it is literally impossible to have dinner together, finding time on weekends for a family breakfast or other activity where everyone participates — without smartphones — will encourage intimacy and family bonding. Some families opt to hold regular family meetings, during which family members have a chance to talk about something that may be bothering them or something they want feedback on.
Set Guidelines and Limits
Texting can be useful and desirable in certain situations, particularly when a phone call can be disruptive or when immediate assistance is needed. Problems arise when texting becomes the predominant form of communication or an obsession that dwarfs other modes of communication and socialization.
Texting before going to bed can also become a problem. According to an article published by the National Sleep Foundation titled, "Electronics in the Bedroom: Why It's Necessary to Turn Off Before You Tuck In," texting and emailing after going to bed, even once per week, "dramatically increases" self-reported daytime sleepiness among teens.
According to family communication experts, you should avoid texting in the following situations:
• Driving
• Sitting in a class or lecture
• Operating machinery
• Attending an event where silence/attention is expected (i.e. churches, concert halls, funerals, etc.)
• Eating meals with others
• Crossing the street
• Having a face-to-face conversation with someone
When Texting Provides Safety
Let's not forget that texting can also provide an invaluable safety net. Sometimes, during widespread emergencies, text messages may go through when phone calls do not. Mobile phone users should be aware of the availability of the following safety services, features and notifications:
• College students: Sign up for your campus emergency text notification system.
• Parents: Register for your public school's notification system and allow text notification, if it's offered.
• Hospital emergency rooms: Some allow consumers to access emergency room wait times via text.
• WEA (Wireless Emergency Alerts): This public safety system allows customers who own certain wireless phones/carriers to receive text messages alerting them of imminent safety or weather threats.
• Text-to-911: In the future, this service will be available throughout the U.S. For updates on service areas, go to fcc.gov.
• Crisis Text Line (71741): Trained crisis counselors assist those in crisis via text. Local churches, community centers and health networks sometimes offer similar services. Note: Teens, in particular, often prefer to text, rather than talk about problems.
Myrna Beth Haskell's work has appeared in national and regional publications across the U.S., as well as internationally. For more information, visit myrnahaskell.com.