Early Language Immersion: A Window to the World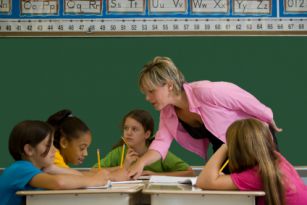 Whether his patients prefer English or Spanish, Jonathan Guenter has a great bedside manner. A local ER doctor, he's been bilingual since elementary school — thanks to a decision his parents made more than two decades ago to enroll him in a language immersion program. He believes that being fluent in two languages gave him an edge in schoolwork, medical school applications, job opportunities — and life. Now, with two baby daughters of his own, he hopes to one day pass on those opportunities by enrolling them in a similar program.
Fortunately for Guenter, he won't have to look very far.
CMS offers the only total immersion schools in Charlotte — public or private. Oaklawn Language Academy (which offers K-4 Spanish or French), Collinswood Language Academy (K-5 Spanish only) and Smith Academy of International Languages (K-5 Chinese, German, French and Japanese) are part of the school district's magnet program and their popularity is on the rise.
Nine-year-old Laura Opsahl-ong attends Smith Academy, located on Tyvola Road. Her day is spent doing what most third-graders do. She takes spelling tests and learns how to multiply 12 by 17, she reads paragraphs for comprehension and makes replicas of planets for her solar system science project. The big difference — most of her school day is conducted in German.
Gaining Popularity
As an immersion student, not only can Laura read, write and speak two languages, she spends more of her day using both sides of her brain. Three decades of research concludes that students who are involved in second language acquisition perform at higher levels of achievement and develop deeper cognitive and critical thinking skills. And yes, they tend to do better on their standardized tests, too.
Laura also has the added benefit of appreciating another culture — making her more socially aware and better prepared for the world community and global marketplace.
How It Works
Intimidating? Overtaxing? Some parents are apprehensive about the prospect of their child being suddenly immersed in a second language for school. Smith Academy principal Ynez Olshausen explains: "Children are language sponges, especially during early childhood. They're hardwired for success." That being said, it makes the most sense to start early — all three schools begin in kindergarten.
"On their first day, the children begin receiving instruction in the second language" says Oaklawn principal Patricia Moreira-Garcia. "It's done in a warm, open way, much like a parent teaching a child about the world around them, so as not to be too startling." That's not exactly the "sink or swim" approach parents might envision.
Meredith Traill, a kindergarten teacher at the school, talks about what might at first sound like a contradiction: easing children into immersion. "In the beginning stages of teaching French, I might use exaggerated hand and facial expressions as well as repetition to illustrate what I'm saying," she explains. "Within months I see that the child's comprehension is starting to take shape. It's an amazing process." The schools generally hire teachers who are native language speakers, lending to greater accuracy and truer cultural awareness.
Thriving in Language Immersion
Laura and her kindergarten-age sister, Jessica, take great pride in speaking German. "They love that it makes them unique, and they love being able to know more about something than I do!" jokes their mother, Lorinda Opsahl-ong, who has no background in German. She talks about her decision to enroll her children in Smith Academy's K-5 program, which offers five languages.
"We felt like Jessica wasn't as engaged as she wanted to be in a traditional kindergarten. She already knew her letters, phonetics, colors, shapes — and wasn't happy relearning them," Opsahl-ong says. "When we enrolled her in the language immersion program, she was excited about the challenge, and she's thriving."
Immersion schools insist, however, that children don't have to be particularly gifted to thrive. "Almost any child has the ability to do well — the success factor has more to do with parental involvement and support than anything else," says Rebecca Harbaugh of CMS' Magnet office. For instance, some parents worry that immersion might have a negative impact on their child's English language development. "This is simply not the case," she says. "Research has shown that immersion actually enhances English language development."
She notes that it may temporarily lag while children are fully immersed in the new language, but the discrepancy disappears by the end of the program. However, because of the lack of the primary language at school, immersion students need consistent exposure to, and support for, English at home. Reading English books together is a must — and it's emphasized heavily in each of the three CMS immersion programs.
Parents also worry about whether they'll be able to help their children with their homework or feel as involved in a classroom where they don't understand what is being spoken. Opsahl-ong speaks to that concern: "I was worried about helping the girls with their homework, but the teacher always gives parents instructions in English and most of the work intended for home is math, science or English studies." Parents are also encouraged to call their child's teacher with any questions or concerns.
A Good Fit
Although there's no entrance exam to qualify for CMS' immersion schools, the program isn't for everyone — and not just because there's a waiting pool. It's true, there are some children who don't flourish in immersion as well as they might in a traditional school.
"This program isn't for those who've had difficulty acquiring their first language and it's not a good choice for children with particularly poor attention spans," says Olshausen. "If they're not active learners — if it's noticeably harder for them to focus than their peers, they'll probably understand only part of the information presented — that's when they struggle." Given that the nature of pre-K children tends to be less attentive, she suggests talking with a preschool teacher if you're unsure.
Finally, immersion is a long-term commitment. Parents can, of course, opt out of the program if it's not a good fit, but it takes time to see results. "If a child's family knows relocation is probable in the near future, they may not want to start something they can't finish," says Olshausen. This is especially true considering that some catching up in English language arts occurs in the latter grades, after the child is fluent in the target language.
A Second Language — a Rare Gift
"I could talk about the program for hours," says Olshausen. "But it wouldn't even begin to paint the picture. That's why we encourage parents of prospective students to come in and observe a classroom. It's remarkable to watch young children speaking and enjoying their mastery of another language. It's something that gives the child a great sense of pride."
Olshausen agrees with others that for parents, it's a leap of faith — but a leap worth taking. "Speaking a second language provides opportunities that will last children a lifetime. See for yourself if this is a gift you'd like to give your child."
Heather Hayes is a freelance writer and mother in Charlotte