ASK A MOM: Unsupervised bike rides, Seasonal Affective Disorder, and scheduling time to do nothing
WBTV's Molly Grantham tackles your parenting questions in this ongoing series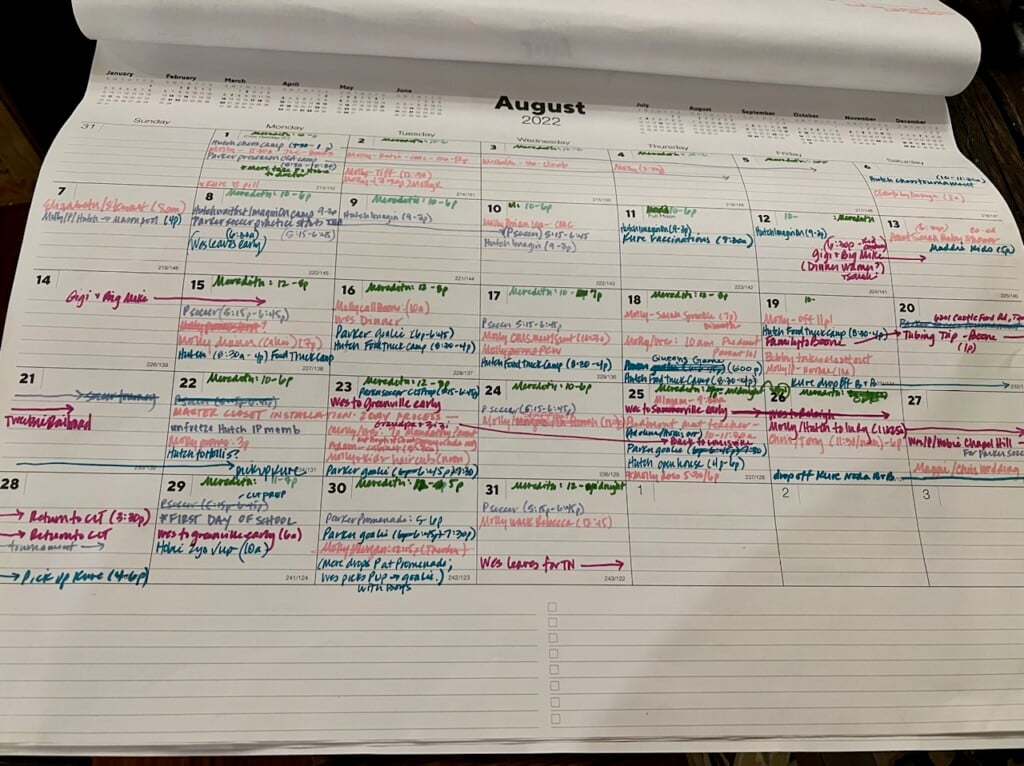 Q: Hi, Molly. My 10-year-old son has started asking if he can ride his bike along the greenway by our house without a parent. When I was his age, my parents wouldn't have blinked. But I just feel like the world is different now, like when I see posts about car break-ins on our neighborhood FB page. My husband thinks I'm being too overprotective. Any advice?—Sara 
A: Many people fear unknowns in our world and aren't sure what boundaries to place on their kids. There is no one-size-fits-all answer, but to get guardrails for direction, I took your question to a friend inside the Charlotte-Mecklenburg Police Department.
Lieutenant Kevin Pietrus, the parent of a 10-year-old himself, said he understood the sentiment behind your question.
"I've mulled over this very issue with my wife to decide what's best for us," he says. "While it's a personal decision, I'd start by thinking about it as a crawl-walk-run progression. Taking it slow will help make the process feel more comfortable."
When first "crawling" into this idea, he suggests the parents and child go on a bike ride or walk where the child would be riding independently. Make sure the child is very familiar with that area. The parent can even walk at a distance as a test. After that, "walk" into this idea by having the child go on a bike ride with a sibling or a trusted friend, but no parent. Once everyone is feeling good about that, then "run." Meaning, allow the child to go out by him or herself.
"Always make sure your child knows the basics of being independent," he adds. "Make sure they know general information."
He said they should be able to do the following:
Clearly state their name and age to a first responder
Know and recite their address to a first responder
Know how to call 911 and identify a first responder
Understand potential dangers and how to navigate them (e.g. flooded creek, fallen tree, etc.)
"And, consider using technology to your advantage as a parent," he says. "Yes, times have changed, but there is some good that has come with the changed times. Knowing where the child is, having the ability to communicate, and knowing they have an ability to contact emergency services, can lift a huge weight from your shoulders. Consider sending a communication device (cell phone, smart watch, GPS "air tag," etc.) with the child and make sure they have phone numbers for parents, other family, and friends."
Ultimately Lt. Pietrus emphasized it is about each child, and it's up to the parent to consider that child's abilities.
"These decisions can be hard," he says. "I hope this helps Sara and her husband make the best decision they can."
Q: Can kids have seasonal affective disorder? This is the second year my 9-year-old daughter seems to crash after the holidays and just loses interest in a lot of stuff. I'm not interested in meds or antidepressants, just ways to help her get through the gray winter days when she doesn't want to do anything.—Jane 

A: Pediatrician Catherine Ohmstede, MD, of Novant Health Dilworth Pediatrics says first and foremost, go to the American Academy of Pediatrics for some suggestions.
Here's her more personal take: "Seasonal Affective Disorder is more common in adults, but can occur in children and teens," she says. "Be on the lookout for mood changes, social withdrawal, increased sleepiness, and lack of interest in things that used to be fun. Any mild case can be treated with a few simple changes to your child's daily routine."
Examples:
Spend time outside every day
Eat a healthy diet and exercise regularly
Open the shades to bring in more sunlight
"Because SAD can be a serious condition, reach out to your pediatrician if you are concerned your child's symptoms may be more than just the winter blues," she says. "And though I haven't used the tip from the article about using a 'dawn simulator' which gradually turns on a bedroom light, I like that one. It'd trick the body into thinking it's an earlier sunrise."
Q: Hi Molly. I just want to know how your able to do all that you do in a typical day with work and kids and charity work and answer all these questions? When do you sleep?
A: A counselor trying to normalize downtime might not interpret this as a compliment, but, well, we all need positive boosts no matter how they're packaged…therefore I'm consciously choosing to thank you for this question. (I think? Is it flattery? Maybe?)
The answer is, I don't sleep much. Roughly four to five hours a night. If I do get tired, it's around 9:30 p.m… right when we're gearing up for the 11 p.m. show. My job is ON. I have to be ON. I can't yawn in the middle of relaying a headline, and a requirement for any live show is to bring energy. So, I've trained myself to work through those sporadic bouts of exhaustion.
After many years of talking to women's groups about how much we all juggle, I've heard others say it's not about getting enough sleep—it's about being organized. It's hard to constantly play Tetris with a family-work schedule. But if you can fit soccer practices, chess club, preschool requirements, work meetings, meals, volunteer work, travel schedules, babysitters… whatever details … into the right places and figure out how to adjust on the fly when it moves fast, your days do feel easier. Logistics are my superpower. That's un-sexy to admit, I know, but it's true. I am an over-scheduler who can appreciate a routine. Give me coffee and color-coded Sharpies for a calendar with large blocks with space to write, and my days will feel like they have more than a mere 24-hours.
If you, too, are an over-scheduler, here's a tip: Schedule time to do…. nothing.
With a public job, late-night shift, and early wake-up call to get three kids to three different schools, if I need a break or want to go on a walk or call my best friend to catch up, I schedule it on the calendar. I actually write it down: "Do nothing, 10 a.m.-1 p.m." "Walk, 11 a.m-noon." "Call Katrina, 9:45 a.m." As dorky as it sounds (and God help me, I know it sounds incredibly dorky), writing "nothing" into the day helps me actually do… nothing.
No shame in creating a mental release for yourself. No shame on my end to admit I'm more likely to stick to that mental break if I schedule it into the week. And if any of the above feels familiar to you, take comfort that you're not alone.
Welcome, 2023. Keep the questions coming! You can submit anything on your mind on the homepage here of Charlotte Parent.
See you guys tonight at 5 p.m., 6 p.m., and 11 p.m.
–Molly
MOLLY GRANTHAM is an anchor, author, and mom of three. Follow her on Facebook and Instagram, or catch her on WBTV News at 5 p.m., 6 p.m., and 11 p.m.