A Mental Approach to Eating
Healthy eating is about more than the food on your plate.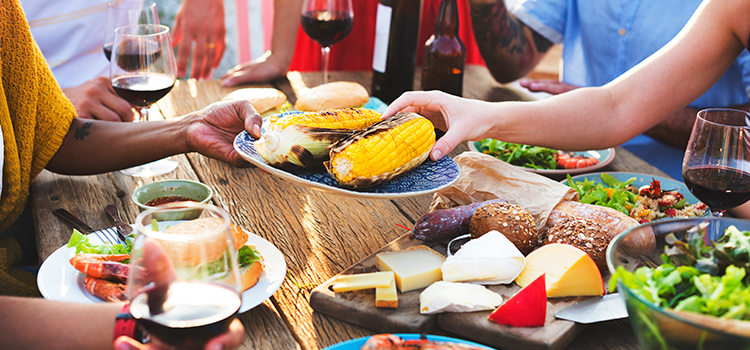 "We all eat, and it would be a sad waste of opportunity to eat badly."
— Anna Thomas, best-selling cookbook author and Academy Award nominted filmmaker and screenwriter.
This week I want to continue the same theme of healthy eating habits, alongside the other experts' blog posts. As a compliment to meal-planning advice and nutrition tips, let's talk about our mental approach to eating.
Healthy eating is about more than the food on your plate. It is also thinking about what you are ingesting and who you are with while doing it. It is important to slow down and think about food as nourishment, rather than just something to gulp down in between work projects or on the way to your next appointment. Not only are we showing our bodies respect when we eat thoughtfully, but we are showing respect to those who have grown and prepared the food. Or in the case of animals, we might show more gratitude for them giving up their lives so that we can be fed.
Emotional Eating
We don't always eat to satisfy hunger. We also turn to food for comfort, stress relief or as a reward. This is emotional eating. When we eat large quantities of junk food, "make room" for food even though we are full, or allow stress to be a trigger for eating, we are not being respectful to the health of our bodies.
Emotional hunger often leads to regret or guilt. It also doesn't really satisfy you even when you become full, because it is not focusing on the real struggle you are dealing with at the time. Common causes of emotional eating are stress, avoiding uncomfortable emotions, feeling bored, poor self-esteem, carryover of learned childhood habits and social influences.
Paying attention to the environment that you create for yourself when eating is very important. It can often make or break your wellness plans for the week.
Questions to Ask Yourself:
Does your family share the same attitude towards food as you? How can you begin to share healthy eating habits together?
How often do you take the time to eat healthy foods with those you love? Do you set yourself up for a successful, healthy mealtimes?
---
Maureen Carlomagno is the founder of Your Wellness Coach, which offers a variety of work/life balance services to the community. She teaches classes on managing stress, personal health lifestyle assessments, and work life balance seminars. In her free time, she enjoys spending time with family and friends, and participating in local wellness events. Carlomagno is excited to mentor the Howe and Hill Spotlight Families for the Fit Family Challenge.