4 Amusement Parks Less Than 4 Hours From Charlotte
Grab your mask, hit the road and enjoy thrill ride time with the family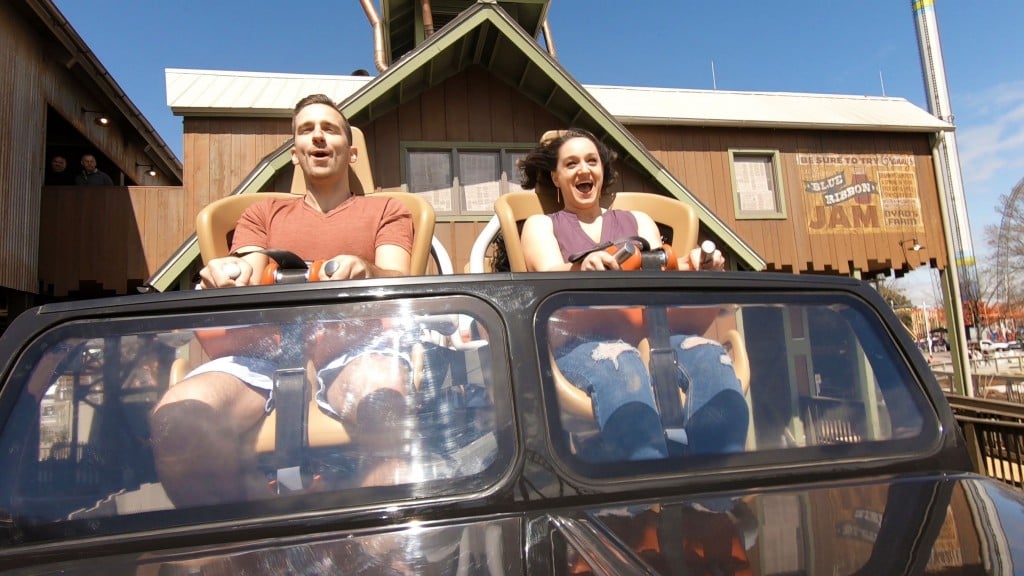 Warmer temps and longer days call for afternoons with the crew exploring area amusement and water parks. With 4 amazing places to play located less than 4 hours from Center City Charlotte, you can spend all summer taking on the rides, splashing around, watching great entertainment and showing off your carnival game skills.
Some parks are already open and all will be welcoming guests by mid-May into June. Be sure to review COVID safety requirements as well as ticketing procedures as park capacity could be reduced and advanced reservations are required. Most parks offer lots of yummy food and beverage choices as well as nearby lodging options, so you can turn your need for speed into a mini-vacation.
This amusement park close to home covers over 407 acres across two states – North and South Carolina! Opened on March 31, 1973, Carowinds has become a go-to entertainment spot for families looking for fun year-round.
Distance from Center City Charlotte: 17.4 miles (20 minutes)
Opening Day: Carowinds opens for the 2021 season on Saturday, May 22 and be open weekends only through June. The Carolina Harbor water park is scheduled to open Saturday, May 29. All 2020 Season Passes will be honored during the 2021 season.
New Events/Amusements: Cool off with the new Boogie Board Racer, the longest mat racing water slide in the Southeast at Carlina Harbor water park and go big (and colorful) at the Grand Carnivale international festival.
COVID Safety Precautions: Tickets must be purchased in advance and at least 1 member of the group must have the park mobile app on their phone. The Location Services feature allows the park to send real-time updates. All guests and associates are required to wear face coverings while in the park and screenings and temperature checks will be conducted. Additional hand sanitization stations have been added throughout the park. Click here for more information.
Pro Tip: Admission to the Carolina Harbor water park is included with your general park ticket so pack your swimsuit for double the fun.
Explore this Wild West theme park and enjoy cooler summer temps at Tweetsie Railroad located between Boone and Blowing Rock, N.C. If you know a train enthusiast, they will love the 3-mile ride pulled by one of the railroad's two historic steam engines.
Distance from Center City Charlotte: 95.9 miles (1 hour, 52 minutes)
Opening Day: April 2. The park will be open weekends during April and May and open daily starting in June.
New Events/Amusements: Kick-off spring and get a picture with the Easter Bunny April 2-5. Tickets are on sale now for the popular Day Out With Thomas event happening June 11-20. Come spend the day with Thomas, the No. 1 blue engine, get a photo taken with Sir Topham Hatt and enjoy other Thomas-themed activities.
COVID Safety Precautions: All visitors, including Season Pass holders, are required to obtain advance tickets and schedule a train ride time.
The park will operate at 50% capacity pending further guidance from local, state or federal health officials. Face coverings must be worn at all times, indoors and outdoors, as well as on rides for anyone age 5 or older. Capacity for indoor dining and live entertainment shows is limited. Click here for more information.
Pro Tip: Be sure to stop by and say hello to the adorable animals at the Deer Park Zoo located inside the park.
If you prefer your thrills on the wetter side, head to Wet n'Wild at Emerald Point that offers 3 million gallons of fun and over 36 rides and attractions.
Distance from Center City Charlotte: 88.1 miles (1 hour, 18 minutes)
Opening Day: May 29
New Events/Amusements: The youngest family members will love Happy Harbor, the Lazee River and Leisure Lagoon.
COIVD Safety Precautions: Guests will need to schedule their visit in advance – this applies to regular tickets and season pass holders. Guests and team members will have their temperatures scanned before entering the park and any person with a temperature of 100.4 degrees Fahrenheit or higher, or displaying other symptoms of COVID-19, will not be allowed to enter the park. Facial coverings are required for all entrants, except children under 3. Facial coverings are NOT allowed on any attraction or pool and are not necessary while waiting in line or walking between attractions. Click here for more information.
Pro Tip: Planning to spend the day? Rent a cabana for up to 10 people and enjoy poolside food and drinks (cost not included with cabana rental), a comfortable place to sit and sun, and plenty of shade.
Owned by famed country singer and actress Dolly Parton, Dollywood offers rides, slides, music, food and fun in the heart of the Smoky Mountains in beautiful Tennessee.
Distance from Center City Charlotte: 209 miles (3 hours, 42 minutes)
Opening Day: Now open.
New Events/Amusements: New entertainment and shows have been added to the line up as well as a groundbreaking, multi-sensory experience that paints the night sky above Dollywood with animations to create a symphony of light. Prepare to be wowed!
COVID Safety Precautions: Face masks or face coverings are required for all employees and visitors ages 2 and older, with some exceptions. Masks are not required while eating, while on water park attractions or select coasters, or inside mask-free break zones. Touchless temperature screenings will be conducted prior to admittance and anyone displaying a temperature of 100.4 degrees Fahrenheit or above will be directed to another location for rescreening and assistance. Guests with a fever exceeding 100.4 Fahrenheit will not be permitted entry and anyone who traveled in the same vehicle with that guest will not be permitted entry. Refunds or rain checks may be offered. Click here for more information.
Pro Tip: During Dollywood's Summer Celebration (June 25-July 31), families can ride Dollywood's world-class roller coasters all day and well into the night.
Put these parks on your spring and summer to-do list and pile on the memories and fun!