'Wii' Meet Again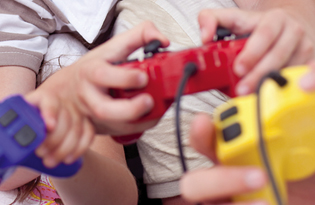 Want to feel good about yourself? Play me in a video game. Seriously. You could be feeling vastly inferior, beat down by life, stepped on, stomped on and underappreciated … and in just one game against me, you'll feel like you just won the Super Bowl and are going to Disney World! My gaming ability, or lack thereof, has that affect on people. I suppose I should consider it a gift.
The sad fact is: I stink at video games. Always have and always will. I didn't play video games much as a kid. When we went to the local arcade, I was more into skee-ball. When we went to Chuck E. Cheese's for a birthday party, I was more into the pizza time theater. Man, those mice could sing.
At home, we weren't exactly what you'd call "early adopters of technology." We never owned an Atari system, even though every other family on the planet did. (There, I said it. Wow, that was bottled up for a long time.)
I do recall, however, one brief encounter with the future. One day, my dad brought home an impressive-looking plug-into-your-TV type video game. My brothers and I turned it on, and to our initial delight, we watched as two rectangles and a ping-pong ball appeared on the screen. We played the game, directing the ball back and forth at an excruciatingly slow pace to the sound of annoying techno-music, for about 20 minutes until we couldn't take it any longer.
So my brothers and I were forced to do what any video-game-deprived kid did — we went to our friends' houses to play cool games, like Space Invaders, Pole Position, Pac-Man and Frogger. Without being able to practice those games all day every day, though, my video game skills never really developed. I quickly realized that I was the designated doormat. While I was never the last kid picked in a game of driveway basketball, I was always the last one picked for video games that required teams. I would typically get blasted in the first round of a video game tournament by a score of something like 57,000,000 to 1,400, then spend the rest of the afternoon watching my more talented friends battle it out for video glory.
This continued well into college, where video games were as much a part of the dorming experience as late-night pizza eating and, well, all the other stuff that happens in a building full of 18-year-old guys left to fend for themselves. Back then, realistic sports-themed games were in vogue, and I remember losing many a Sega NHL game by scores of 18-1, as my buddies played the game with one hand while downing a turkey sub with the other.
After college, I went on a 15-year video game hiatus. But once my oldest son entered elementary school, I knew video games soon would be back in my life. Sure enough, the boy came home speaking of the merits of Super Mario and Donkey Kong. Hearing his friends talk about these games, and seeing them play hand-held video games on the bus, was too much for him to bear. My son had to join in. This past Christmas, my 6-year-old gathered his courage and asked Santa for the biggest present he'd ever asked for: a Wii game system. And the jolly old elf delivered.
Right away, I helped the boy and his 4-year-old brother tear into the box and set up the system. We went to work making our own Mii's, those little video game characters resembling ourselves. I let the boys design the "dad" Mii and he came out looking a little too realistic for my taste: slightly balding with a noticeable mid-winter paunch. No matter, I thought, this finally would be my chance to be a video game champ. Clearly I could dominate a 6-year-old and a 4-year-old, who'd never played video games before.
First, I challenged the older one to a game of Wii baseball. He quickly discovered the secret to throwing a screwball and struck me out repeatedly. He also discovered how to time my pitches, allowing him to hit home run after home run. I lost by the mercy rule. Next, I took on the youngest in Wii bowling. Somehow, that little stinker figured out how to throw the ball in the perfect spot on his way to a 220-point game. I could barely pick up a spare and hardly broke 100.
As my boys excitedly jumped up and down as if they had just won the Super Bowl, I accepted my lot in life. I was born to make champions out of my video game opponents.
Brian Kantz recently challenged his wife to a game of classic Ms. Pac-Man. That, too, was a massacre. Visit Brian online at www.briankantz.com or drop him a note at thenewbiedad@yahoo.com.