What's Next for Children's Theatre of Charlotte?
As the saying goes - the show must go on! The group's offering weekly mini-camps, classes and performances in 2020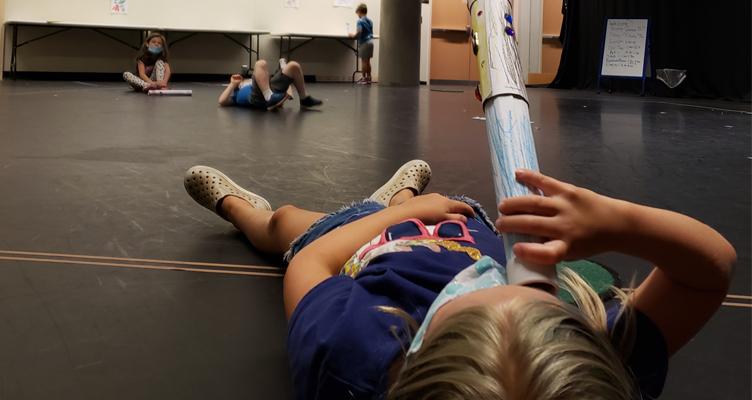 Children's Theatre of Charlotte will continue offering programming and classes in 2020 for area youth starting this fall with mini-camps for Kindergarten through 5th graders. In addition, families can enjoy budding talent through performances broadcast virtually and the opportunity to take classes both online and in person.
"We are believers in life skills through theatre skills, and social interaction, learning social cues, gaining confidence in speaking in front of others, creative problem solving are critical for child development. We do all of those things in a theatre classroom. Combining that with helping to facilitate online learning is a win-win for kids that haven't been able to have regular interaction with other children," says Michelle Long, Director of Education for Children's Theatre.
Mini-Camps
Beginning August 31, Children's Theatre will offer week-long mini-camps that will include assistance with remote learning, theatre activities and independent work with supervision. Parents can drop off as early as 7:30 a.m. and pick up as late as 5:30 p.m. The cost is $70 per day or $280 per week.
Campers will enjoy a small teacher/student ratio of 9 to 1 and staff and students will be required to wear masks throughout the day. In addition, group singing will be replaced with dance and movement for musical theater.
Each week has a theme to keep kids engaged and excited.
August 31-September 4, Passport Under the Sea
September 8-11, Passport to the Campground
September 21-25, Passport to the Land of Fairytales
September 28-October 2, Passport to Africa
October 5-9, Passport to the High Seas
October 12-16, Passport to Wizardry School
October 19-23, Passport to India
October 26-30, Passport to Spookytown
November 2-6, Passport to Vote
November 9-13, Passport to Fall
November 16-20, Passport to the Circus
November 23-24, Passport to Thanksgiving
November 30-December 4, Passport to Kindness
December 7-11, Passport to Winter
December 14-18, Passport to the North Pole
Classes and Performances
From ages 2 to 10, kids can explore the world of theater with both in person and virtual classes at Children's Theatre.
Young thespians can also take dance classes, private voice lessons (online) and one-on-one acting lessons to improve performance and strengthen their theater muscles.
Any in-person activity will follow enhanced safety and social distancing guidelines including mask requirements, a 9 to 1 student/teacher ratio and new cleaning and disinfecting schedules.
Plans are also in the works to offer performances online. Keep at eye on the web site for more details.