What Do Teachers Want?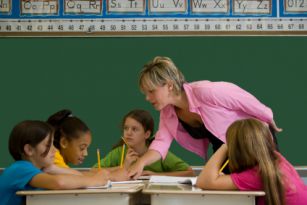 Holiday gift lists grow as our families do, thanks to the teachers, coaches, choir directors, dance instructors, bus drivers and others who enrich our children's lives.
What do they really want? An informal survey says gift cards. Almost all local retailers, most restaurants and many service providers offer some type of gift card or certificate that can be packaged nicely for a holiday treat. If you don't know the person's tastes well, try a store that offers many options; Target was mentioned frequently by teachers and child care providers. Starbucks and Caribou Coffee were favorites, as well as book stores or other retailers who sell educational items that might be used in the classroom.
If you want a more personal touch, consider ways to let your children participate in preparing the gift: Baked goods or other food treats can be a hit, especially if you know what pleases this person's palate. Large batches of cookies or holiday breads can be divided to give to several adults on your list and baking them can be a fun activity for your children.
Homemade crafts got mixed reviews.
"For me, any little trinket that the child cared about, paired with a parents' note of thanks just made my day," says Connie Glass, who taught preschool for dozens of years in Charlotte.
Others, who asked to remain anonymous, pleaded for parents to stay away from what one called "teachery:" no more mugs, door hangers, book bags or jewelry saluting the "WORLD'S BEST TEACHER!"
A class present, with some representation of each student, can serve as a reminder of the year. One woman remembered a charm bracelet, with small charms chosen by each child in her group. Other classes have put together large book bags with handprints or one-a-month type gifts that continue with deliveries of flowers or foods throughout the year.
Every now and then, you have a guy like Kevin Strawn, who teaches mathematics at East Mecklenburg High School and says: "If they ask me what I want, I never tell them anything specific and sort of redirect the conversation (dark chocolate) to something more appropriate. Of course when it comes to Christmas it is so easy to purchase a Starbucks gift card and give it to your teacher, why would you do anything else (dark chocolate)?
"The subliminal messages are seldom missed. When the question of will I give extra credit for a gift, I always act mildly self righteous and quietly tell them that would be considered a bribe and that I couldn't possibly do that and maintain any sense of academic integrity … I usually go home with 3 or 4 pounds."
Courtney St. Onge is Charlotte Parent web editor,