WEEKENDER: New Bern
Where to stay, eat, and play in North Carolina's former colonial capital – and the birthplace of Pepsi-Cola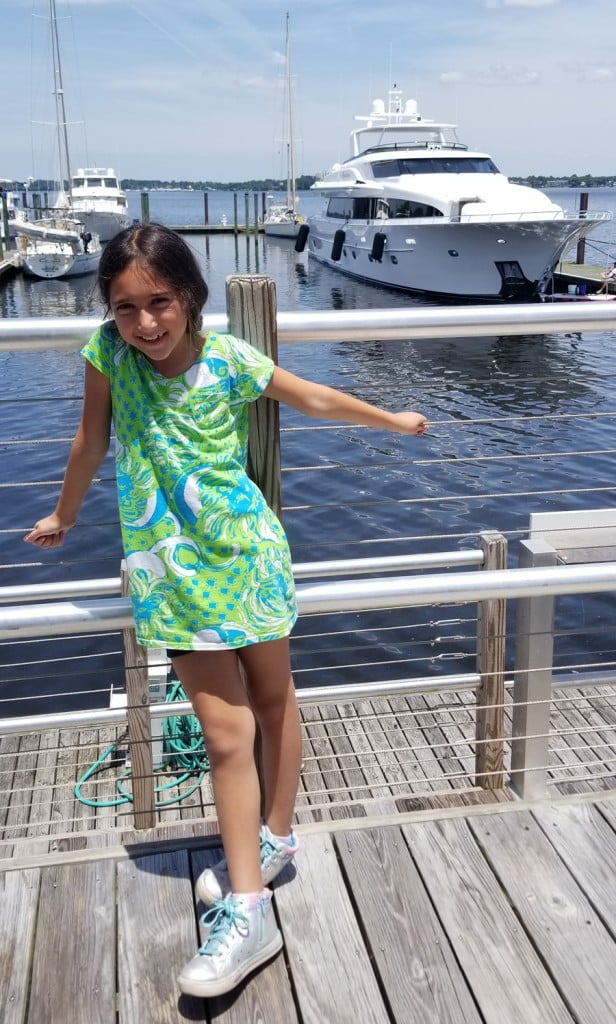 If you drive toward the coast, about 4.5 hours east of Charlotte, you'll find the waterfront town of New Bern, North Carolina. Nestled where the Neuse and Trent rivers converge, this small city is the state's former colonial capital and has a rich history. Tour Tryon Palace where guides wear colonial garb, and learn about life under British Rule (think Hamilton!). Take a ghost tour beneath Cyprus trees draped with Spanish moss, and visit the pharmacy where Pepsi-Cola was invented. Have a taste of the sugary syrup drink, and make some sweet memories with your family in this charming coastal town.
EAT
If you want to dine by the water, reserve a table at Persimmons restaurant. Ask for a spot on the patio, which floats over the Neuse River, and enjoy fish tacos, crab cakes, and peel-and-eat shrimp. Kids can get standbys like mac and cheese and chicken tenders, or nibble on sides like calamari and hushpuppies while they color pre-printed coastal scenes that get pinned up at the entrance on the way out. For fresh seafood in the heart of historic downtown, head to Morgan's Tavern and Grill. Kids will love taking pictures with the colonial bear statue at the entrance and gazing into the huge fish tank on their way to the patio. A "Future Leaders" menu includes kid-friendly entrees that come with a drink. Save room for The Cow Café, where your family can grab a dish or cone of ice cream and sit at "The Farm" – an adorable barnyard play area complete with rocking cows, tractors, and farm-scene murals.
STAY
Have your pick of historic bed-and-breakfasts along Pollock Street. The Hanna House, Benjamin Ellis House, and The Aerie each have expansive wraparound porches flanked with rocking chairs ideal for people watching. If you're looking for modern amenities, The Courtyard Marriott sits directly on the river and puts you next to Union Point public park. For longer stays, rent a condo with a full kitchen and multiple rooms at the Resort at Fairfield Harbour, which gives you access to the marina, golf course, and pool.
PLAY
When you take a 90-minute trolley tour through New Bern, kids ride free with purchase of an adult ticket ($20). Try to spot the bears (see sidebar) and learn some history of the town. After the tour, walk two blocks toward the river until you get to the corner of Middle and Pollock Street and visit the Birthplace of Pepsi-Cola. Parents can learn about Caleb Bradham, who created his own sugary, liquid concoction later marketed as Pepsi-Cola. Kids can order an old-fashioned ice cream float at the soda counter for $3 or have a sip of Pepsi, Cherry Pepsi, or Diet for 50 cents.
BEAR WITH ME
New Bern is crawling with bears! "Bern" is the Swiss-German word for bear—and the bear has become the symbol of the city. Hunt for more than 50 fiberglass bear statues scattered across the city, all uniquely designed and decorated. Stroll or drive around town and see if you can spot the tuxedo bear, the bear in sailboat pajamas, the bear dressed like George Washington, business bear, or a fan favorite – the pirate bear! Just beware of the real black bears that sometimes come into town from the nearby woods!
KRISHA CHACHRA is a Charlotte-based travel writer who has visited more than 50 countries and six continents. She loves to explore new places with her husband and 6-year-old daughter who is always up for an adventure—including long car rides—which can be an adventure in itself. Visit her at krishachachra.com or facebook and instagram @destinationsanddelish and @krishachachra.