Visit the Georgia Aquarium in the Heart of Atlanta
The public aquarium, known to be the world's second largest, boasts 60 animal habitats and 10 million gallons of water filled with 1,000 species of marine life.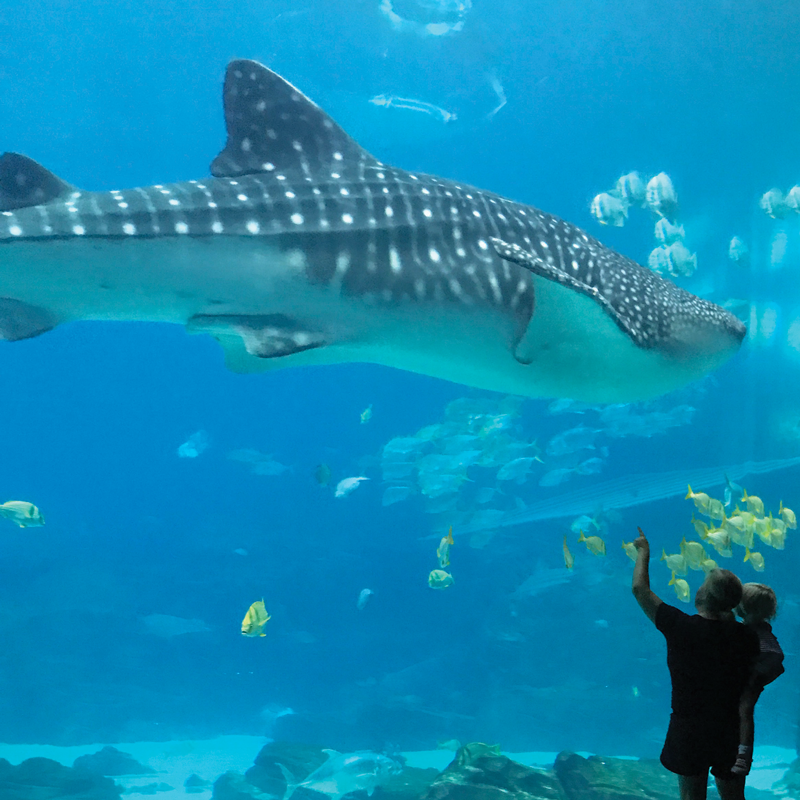 The Georgia Aquarium, located in downtown Atlanta across from Centennial Olympic Park, covers 550,000 square feet in an expanse of sea wonders. The public aquarium, known to be the world's second largest, boasts 60 animal habitats and 10 million gallons of water filled with 1,000 species of marine life. Here, your family can experience a rare view into the hidden treasures of the sea.
Tunnel Through the Ocean
The Ocean Voyager gallery contains 6.3 million gallons of saltwater and accommodates four whale sharks, four manta rays and many other varieties of fish. Make your way through the exhibit's 100-foot tunnel, complete with a moving walkway, where you can gaze upon fascinating sea life through 4,754 square feet of acrylic viewing windows.
There are also four touch tanks located throughout the aquarium where you can push up your sleeves and slip your hands into fresh and saltwater habitats to touch stingrays, sand sharks, starfish and hermit crabs.
Watch the 'Waddle Walk'
Not only can you climb into tunnels that run beneath the penguin habitat, located in the aquarium's Cold Water Quest gallery, but you also can delight in the "Waddle Walk," which happens every day at 11 a.m. That's when trainers lead the penguins through the main atrium and visitors learn about preservation of these amazing creatures.
Swim With Whales, Dolphins and Sharks
Take advantage of a once-in-a-lifetime opportunity to swim with the aquarium's beluga whales as part of the Beluga Interaction Program. Though there is no set age restriction, participants must be at least 60 inches tall, and anyone under age 15 must be accompanied by an adult. Be sure to take a bathing suit to wear under a provided wetsuit so you can brave the chilly waters. There is a $154.95 per-person fee (plus tax) for this activity.
Ages 7 and older can enjoy a Dolphin Encounter for $69.95 per person, which allows participants to go backstage to meet, touch and feed one of the aquarium's dolphins.
For a true aquarium quest, ages 12 and older can go on a Journey With Gentle Giants, which allows participants to swim with whale sharks in the aquarium's 10-million-gallon tank and is the only place in the world where this can be done. The cost is $235.95 per person (a scuba option is also available).
Reservations for all of these encounters are limited. Call 404-581-4000 to reserve a spot, or purchase tickets at georgiaaquarium.org.
Be Dazzled During a Show
Learn about dolphin behavior as trainers incorporate educational messages during the new "AT&T Dolphin Celebration," included with general admission. Sit in one of the higher rows to avoid getting wet, and be prepared for loud music and a dazzling light show, as dolphins show off for the crowd.
California sea lions put on a show in SunTrust Pier 225's live presentation, "Under the Boardwalk," also included with general admission. You won't be disappointed in the sea lions' antics and trainers' creative educational lessons. Make sure you arrive early as seats fill up quickly.
Round out your Georgia Aquarium experience by taking in a few movies in The 4D Funbelievable Theater — included with general admission — and by going on a scavenger hunt using your mobile app.
Family-Friendly Perks
Members of the North Carolina Aquarium or Zoological Society receive a discount on admission to the Georgia Aquarium. Order tickets online ahead of time to avoid waiting in line. Strollers are allowed and there is a room for breast-feeding moms to pump or nurse if they desire.
Families can bring in their own snacks, but the aquarium's Café Aquaria and Seaside Delights restaurants offer lunch and dinner options as well. Download the free Georgia Aquarium app, available via the App Store and Google Play, so you'll know where to go first and when the aquarium's many shows begin. Learn more about the Georgia Aquarium at georgiaaquarium.org.
---
Adrian H. Wood, Ph.D., is a North Carolina writer who lives in Edenton with her husband and four children, the youngest of whom has extra-special needs. Read more of her writing at talesofaneducateddebutante.com.