Vision: No Sight Required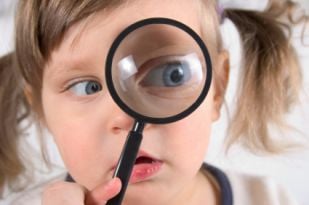 If you've ever been part of a "what-it's-like-to-be-blind" exercise, chances are you donned a blindfold while walking into a wall, tripping over a chair, and — according to anyone with the actual impairment — gaining no idea of what it's truly like.
Born blind, 9-year-old Noah Davis can skillfully navigate through a room, through his school, and even up and down the aisles of Wal-Mart because, unlike a sighted person trying to steer in the dark, Noah trusts himself. With cane in hand, he makes use of audible and tactile clues, and should he lose his way momentarily, he's learned how to quickly recover and continue on his way. True, his other senses have naturally compensated for his lack of sight, but just as important are Noah's weekly meetings with Ian Smith, an Orientation and Mobility (O&M) Specialist for Metrolina Association for the Blind.
Teaching Trust
"It's a teacher's dream job," says Smith, a rare breed of educator who doesn't have to trade in his students for a new batch each fall. Throughout Noah's formative years, he will meet with Smith once a week, tackling real-world situations like negotiating a new classroom, getting on and off the school bus or navigating a busy mall.
Noah's sessions with Smith are sometimes daunting, often demanding, but always delightful as they work toward self reliance in the face of Noah's optic nerve hypoplasia.
"We have to be creative — blind or visually-impaired children are motivated in their own way and in their own time. Part of that is helping them learn to trust me and encouraging them to trust themselves," says Smith, who tries to play on his students' interests whenever he can. Field trips are as common with "Mr. Ian" as peanut butter and jelly sandwiches are at lunchtime.
This is especially true for Noah, whose inquisitiveness makes even visits to the Cabarrus school bus garage feel like an expedition to the International Space Station.
That wasn't always the case, however. When Noah met his O&M teacher six years ago, that thirst for discovery was buried beneath an understandable anxiety over trying new things — including walking. "Like many blind children, Noah was far behind his peers in walking and talking for his age," Smith recalls.
Noah's mom, Misty Davis, explains: "His daycare was concerned he'd get hurt with the kids his own age, so they kept him back with 1-year-olds. After a while, I realized that with so much of his day spent with babies, he wasn't picking up on language."
Davis was less worried that her son didn't walk much. She'd been told that without visual motivation, the desire to walk took longer to instill. It was a welcome day when Noah reached his third birthday and began working with Smith. "Ian brought Noah a little toy grocery cart — that really helped him feel more confident moving around," remembers Davis of her son's first "cane." But trying to get him to want to walk was an entirely different challenge.
It's a Big, Big World
"When Noah was small, he'd kick and scream if we suggested trying anything new," remembers Terri Bunn, a teacher for the visually impaired who helps Noah during school and accompanies him on field trips with Smith. "I imagine it would feel sort of terrifying to go anywhere for the first time if you couldn't see. It would be easier to just stay home where it's all familiar."
But with Smith's help, Noah soon realized there was a big world out there for him to discover — a world full of his now-favorite things like home electronics departments, bus garages, nature trails, pep rallies at Central Cabarrus High, visits to Monkey Joe's and self-made pizza at Pizza Hut. Sure, Noah goes out with his own family plenty, but sometimes being able to spend 45 minutes moving his hands over a row of phones at the store until he can proudly distinguish a Sony from a Magnavox is a luxury only Smith can afford him.
"It's understandable," he says. "When you go to the store, you have to get things done. When Noah and I go to the store, we go to explore." The whooshing sound of automatic doors or the puff of an air vent overhead does not fall on deaf ears as he and Noah amble through the aisles.
Turning on the Light Bulb
With nearly 70 blind or visually impaired students at the elementary level alone, CMS has its own programs in place. But for students in smaller counties like Noah's, Metrolina Association for the Blind often helps coordinate much-needed services. In most cases, Smith is the go-to guy when it comes to mobility and orientation training.
After individual abilities and needs are evaluated, a tailor-made curriculum is set in motion. Children learn "protective" techniques, where hands are basically used as bumpers, and "trailing" techniques, where hands slide along objects to create a trail. The "long cane," or a precursor to it, such as a push toy or walker, is introduced and practiced. The child also learns how to sense changes in environment that help him find his way: things like overhead music, flooring underfoot and unmistakable smells or sensations. Smith can teach cane skills and trail lines like he can tie his shoe, but, "None of that matters if they aren't catching the vision of why — why independence? It's not always easy for kids to see the bigger picture. So my curriculum is sometimes very outside the box, I have to figure out ways to turn that light bulb on."
Kasheena Townsend, 22, remembers suddenly losing her vision more than 10 years ago. "I was in denial, I wasn't motivated, I was scared to travel around by myself," she recalls. "Before it happened, I loved shopping at the mall. Ian knew how much I missed it, so that's where we met for class. He showed me how I could still be me, how I could go places and do things just like before. It made me want to keep pushing myself."
Big Dreams
Smith thrives on encouraging his students to do just that — push themselves — to make their dreams a reality. One student aspired to run a 5K, another envisioned himself marching in a band. Townsend dreamed of going to college. "I realized I either had to become independent in my mobility or not go at all," she says.
So when she was accepted to UNCC, Smith helped her map out everything from her class schedule to a cafeteria route. Then, they practiced until she was confident she could do it on her own. "I knew college was my ticket to opportunity. Now I have a job I really like in human resources, and I feel like I'm doing what I want to do. It's amazing to think back on the beginning of this ordeal and realize how far I've come."
Smith reminds you of a beaming parent as he talks about Townsend, his first pupil to graduate from college. When asked if it was true whether he refers to his students of all ages as "his babies," Smith chuckles and nods. "They almost become like family," he says. Not many teachers can remember their high school students as wiggly preschoolers. And not many students have a teacher who has been there through every transition to make sure they land on their feet — instead of tripping over them like their blindfolded counterparts. Though his students don't have their sight, Ian Smith is exhausting every last ounce of creative energy to show them they can always have vision.
Small Steps …
When Kris Shields heard about some of the technologies for blind and visually impaired children, she wondered why her 8-year-old daughter, Cindy, wasn't being introduced to them. That's when Shields and another parent, Kris Jameson, revived North Carolina Parents of Blind Children.
The support group recently received a grant that trained 13 people, including nine CMS teachers and administrators, in these technologies and another grant to start an after-school program two days a week.
"We're really excited to launch this program," says Shields. "For now, it will just serve the Braille students at Eastover Elementary, but we are expanding it to serve all visually-impaired elementary students by next fall." Thanks to a partnership with the county's Park and Rec Department, the program will teach recreational skills by a certified recreational therapist. Social and independent living skills will also be addressed, such as learning to make their own snack each time they meet or working to label clothing so that the children can pick out clothes themselves.
For more information on the after-school program, contact Kris Shields at (704) 733-0605 or check out their blog at http://ncpobc.blogspot.com.
Local Resources and Support
North Carolina Parents of Blind Children:
President: Kris Shields, 704-733-0605
Metrolina Association for the Blind
704 Louise Avenue, Charlotte, NC 28204
Phone: 704-372-3870
www.MABNC.org
Heather Hayes is a Charlotte-based freelance writer and mother of two