The Post-COVID Classroom: Navigating the Transition Back to In-Person School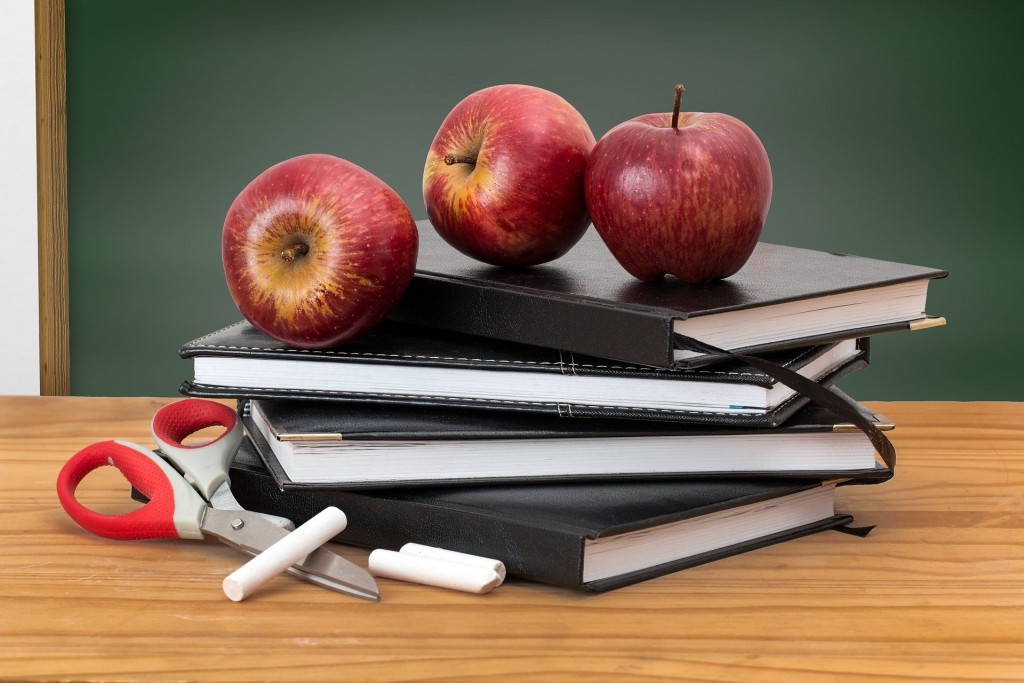 Heading back to school always comes with a bit of stress, but this year the transition may be especially challenging. Many children haven't been in the classroom full-time in more than a year. The rules will be different, and most students can expect mask wearing, temperature checks, and social distancing. How can parents help students prepare for a return to the school in the age of COVID? We've gone to the experts to weigh in.
Normalize Fears
While some children are clamoring to get back to in-person learning, others may have enjoyed the perks of remote learning (like sleeping later and less social pressure). Dr. Gail Saltz, a clinical associate professor of psychiatry at the New York-Presbyterian Hospital/Weill-Cornell Medical College, explains, "When parents say their kids, 'You must be so happy about going back to school' it can make the child feel guilty about their own feelings, especially if they are unsure or apprehensive about returning."
Instead of telling children how they should feel about returning to school, parents can create a safe space to express themselves honestly. "Start the conversation a few weeks before school starts, so children have time to process their feelings," Saltz says. "Let them know it is healthy and normal to have mixed emotions about going back to the classroom."
Academic Concerns
A decline in reading or writing skills over the summer break (aka the "summer slide") is to be expected. But this year's slide may be even deeper after an atypical academic year. Eileen Kennedy-Moore, Ph.D. and author of the book, Growing Friendships: A Kids' Guide to Making and Keeping Friend, says, "It makes sense that they are feeling nervous. It has been such a long time since they were in school. Acknowledge their feels and also assure them that their classmates are probably nervous too."
Tamika Walker Kelly, MAEd, president of North Carolina Association of Educators (NCEA), adds, "Educators are professionally skilled to meet students where they are academically and support their learning to help them grow."
Social Worries
"The pandemic has been hard on children socially," Saltz says. "They haven't been able to work on their social skills or learn how to navigate social situations (such as finding a seat at lunch), which may make them anxious about returning to in-person learning."
Parents and children can brainstorm ways to make the return to school less socially overwhelming. "Consider having a get-together with friends before the start of school to help your child reconnect and remember the fun of being around peers," Kennedy-Moore says. "Or arrange for your child to walk with a friend on the first day of school. It's always easier to face a new situation with a buddy."
Partner with Educators
As Kelly explains, "When students see their teacher and parents working together, they know that they have a strong, supportive team. We know that having consistent communication throughout the school year helps educators share positive updates and can help speed up interventions when challenges arise."
While communication is crucial, resist the urge to bombard the teacher with issues. Instead, allow some time for everyone to acclimate. "As we enter the new school year, it's important for parents and educators to give each other grace, flexibility, and patience as we navigate through new procedures for students," Kelly says.
Establish a Routine
Ease your child into their new routine a week or two ahead of the start of school. Adjust bedtime and wake-up time, organize their desks, make sure they have clothes that fit, and pick up a few school supplies so they are ready for the first day.
For younger students, it can be helpful to practice other skills like opening lunch items and self-care tasks like tying shoes, using sanitizer, and correct mask-wearing to make the transition easier.
Go at Your Own Pace
A full day of in-person learning may seem lengthy and draining with earlier start times and shorter breaks. "While going to school is non-negotiable, give your child options when it comes to other activities such as sports or after-school playdates," Saltz says. "Some children will want to be social with friends right away; others may prefer to be alone after school and relax."
Express Confidence
With constant changes to the CDC's guidelines, it's understandable that children would feel anxious about returning to the classroom with so much uncertainty. It may seem easier to allow a child who is struggling to continue with remote learning, but this approach just reinforces anxiety. "Diminishing anxiety isn't about avoiding the situation that makes you anxious," Saltz explains. "It's about finding a step-by-step way to push through and manage the situation comfortably. Parents can best help their children by letting them know they have confidence in their ability to adjust to going back to in-person learning."
RANDI MAZZELLA is a freelance writer specializing in parenting, teen issues, mental health, and wellness. She is a wife and mother of three children. To read more of her work, visit www.randimazella.com. ​