The Pint-Sized Foodie: Havana 33
The latest from our 7-year-old food critic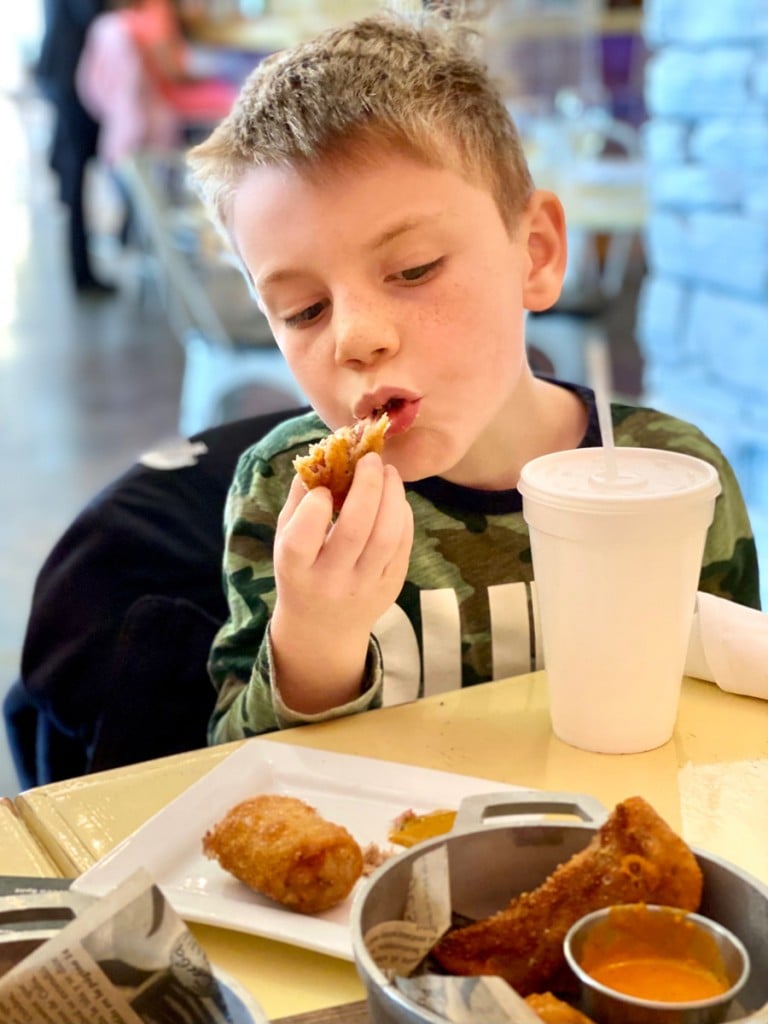 Each month, our 7-year-old resident foodie visits a different Charlotte-area restaurant that's kid-friendly—but not a kid-topia. He orders something he's never tried before and reports back with his recommendations for kids and their parents. Here is his review of Havana 33 in Mooresville:
What we ordered:
We got a bunch of stuff to share. I picked the Chicken Empanadas ($9) and the Cuban Egg Rolls ($8). Mommy got the Havana 33 Special ($14) and Daddy got another humungous sandwich but I can't say it the right way (read: Pan Con Lechon, $12). My sister got the mac and cheese ($5) from the kid's menu.
Why I liked it:
I looooove empanadas and these ones were soooo good. I really liked the red dipping sauce (read: piquillo sauce) because it was a little bit spicy but not too much. My sister liked them too, but I didn't want to share with her since she ordered the mac and cheese. The Cuban egg rolls were my other favorite because they are different than the Chinese restaurant kind. These ones have ham and cheese and pickles inside.
What I didn't like:
I didn't like the spicy honey mustard dip for the egg rolls—the red sauce for the empanadas was better. Mommy gave me half her sandwich and it was OK—I thought it had too much ham and cheese and needed more pickles. Daddy's sandwich was my favorite, and I liked the French fries because they had a yummy white cheese (read: cotija) sprinkled on top.
What I tried for the first time:
I've never Cuban egg rolls before and they were BOMB.
Why other kids should come here:
I think a lot of kids would like the empanadas and Cuban egg rolls if they tried them, just maybe not with the mustard dip. And if they don't, there's a kid's menu with mac and cheese and stuff. Plus, you get to see the lake and watch the boats go by while you eat. Oh! And there's hubcaps on the walls!
What I liked best:
The Cuban egg rolls.
Why parents will like it:
There's beer and fruity grown-up drinks, like the kind they get on vacation. And my daddy said the bill was really cheap.
Why I would come back:
I want to come back in the summer and eat outside on the deck so I can watch the boats.—T.B.