THE PINT-SIZED FOODIE: An introduction to Velvet Taco
The latest from our kid food critic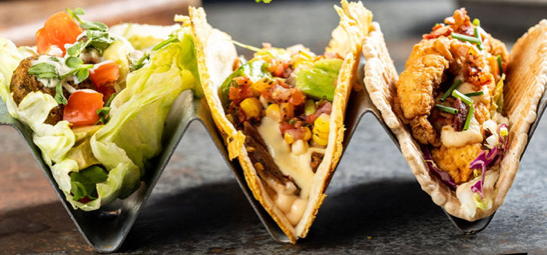 Each month, our 9-year-old resident foodie visits a different Charlotte-area restaurant that's kid-friendly—but not a kid-topia. He orders something he's never tried before and reports back with his recommendations for kids and their parents. Here is his review of Velvet Taco:
What we ordered:
We got a bunch of tacos to try: Slow Roasted Angus Brisket ($6.25), Chicken & Waffle ($5.75), Falafel ($4.75), Green Chile Pork ($4.95), and the Mexi-Cali Shrimp ($5.95).
How it works:
You order at the counter and they give you a number to bring to your table. You get your drinks and napkins and stuff at the drink station. When your order's ready they call your name into a microphone and yell, "It's taco time!" so you can go pick it up at the counter. They put the tacos in this funny metal taco holder that looks like an accordion. Prolly so the tacos don't all fall apart.
Why I liked it:
There's lots of different tacos with stuff I never saw in regular Mexican restaurants—like that one that came in a big hunk of lettuce? (Read: Falafel taco in a lettuce wrap) And your food is ready pretty fast, so that's good when you're super hungry. Also, you can refill your own drink as much as you want.
What I didn't like:
The tacos were kind of messy and you kept wiping my hands and face, Mommy! Don't you know to just wait til I'm finished eating?
What I tried for the first time:
That Chicken & Waffle taco was sooooo good! It was kind of like a breakfast taco, but instead of a tortilla it came in a waffle and it tasted kind of sweet like it had syrup in it.
Why other kids should try it:
Most kids know about Taco Tuesday and this is a good place for that. The tacos are ready pretty quick, and if you don't like the weird tacos there's regular ones, too, with, like, chicken and cheese and stuff.
What I liked best:
Ummmm…the shrimp (read: Mexi-Cali) taco? No, wait. The Chicken & Waffle one!
Why parents will like it:
You come here like once a week for those brisket tacos, Mommy. Why are you asking me this? You always say it's not super expensive, so it's OK that you go so much.
Why I would come back:
Taco Tuesday, duh!