THE PINT-SIZED FOODIE: An introduction to The Penguin
The latest from our kid food critic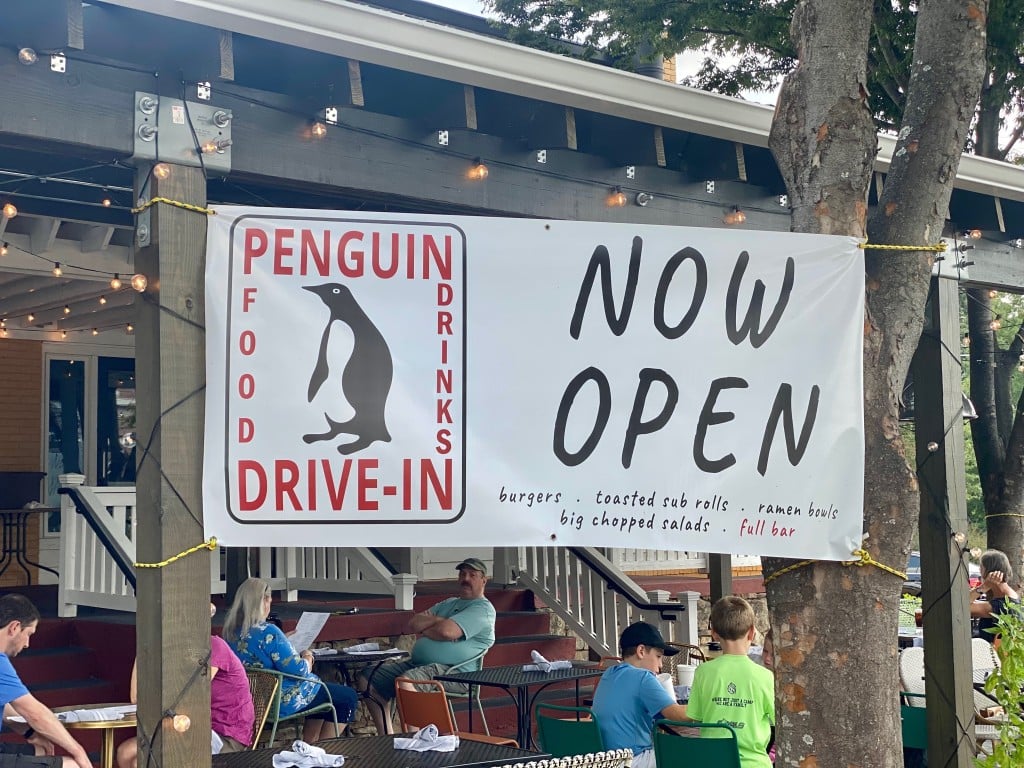 Each month, our 9-year-old resident foodie visits a different Charlotte-area restaurant that's kid-friendly—but not a kid-topia. He orders something he's never tried before and reports back with his recommendations for kids and their parents. Here is his review of The Penguin in Dilworth.
What we ordered:
We all shared the Famous Fried Pickles ($6.95). For my lunch I got the Charred Pork Belly Ramen Bowl ($14.95) and my friend Grant got the World Famous Chopped Steak ($14.95). Mommy got the Tommy Boy Burger ($11.95), and my sister got the Kid's Chicken Tenders ($7.90).
How it works:
The restaurant is in one of those places that looks like an old house in Dilworth, but there's a parking lot on the side of the building so we didn't have to drive all over looking for a parking spot. You can sit in one of the booths inside or outside on the patio. We sat outside since it was nice out. You can bring your dog on the patio, too, if you want.
Why I liked it:
Our waiter gave us crayons and kids' menus when we sat down so we wouldn't get bored. Me and Grant didn't order off the kids' menu but we played tic-tac-toe on it while we waited for our food. The grown-up menu had funny names like that one the waiter was afraid to say in front of us (read: ​​Kiss His Ass Seabass). We totally should have ordered that one, Mommy! (Editor's note: If your children are literate, they will likely spot this menu item and find it tremendously funny. If you find this at all offensive or you'd rather they not repeat it for other diners to hear, have them stick to the kids' menu.)
What I didn't like:
Ummm…I think your burger had too much stuff on it. It kind of fell apart and got all over my hands when I tried it. My ramen was pretty good, but maybe not quite as good as at a regular ramen place.
What I tried for the first time:
That chopped steak Grant got. We thought it was a sandwich but it was a big skillet with a bunch of steak and mushrooms and it came with a cup of those fancy fries (read: Parmesan Truffle Fries) which were sooooo good. We didn't think we'd like it, but it was actually pretty good.
Why other kids should try it:
They have a kids' menu, but I think most kids would like the ramen bowls on the grown-ups menu too. Also, you can sit on the patio and bring your dog!
What I liked best:
Hmmm…it's between the fried pickles and my ramen bowl. I don't know. I also liked the paintings of penguins on the walls and they were on the waiters' shirts, too.
Why parents will like it:
The food comes out pretty fast, and you told me it wasn't very expensive so that's good.
Why I would come back:
So I can order that sandwich that has A-S-S in it!