THE PINT-SIZED FOODIE: An introduction to The Jimmy
The latest from our kid food critic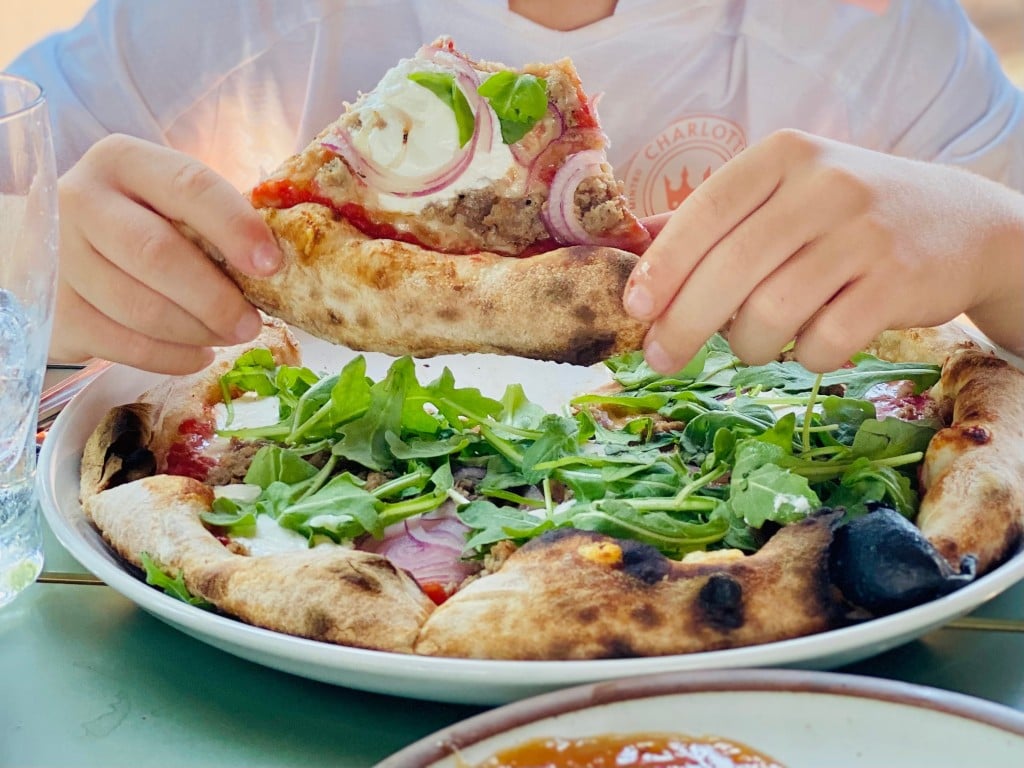 Each month, our 9-year-old resident foodie visits a different Charlotte-area restaurant that's kid-friendly—but not a kid-topia. He orders something he's never tried before and reports back with his recommendations for kids and their parents. Here is his review of Weekend Brunch at The Jimmy in Myers Park. (Editor's note: The Pint-Sized Foodie had assistance with the spelling and pronunciation of these dishes.)
What we ordered:
I got the Salsiccia Pizza ($20) and my friend Grant got the Shrimp & N'Duja ($18). Miss Amber got the Spaghetti ($18) and Mommy got the Pizza Di Uovo ($21). Me and Grant got Sprites to drink and the moms got that grown-up Sprite you like (read: Prosecco). For dessert we got Lemon Ricotta Cake ($11) and Blackberry Galette ($12).
How it works:
The Jimmy used to be just open for lunch and dinner, but now they have brunch on the weekends, too. (Editor's note: The Jimmy serves brunch on Saturdays and Sundays from 11:30 a.m. to 2 p.m.) You can sit inside the restaurant or on the patio but we sat on the patio since it was really nice and not too hot out.
Why I liked it:
It's not like a regular brunch with pancakes and waffles. They had eggs and some breakfast-y stuff, but you can get pizza and pasta for brunch, too. There were a lot of other kids on the patio and we saw one of our teachers from school! Also, our waiter kept refilling our Sprites, but then you told him to stop. Not cool, Mommy.
What I didn't like:
Grant's shrimp—it was OK but not as good as my pizza.
What I tried for the first time:
That breakfast pizza you got with the egg on top—I never saw egg on a pizza before but it was pretty good! Also, my pizza looked like it had a salad on top (read: arugula) but the cheese and sausage was all underneath.
Why other kids should try it:
Because you can eat pizza and pasta for brunch. And the pizzas are huuuuge so you can bring the rest of it home for a snack later.
What I liked best:
Ummmm…lemme think. Miss Amber's spaghetti noodles were really good and super long so we got to twirl them a lot. Also, the desserts. That blueberry one with the ice cream was my jam.
Why parents will like it:
It's kind of fancy but it's OK to bring kids if you sit on the patio. It looks like a place a lot of people take their kids after church cuz some people were kind of dressed up.
Why I would come back:
Breakfast pizza!