THE PINT-SIZED FOODIE: An introduction to Menya Daruma
The latest from our kid food critic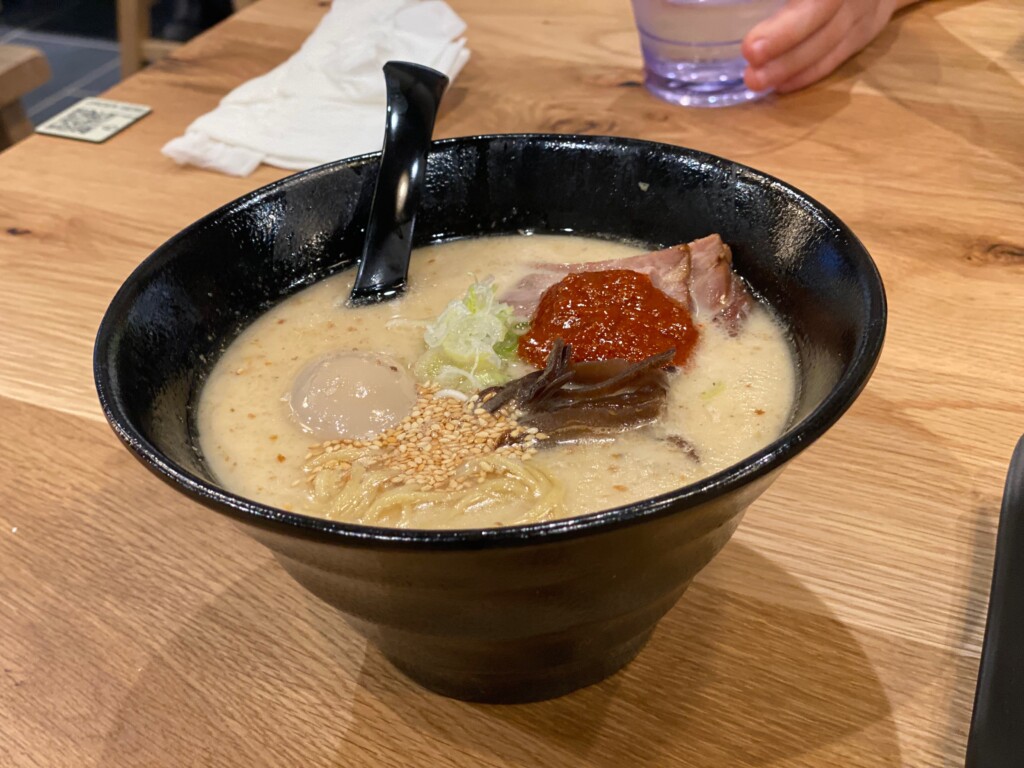 Each month, our 9-year-old resident foodie visits a different Charlotte-area restaurant that's kid-friendly—but not a kid-topia. He orders something he's never tried before and reports back with his recommendations for kids and their parents. Here is his review of Menya Daruma in Elizabeth.
What we ordered:
I'm gonna need your help with this part 'cuz I can't say all the names of the noodles how you're supposed to. *Editor's note: We ordered the Pork Gyoza ($5), Shoyu Tori Chintan ($15), Spicy Tantan ($15), Spicy Tonkotsu ($15).
How it works:
You sit at a table that's already got water, cups, napkins, and chopsticks set out for you. There's no menu and nobody comes to take your order—you use the QR code on the table to order yourself. You can start with a few things and order more if you're still hungry. Everything comes out pretty fast.
Why I liked it:
I liked ordering everything with the QR code. Like, when we wanted more of those dumplings, you just put another order in your phone. And the noodles were sooooo good! It's fun to slurp them, too. Also, I liked going to that back window to watch the lady make the noodles.
What I didn't like:
I didn't like the hard boiled egg in my ramen. Next time I'll order it without that part.
What I tried for the first time:
I had ramen before, but not as good as this. Mine was really spicy, the way I like it.
Why other kids should try it:
I think most kids would like noodles, and you don't have to get them super spicy. Kids can also go up to the counter and watch the chefs cook all the noodles. *Editor's note: Menya Daruma also has a kid's menu with Ramen ($7) and Abura Soba ($8).
What I liked best:
My Spicy Tantan, minus the hard boiled egg.
Why parents will like it:
It's pretty fast, so your kids won't get too hangry, and I think most parents like ramen noodles.
Why I would come back:
Can we come again the next time I have the day off from school?