THE PINT-SIZED FOODIE: An introduction to Los Chamos
The latest from our kid food critic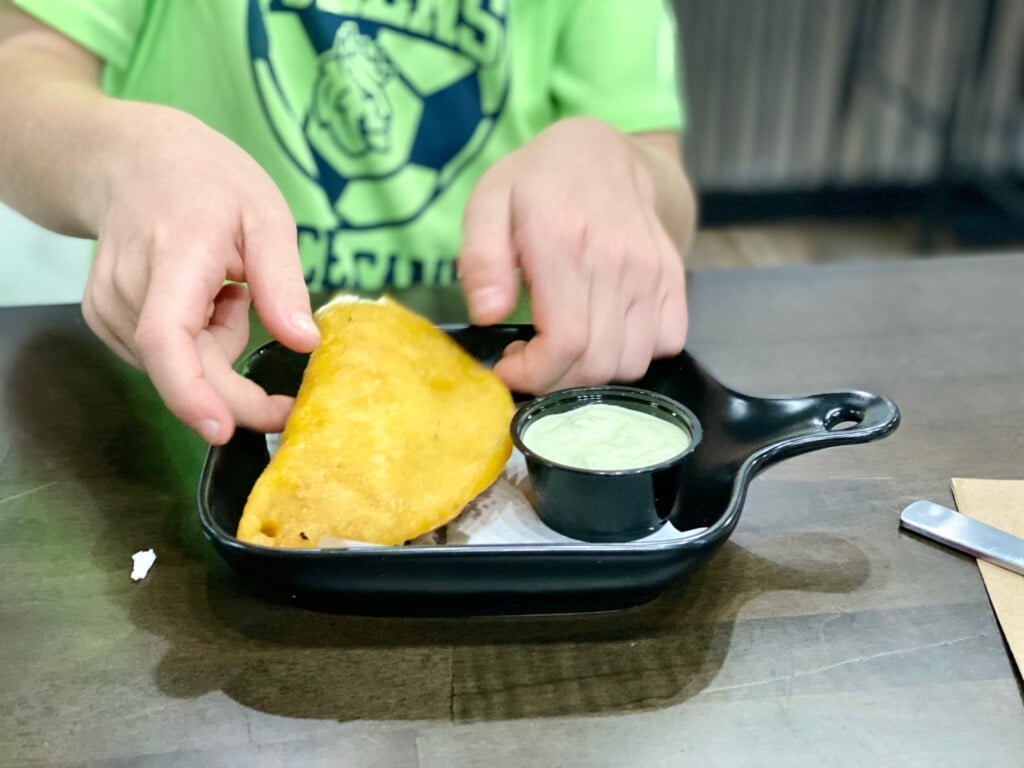 Each month, our 9-year-old resident foodie visits a different Charlotte-area restaurant that's kid-friendly—but not a kid-topia. He orders something he's never tried before and reports back with his recommendations for kids and their parents. Here is his review of Los Chamos.
What we ordered:
Me and my sister both got Empanadas ($4.49). I got mine with chicken and she got beef. Mommy got that sandwich that had big banana slices for bread (Editor's note: the Patacon, $14.49, is shredded skirt steak and coleslaw sandwiched between two fried plantain slices). Me and my sister got Sprite ($3.98) to drink, but it came in the green can with a straw, not from the soda machine like at McDonald's. Mommy got that purple juice but I can't remember what it's called (Editor's note: Jugo Mora, $3.49, is like a fresh-squeezed blackberry juice).
How it works:
You sit at a table in the dining room and the waitress takes your order. There's also big refrigerators in the back if you want to get, like, frozen empanadas or Venezuelan cookies and candy to take home.
Why I liked it:
There were big TVs on the walls and I got to watch the World Cup! Also, the empanadas were really yummy. They get kinda messy but there's paper towels on the tables if it gets all over your hands.
What I didn't like:
It took kind of a long time to get there cuz it's way down South Boulevard and we went during rush hour. It didn't take as long to get home, though.
What I tried for the first time:
That sandwich Mommy got. I didn't know you could use bananas as a sandwich bun.
Why other kids should try it:
Empanadas are kind of like tacos cuz they have the same meat and cheese inside, and most kids like tacos. They also have those things that are like cheesy sticks (Editor's note: Tequeños, $8.99, are three breadsticks stuffed with cheese), and I think any kid would eat those.
What I liked best:
Um, watching soccer and eating empanadas! Also, those neon angel wings by the door were cool—you have to get a picture with those before you leave.
Why parents will like it:
Mommy said it wasn't super expensive and it's a fun place to go if you're sick of Taco Tuesday.
Why I would come back:
I want to get some of those Venezuelan cookies next time.