THE PINT-SIZED FOODIE: An introduction to IndiGrille
The latest from our kid food critic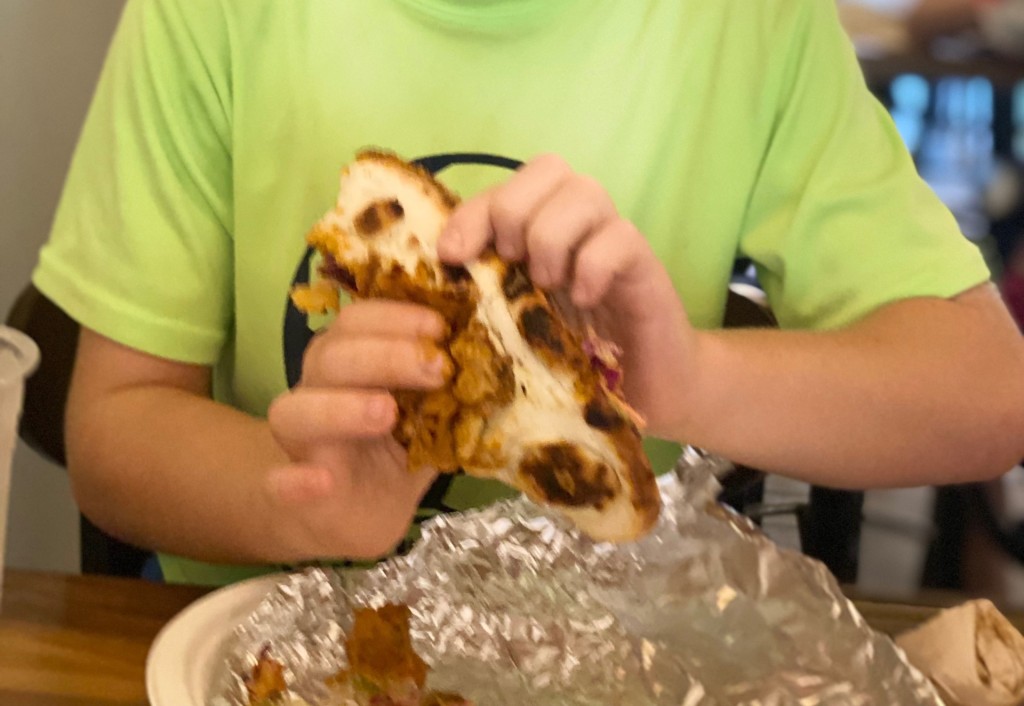 Each month, our 9-year-old resident foodie visits a different Charlotte-area restaurant that's kid-friendly—but not a kid-topia. He orders something he's never tried before and reports back with his recommendations for kids and their parents. Here is his review of IndiGrille.
What we ordered:
I got the Naan Taco ($10.50) and my sister got the Tikka Masala Burrito ($9.99). Mommy got the Coconut Curry Rice Bowl ($11.85), and for dessert we got the Mango Lassi ($3.49).
How it works:
You order at the counter and they give you a number to bring to your table. You can sit outside on the patio or inside at a booth or one of those high top tables and they bring your food to you.
Why I liked it:
I already like Indian food a lot, and I love tacos so this was cool 'cuz you get them both. Also, it was pretty fast and that was good since we were on our way to my sister's soccer practice.
What I didn't like:
We had to clear our own tables and you made us wipe up all the stuff we spilled.
What I tried for the first time:
The Mango Lassi drink—it was sooooo good! It was kind of like an orange yogurt smoothie that tastes like mango. You can grab one out of the fridge in the front and take it to go if you want.
Why other kids should try it:
They have a Kiddie Bowl where you can pick what meat and sauce you want on top, but I think kids would like the Naan Tacos cuz they're really good and you can ask them to make it not spicy. Oh, and they also have French fries on the menu. (Editor's note: The $5.99 Kiddie Bowls are for children under 10.) Also, the Mango Lassi is bomb!
What I liked best:
The Mango Lassi!
Why parents will like it:
The food comes out pretty fast, and you can eat it there or take it to go. Also, you said your curry thing was really yummy so I bet other parents would like it, too.
Why I would come back:
Cuz it's a good and fast dinner for the nights you have sports and don't have time for dinner at home.