THE PINT-SIZED FOODIE: An introduction to Geno D's Pizza
The latest from our kid food critic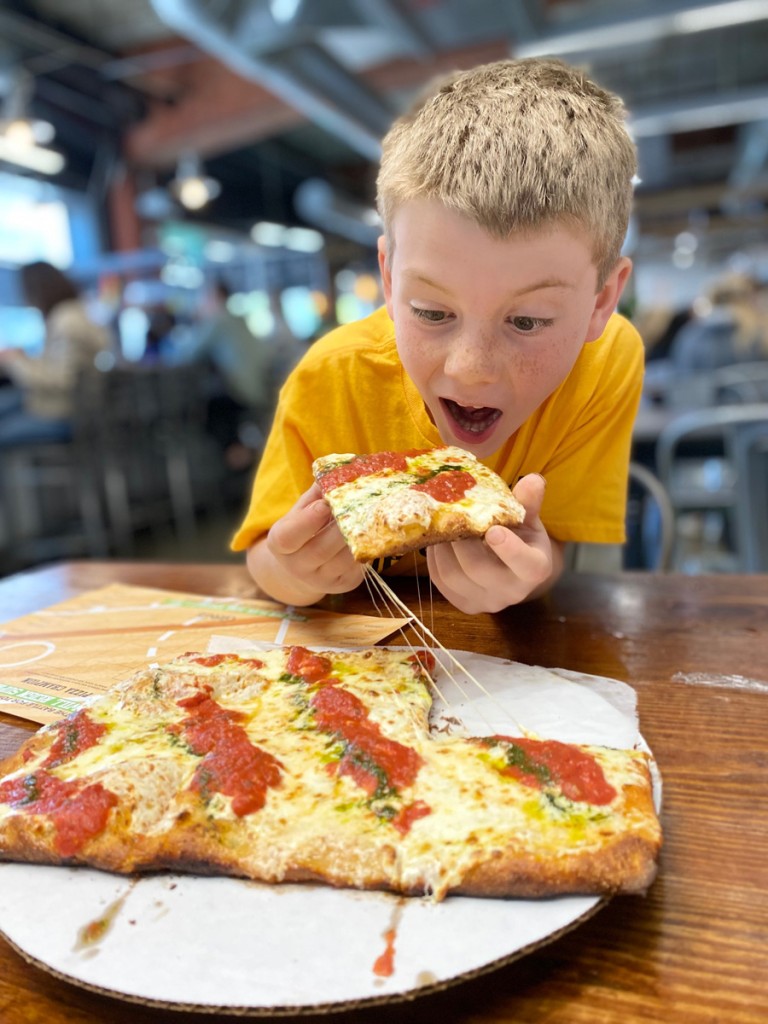 Each month, our 8-year-old resident foodie visits a different Charlotte-area restaurant that's kid-friendly—but not a kid-topia. He orders something he's never tried before and reports back with his recommendations for kids and their parents. Here is his review of Geno D's Pizza in The Market at 7th Street:
What we ordered:
We got the Grandma Pie ($14) and the Pizza Knots ($7).
How it works:
You order at the counter inside that big market and pick a juicebox out of the drink refrigerator. Then they ask you for your number so your phone pings when your food is ready and you go pick it up at the counter.
Why I liked it:
The owners were super nice and let me and my sister come back into the kitchen to watch them make the pizzas. Mr. Geno did that thing where he threw the pizza dough in the air! Then he let us walk into the giant refrigerator where they keep all the ingredients. And they gave us pizza tattoos!
What I didn't like:
It was kind of hard to find a table inside that big market so we had to share a table with two people we didn't know.
What I tried for the first time:
The big rectangle-shaped pizza where they put the sauce on top (read: Grandma Pie). The Pizza Knots were kind of different, too. Not like Mellow Mushroom's. They come in one of those foil bowls with sauce and cheese on top, so you eat them with a fork because the cheese gets super stretchy and stringy.
Why other kids should try it:
Don't you know all kids love pizza? Also, because you're allowed to go in the kitchen and watch them throw pizza dough.
What I liked best:
The pizza was just really good.
Why parents will like it:
You already told me it was your new favorite pizza in Charlotte, Mommy. Why are you asking me that?
Why I would come back:
More pizza tattoos!